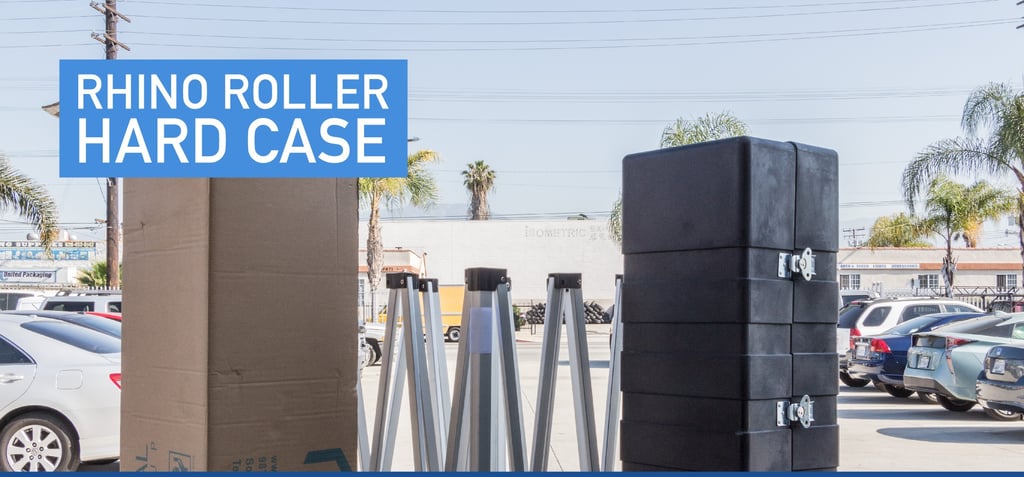 The Rhino Roller Hard Case is a proprietary designed product that we developed in 2012 to safeguard your canopy and tent top from the elements. We understand that a personalized canopy could be quite expensive if you choose to go all out on printing and what not and that it is important to protect it from rough handling. The RRHC is a lightweight heavy duty case with an internal foam lining that will protect the canopy frame from impacts and potential damage but at the same time giving you the option to transport it easily

We have gone ahead and created the best pop up canopy hard case that will allow you to carry your canopy easily. It features wheels, stainless steel locks and even padlock slots for you to further protect your canopy. The Rhino Roller Hard Case is a professional solution to transporting most 10x10 pop up canopy tent frames* while also protecting them from possible physical damage. The hard case also features a handle for you to have a good grip on the entire case without it hurting your hand or making you hold it awkwardly. The canopy case also has foam end caps to further absorb impacts instead of damaging your tent frame and top. The cases opens sideways, kinda like a suitcase, which allows you to easily place anything into the case without having to do heavy lifting because it can all be done on the floor. Another cool feature is the I.D. Pocket where you can slide a card into with your name and address or whatever you find necessary to place in there to be able to identify the case as your own. Inside every Rhino Roller Hard Case you can place a tent top, a tent frame, and most of the hardware that usually accompanies a pop up canopy.
We have included a video which makes it easier to understand how to use a Rhino Roller Hard Case. The case is so simple and it is pretty straight forward when it comes to using it because there is not much too it. It is designed to protect a tent frame which is already pretty heavy duty but you can never be to careful because it is an investment that definitely needs to be protected. The beauty is that it will also turn your canopy into a portable tent and since it is not too big it can be stored almost anywhere in a sleek package. It also goes to show you how useful the canopy frame can be with its collapsible system that allows it to be compact when it is stored from its extended size which is a 10'x10'. The hard case has 4 different locks that are made of stainless steel and they are very secure when it comes to locking them up because they need a special key (which is of course provided.) When it comes to storing the tent top and the frame into the hard case it's simple because all you have to do is place the frame on the case and then lay the tent top over the frame and you close the case. It's that simple and the RRHC is that effective at protecting it.
The most common size of pop up tent that we manufacture is the 10'x10' canopy and so we went ahead and made the frame case specifically for it. Of course we understand that sometimes marketing campaigns have budgets and so we are giving away a free Rhino Roller Hard Case with all of our Titanium Packages. The Titanium package includes a fully printed tent top, back wall, side skirts, table cover, four corner flags, and of course.... the Rhino Roller Hard Case. We are truly passionate about promotional products and we are always ready to help you customize them because it is what we do best, aside from making them the best they can be.