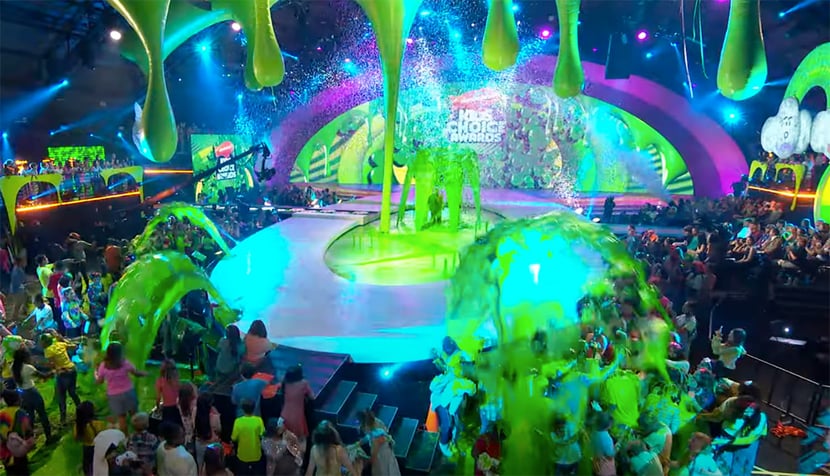 Looking Back, Moving Forward April Edition
Become Marketing Gurooze.
Wether it's a giant blimp with green ooze, a lifetime warranty frame tent, or some wacky Rick and Morty inflatable tunnel heads, we've got something for everyone. Some of our designs can be off-the-wall, but that's what stands out. Are you looking to play it safe? Or do you want to get noticed?
Nickelodeon Kids' Choice Awards - 70' Inflatable Slime + 60' Blimp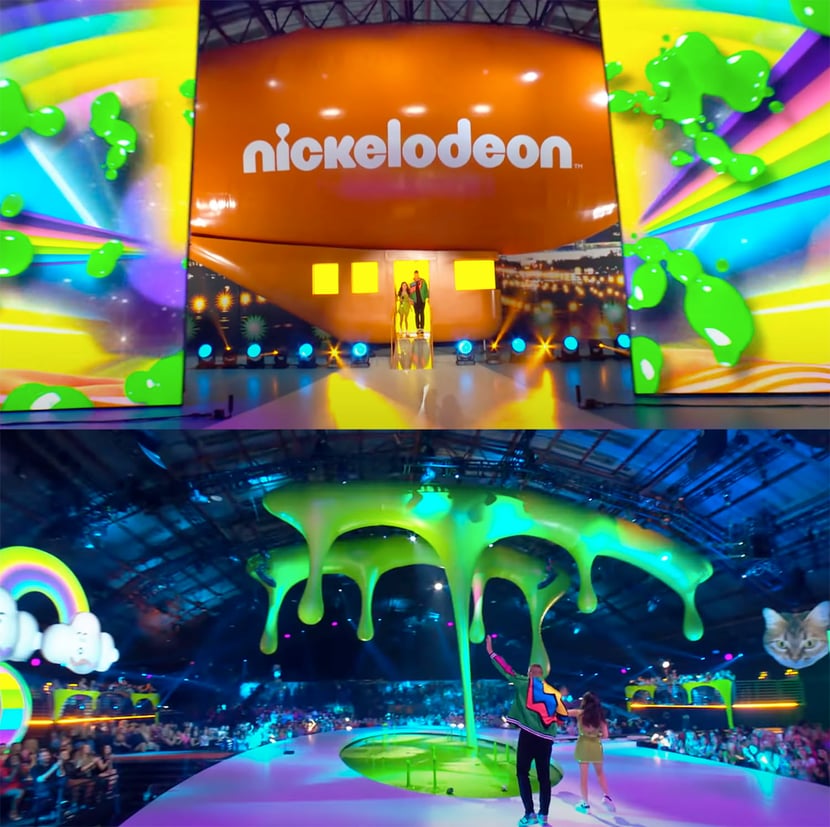 Creating the 70' slime and massive 60' orange blimp that was used for Nickelodeon's Kids' Choice Awards 2022 was a well-received challenge. We love accepting big projects that expand our horizons, and the resulting street cred isn't bad either. The bright orange blimp looked stunning in the background of the annual awards show. The 70' green slime pieces truly transformed the entire atmosphere of the beloved awards ceremony.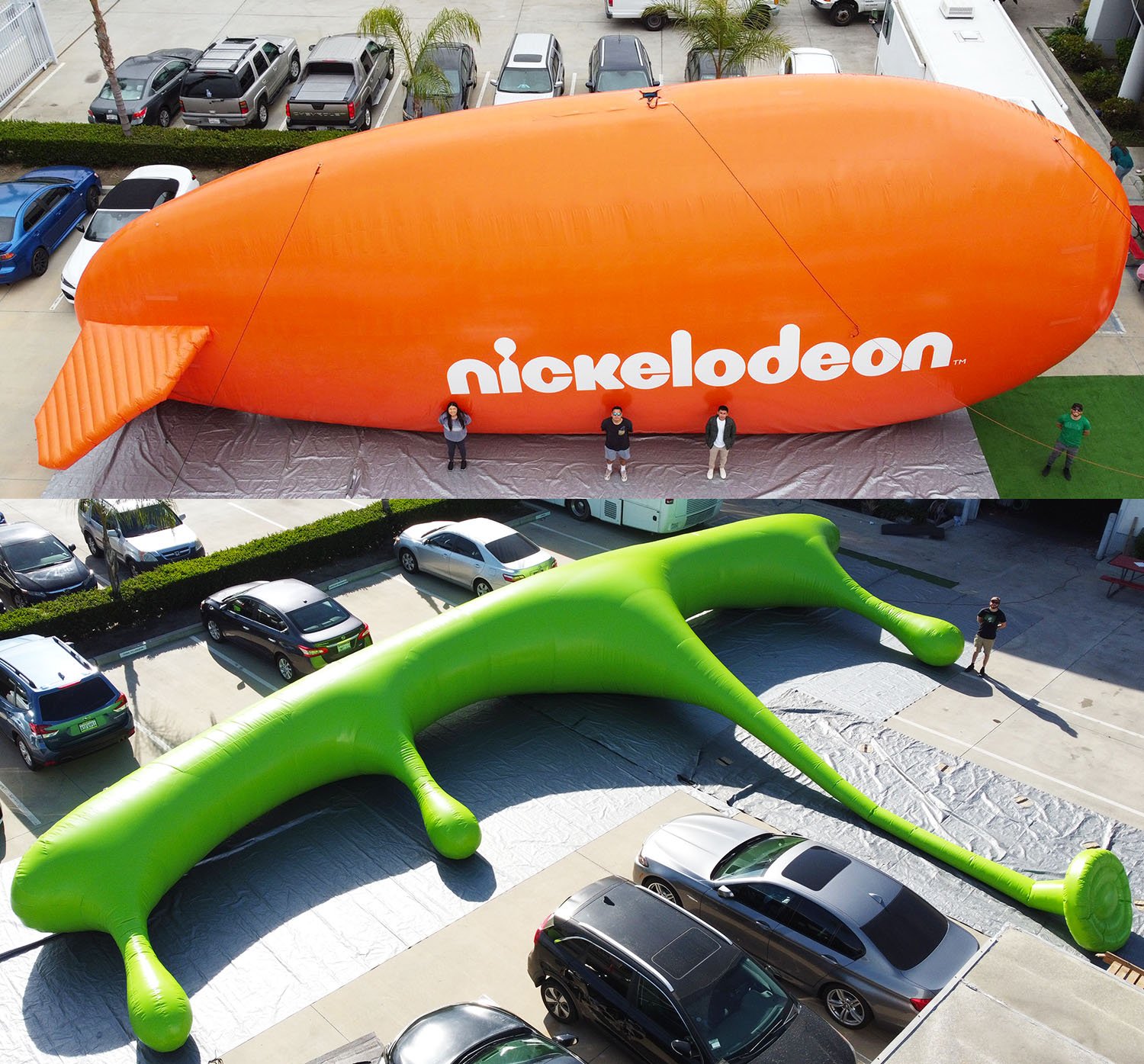 Our giant inflatable props can definitely enhance an atmosphere. The two slime sections dripping from the ceiling was a very nice touch for such a slimy event. The bright orange blimp was nicely used as an entrance piece. Bright green and orange are staple Nickelodeon colors, and we were able to match them up nicely. The customization of our projects knows no bounds, so let us know what you want us to make you.
Check out our 60' Blimp and Inflatable 70' Slime in action in the YouTube video above: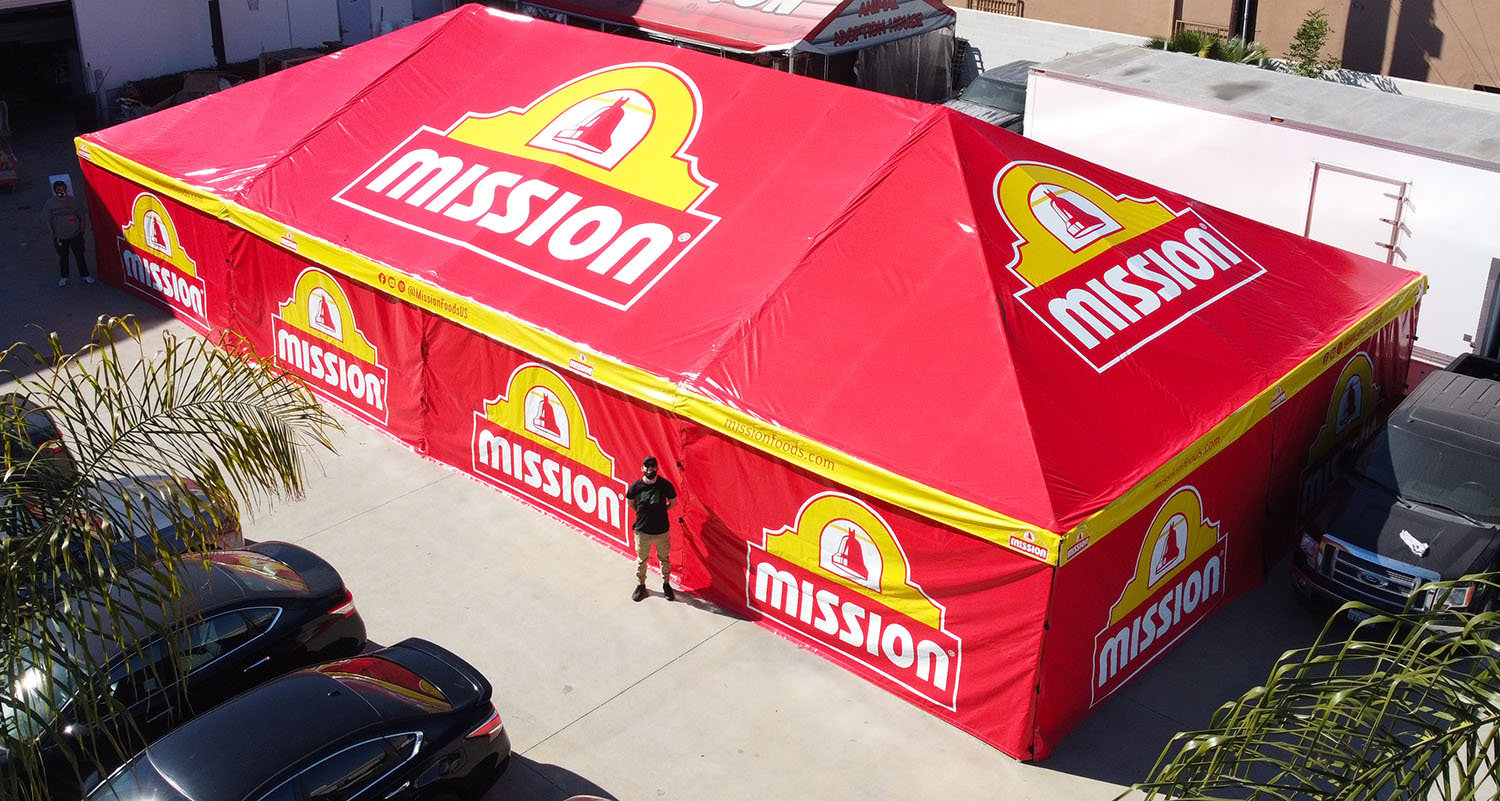 Mission Tortillas - 30'x60' Custom Printed Frame Tent
Create your space with a heavy duty aluminum frame tent that is strong, portable, and eye-catching that can be fully custom printed for big events. This Mission Tortillas vibrant red frame tent is designed to withstand the elements. We utilize commercial grade vinyl and polyester materials that are guaranteed to last. We apply a thick U.V. coating to protect the graphics and material against the blaring sun. Need further protection? Our tents are also 100% waterproof and CSFM certified fire resistant.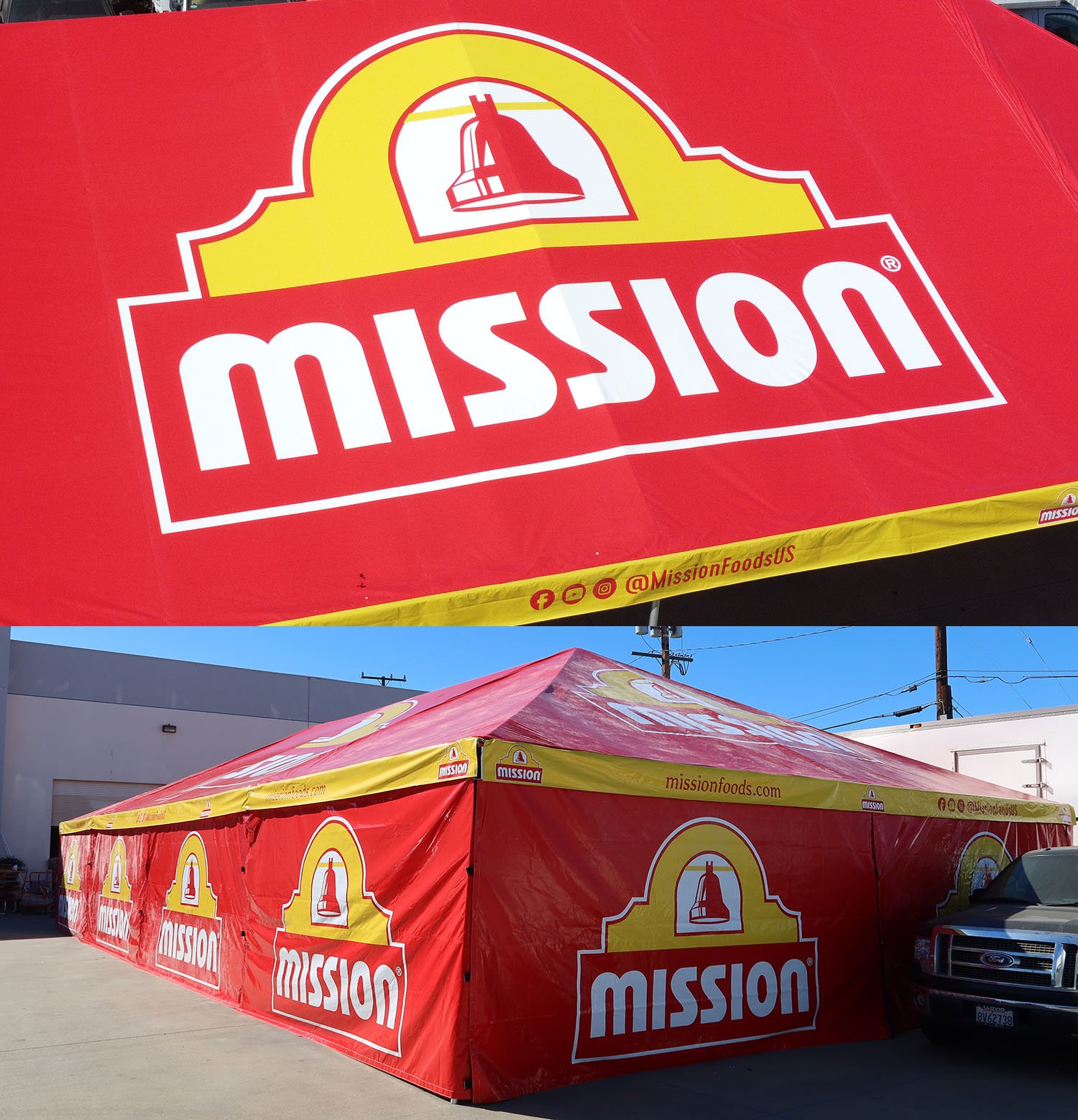 What's best about this tent is that it comes with a heavy duty aluminum frame that comes with a lifetime warranty. This particular tent is a 30'x60' standard frame tent with full printing throughout. This tent also includes full printed walls surrounding the entire perimeter. The tents we manufacture can be made for promotional and functional purposes. If you need to store materials for a limited time, our portable tents could be the solution.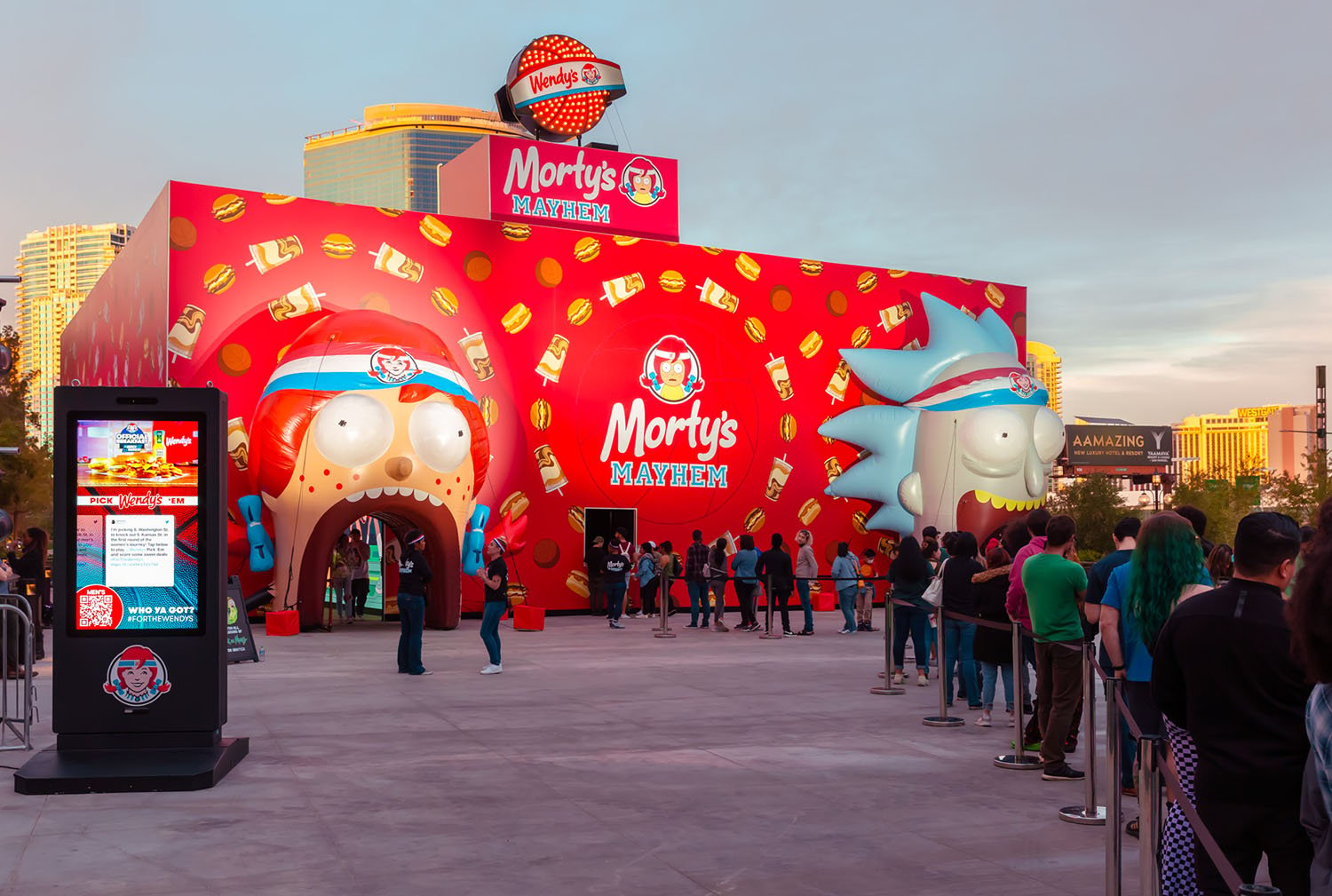 Wendy's - Rick and Morty - 18' Inflatable Tunnel Heads
Step into a dimension where creativity rules over reality. Let us take you there with these fully interactive Rick and Morty inflatable tunnel heads. This special event was a collaboration between Cartoon Network and Wendy's. The over-the-top inflatable heads drew a huge crowd in Las Vegas, where eager fans awaited a tasty, out-of-this-world interactive experience. Custom inflatable characters are one of specialties, so we were pumped to create more fun props for the popular show and Wendy's, ahem Morty's.

Promotional inflatables are so much fun, especially when they're based on popular cartoon characters. These interactive inflatable head tunnels gave Rick and Morty fans a chance to experience the show in-person while getting some special edition Wendy's grub. When it comes to interactive inflatables, we can also make inflatable games such as inflatable ring toss, bowling, and football games that are meant for people of all ages.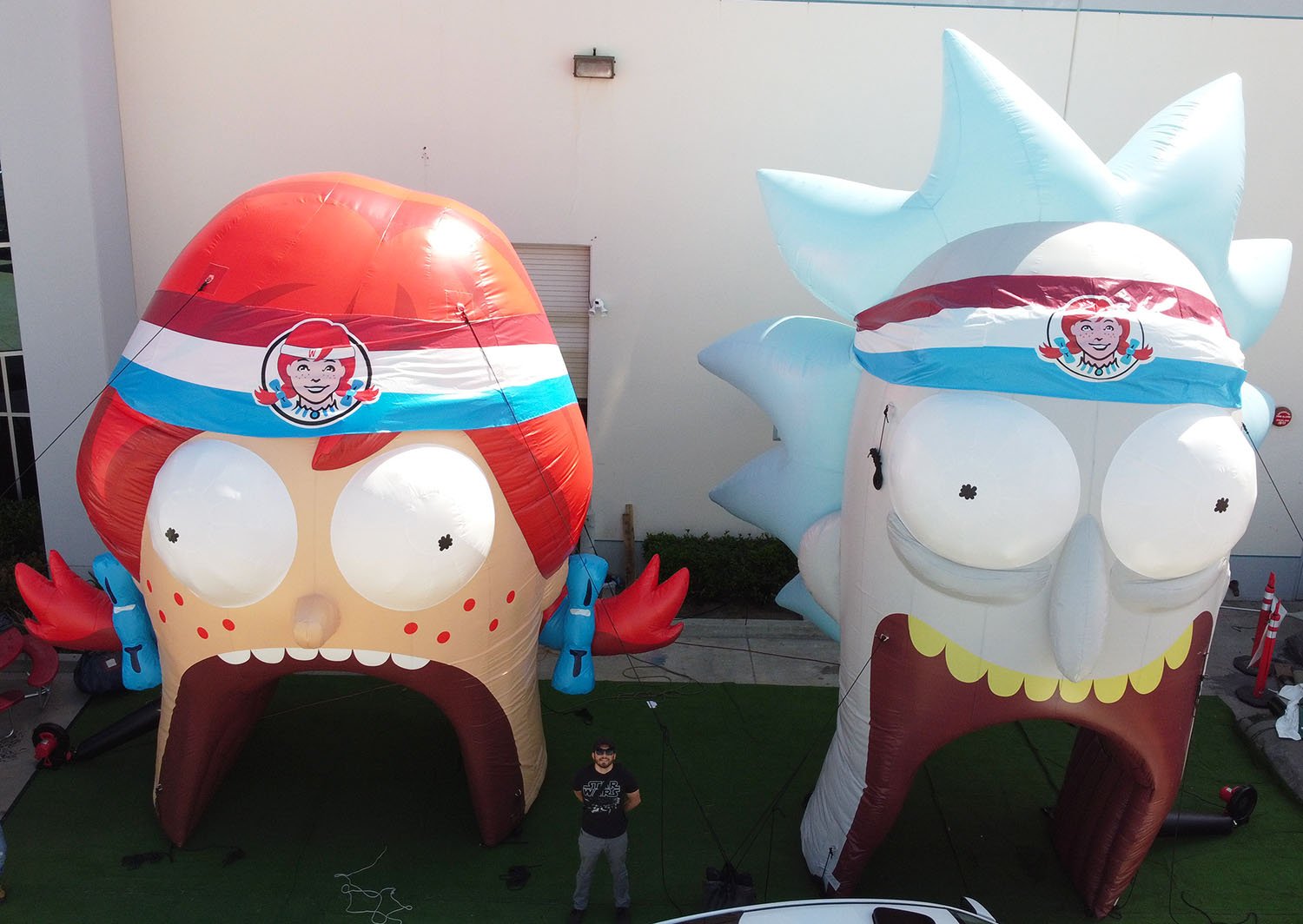 All of our inflatable products are manufactured in South El Monte, California, just outside of downtown Los Angeles. Every product is constructed with commercial grade materials that are guaranteed to last. We've been making custom tents and inflatables for almost 40 years now. Contact us with any design ideas you may have and we'll create something truly remarkable for you.