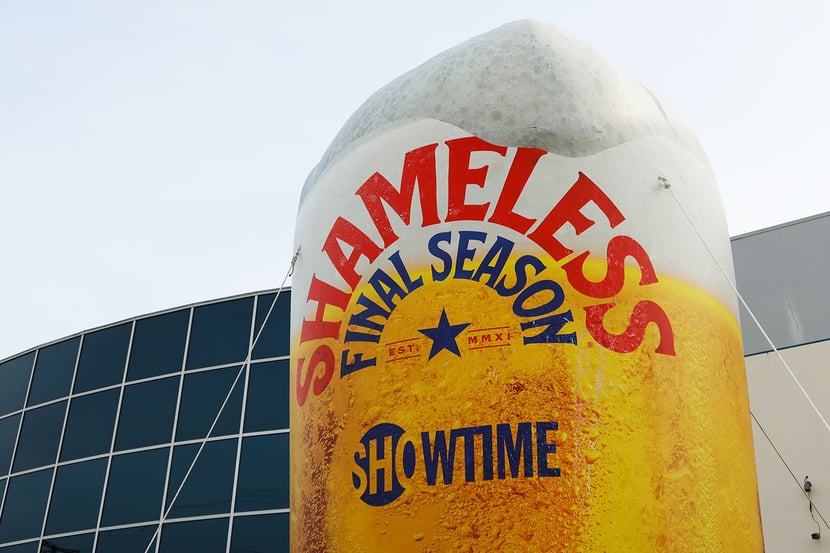 Looking Back, Moving Forward Feb. Edition
Beverage Inflatable Fusion
Photorealistic inflatable props really grab attention. Whether it's a new line of drinks your company is putting out, or you just want to advertise, we can make custom inflatable drinks to your specifications. These inflatable props give you the opportunity to display your latest and greatest beverages in stunning fashion. These custom inflatable beverage replicas are truly worth showing off. We take pride in what we do, and our realistic inflatables are stunning to look at. It's no wonder most of our giant inflatables get the attention they do.
Showtime's Shameless - 20' Inflatable Beer Glass Replica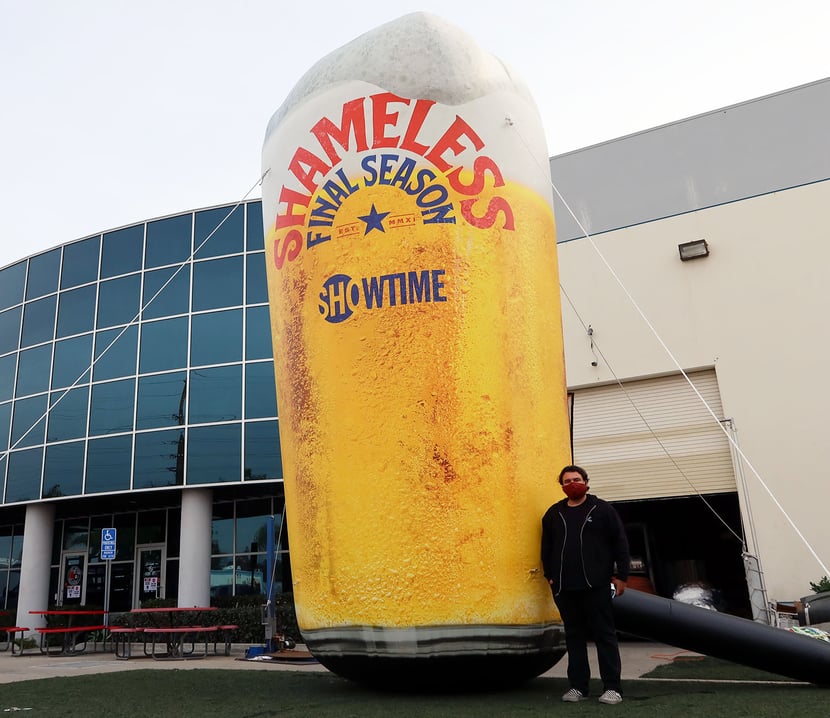 This giant inflatable beer glass is truly something to behold. Made for Showtime's Shameless' final season, this massive beer glass inflatable was used as an over-the-top marketing piece that was set up in a populated city intersection on top of a building. The display drew much attention from passersby. With the show's crazy antics, what could be more fitting than a giant cold perspiring beer glass? This inflatable glass features what appears to be water droplets in the form of condensation.
Don Julio - 10' Inflatable Tequila Bottle Replica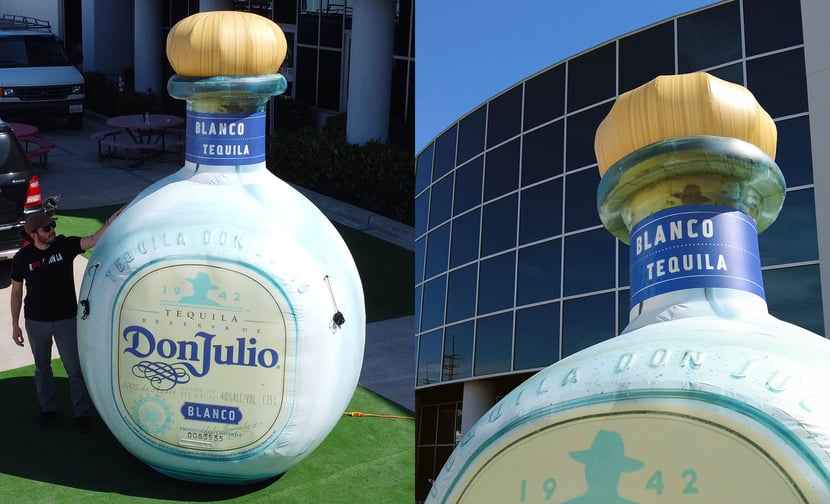 Shots, anyone? Well, as much as some people wish this was a real gigantic bottle of tequila, it is just an inflatable prop. But hey, at least people will go over to check out the amazingly realistic display which is always a great opportunity to make potentially long-lasting connections. This giant inflatable tequila bottle is a great example of the level of realism we can achieve. Our designers did a particularly exceptional job designing the glass around the cork section. Truly outstanding realism!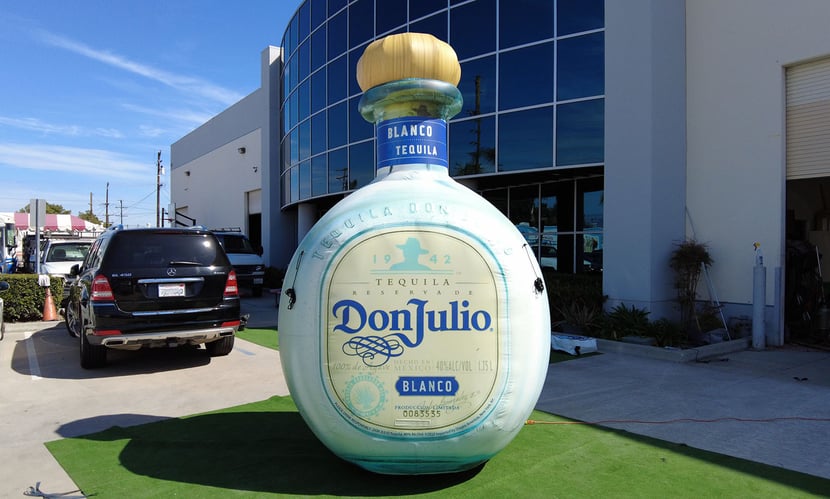 Realism is something that we try to achieve with all of our inflatable replicas. Although a certain level of realism is expected out of most of our models, some may appear to be more realistic than others, and that's because some models are fully printed and others are not. When it comes to our inflatable bottle replicas, our designers go the distance to make it look as real as possible. These fully printed projects look the most realistic because they have printed digital graphics throughout the entire surface of the inflatable. This is a crucial aspect of our realistic inflatables, since every inch of the inflatable surface is printed to have certain lighting effects that make it look photorealistic.
Two Roots Brewing Co. - 10' Inflatable Cannabis Beer Can Replica
Cannabis beer? Yep, it's a real thing. And we can make inflatable can versions of it to promote at events or storefronts. This detailed inflatable reproduction features high resolution printed vector graphics that are ultra sharp and vibrant. Our inflatable cans are manufactured in many sizes, but they can go as big as 50-60 feet in height! Massive inflatables definitely get attention, sometimes even from major news media.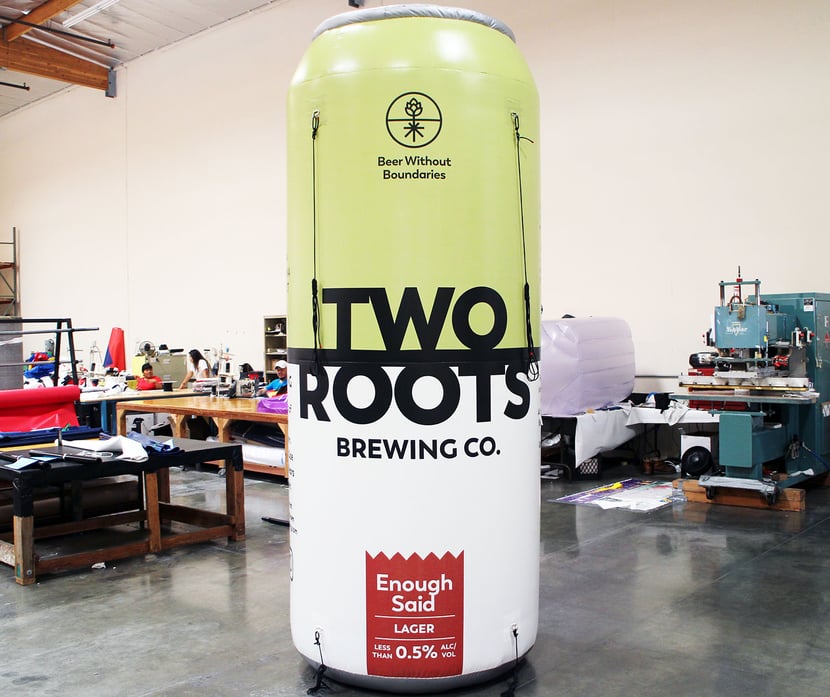 Our inflatable bottles and cans are manufactured in many shapes and sizes. We've been making custom inflatable shapes for a while and in that time we've gotten pretty good at it. When you order with us, you're getting long-lasting quality. We've developed the skills to create virtually any inflatable shape you could need. All of our inflatable props are constructed with commercial grade materials inside our South El Monte facility in Los Angeles county, California. Please contact us with any questions or to get a fast quote.