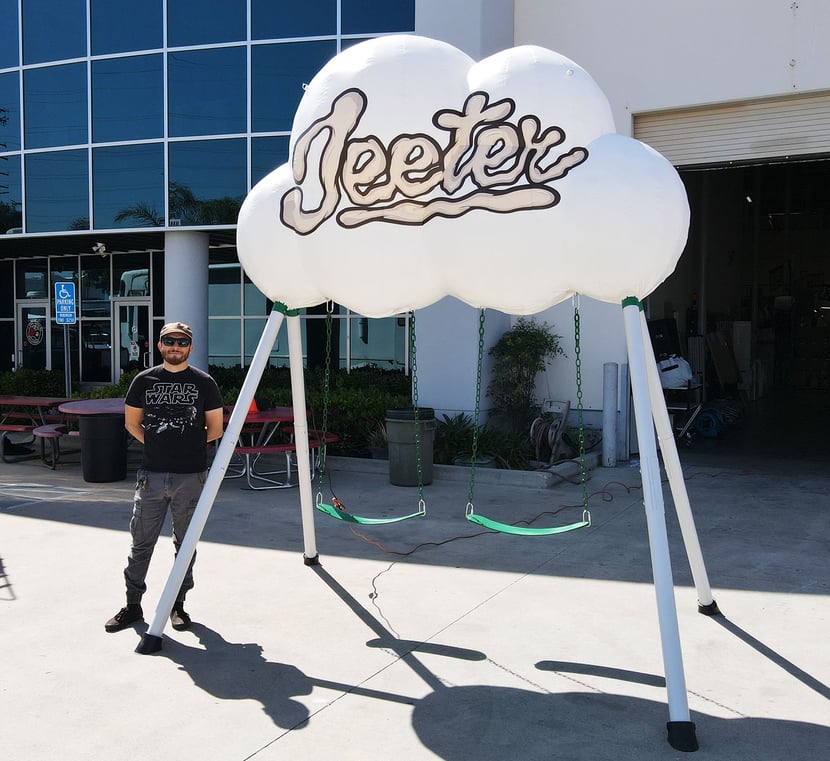 Looking Back, Moving Forward May Edition
Definitely Infinitely.
Our creativity knows no bounds and that equates to us having the ability to create some of the coolest, and most unique inflatable designs in the industry. New products provide new possibilities, and we're always innovating. What are you looking to get? The possibilities are truly endless.
Jeeter - Inflatable Cloud Swing Set

This unique inflatable cloud swing set is the first of its kind. We never thought we'd be making an inflatable prop fused with a swing set before, but hey, there's a first for everything. Marketing doesn't have to be traditional, right? Out-of-the-box thinking is what stands out and potential customers love fun games and entertainment. So why not give it to them?
Interactive marketing tools are a great way to give your brand additional exposure. Since we design and print all of our inflatables in-house, we have the ability to create almost anything. Our cloud swing set is custom printed, which means we can apply any logos or graphics of your choice. On top of that, all of our inflatable products are commercial grade and come equipped with a heavy duty blower system. If you're looking for innovative marketing and promotional products, we're the manufacturer for you.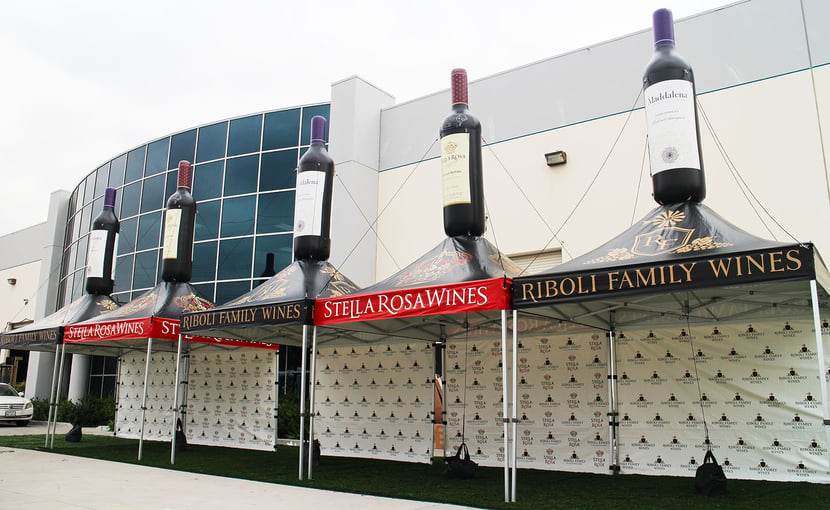 Stella Rosa - 10'x10' Pop Up Canopies with Inflatable Wine Bottles
The popular winemaker wanted something a bit more splashy for their new marketing campaign, so we made them some really one-of-a-kind pop up tents with inflatable bottles at the very top! These stunning canopies will attract attention anywhere they go. Constructed with commercial grade materials, our pop up canopies and inflatable props are designed to endure in the elements. The materials that we use are also certified fire resistant as well as waterproof. Our easy-to-set-up pop up tents and inflatables can be ready for events in mere minutes. That's on-demand convenience you can count on.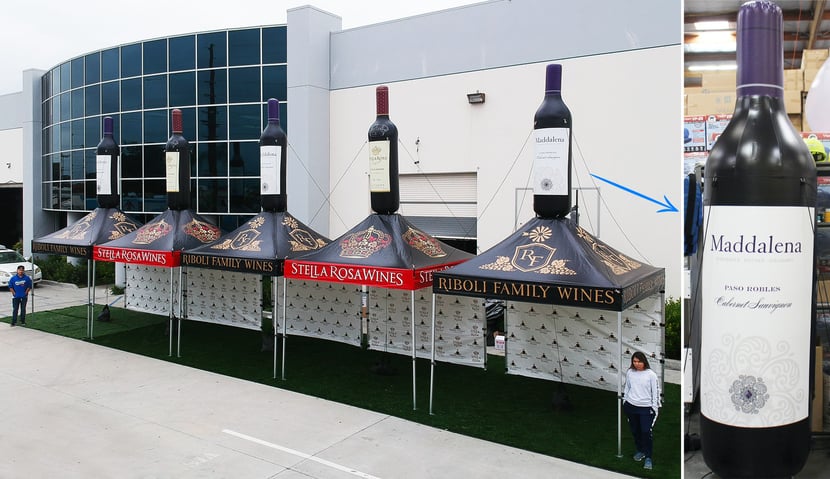 When it comes to customization with pop up tents, Promotional Design Group has been innovating since the early 1990s. Over thirty years later, we're still coming up with unique promotional products that cannot be found anywhere else. This collapsible pop up tent can be outfitted with a custom inflatable that doesn't have to be a bottle. We can create inflatable cans, logos, and props that will fit almost any tent size. Certain limitations exist, but there is a lot of room for new and exciting products. We also have walls, counters, flags, table covers, lights, and more that you can add on to any tent.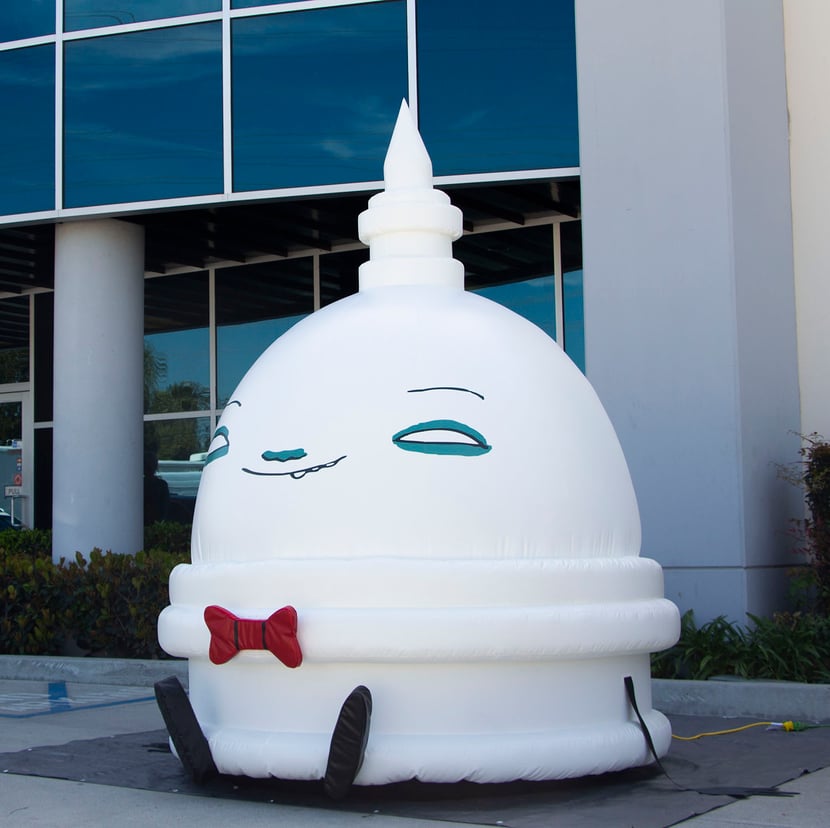 Kelly Towles - "The Capitol" Custom Inflatable Character
This special edition inflatable was a collaboration between urban artist Kelly Towles and Promotional Design Group. Kelly Towles is known for having unconventional designs and we saw an amazing opportunity to work on a very special inflatable character. What started as a two-dimensional sketch, (you can see the drawing below) ended up as a three dimensional inflatable character that just looks cool. We were super happy the inflatable character exceeded Kelly's expectations. Want to transform one of your characters? We'll help.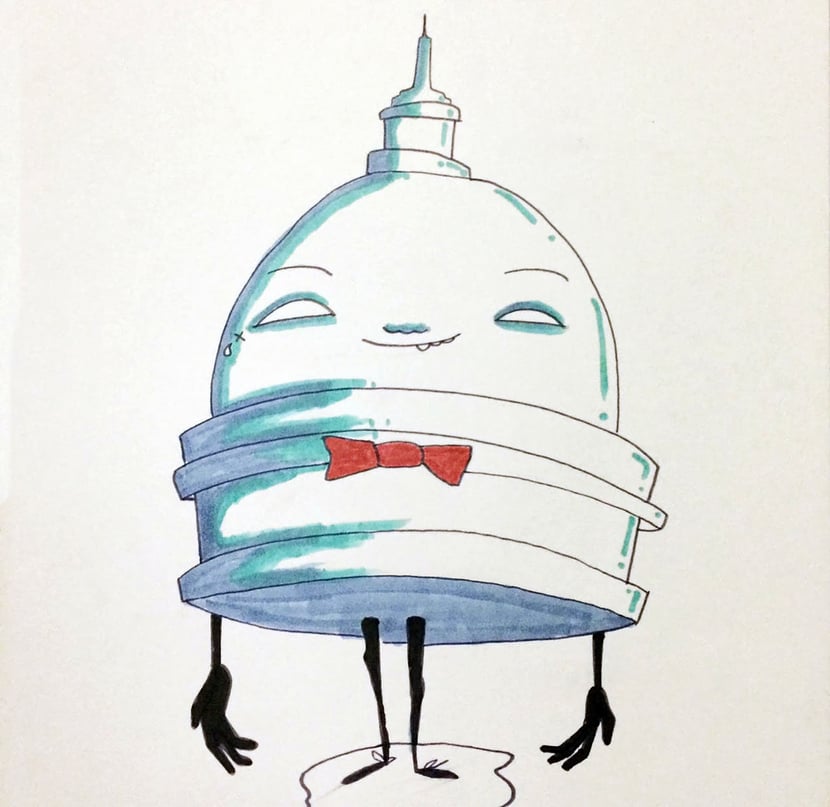 Influenced by the United States Capitol building, this friendly inflatable guy named "The Capitol" was custom made from the ground up using the latest in printing and design technology. Lil' Cappy here was also constructed using commercial grade materials that are designed to last, especially in harsh weather conditions. Our design team has almost 40 years of experience in designing custom inflatable replicas, props and characters that are unique and eye-catching.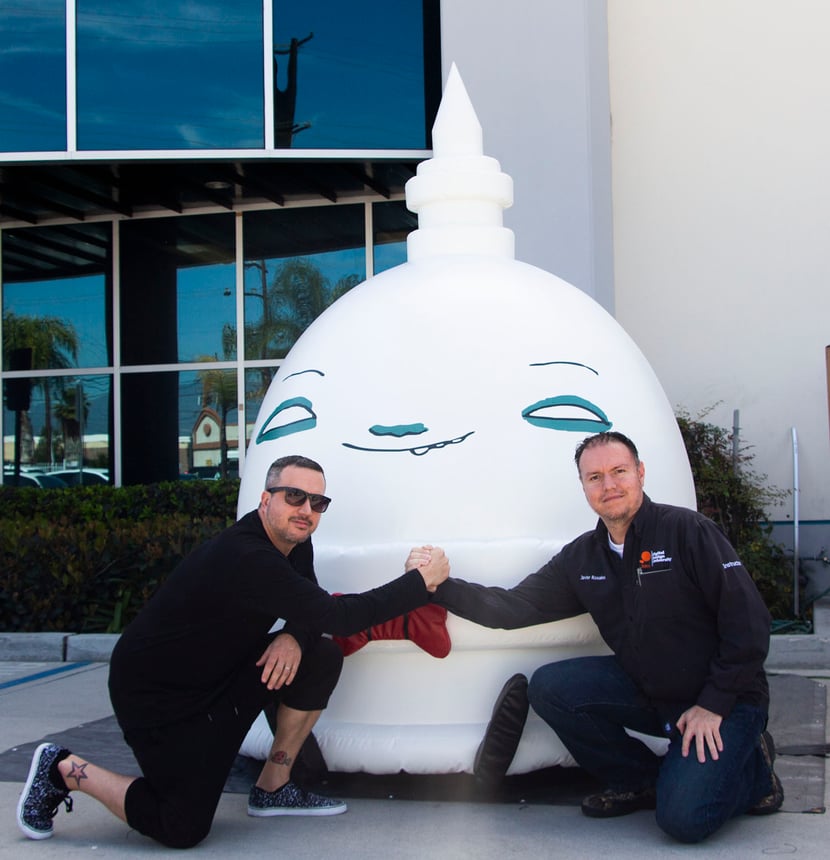 You can take a look at the design and production process of "The Capitol" in the YouTube video below: