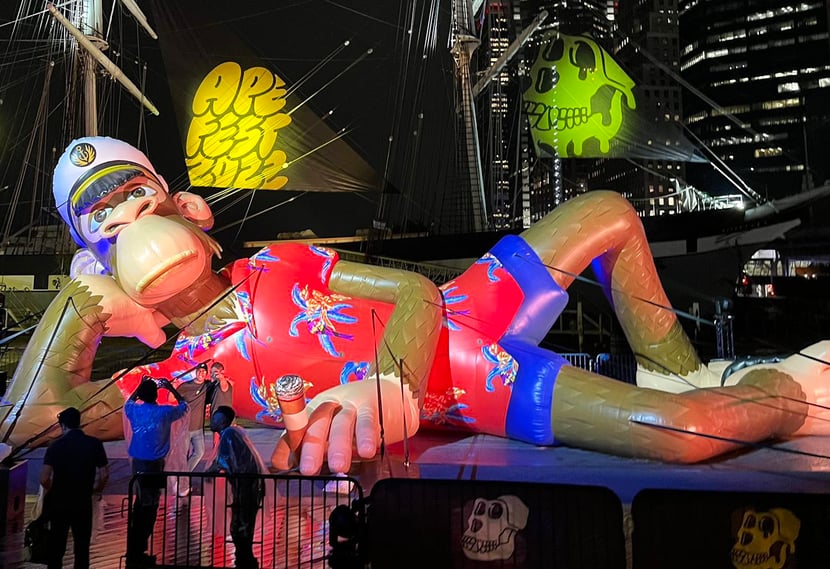 Looking Back, Moving Forward July Edition
Props to the Props.
Custom inflatable props can be made in all shapes and sizes. We manufacture commercial grade inflatable characters, product replicas, stage props, and more. Our designers can turn virtually any shape into an inflatable prop. We can go crazy big too, if you really want to grab attention, but we can also make them as small as four feet in height. In this edition of Looking Back, Moving Forward, we'll be taking a look at the massive 60' long Hawaiian shirt rocking cigar smoking ape, a popular video game's assorted props, and some cutesy anime characters.
60' Ape - Bored Ape Yacht Club - ApeFest 2022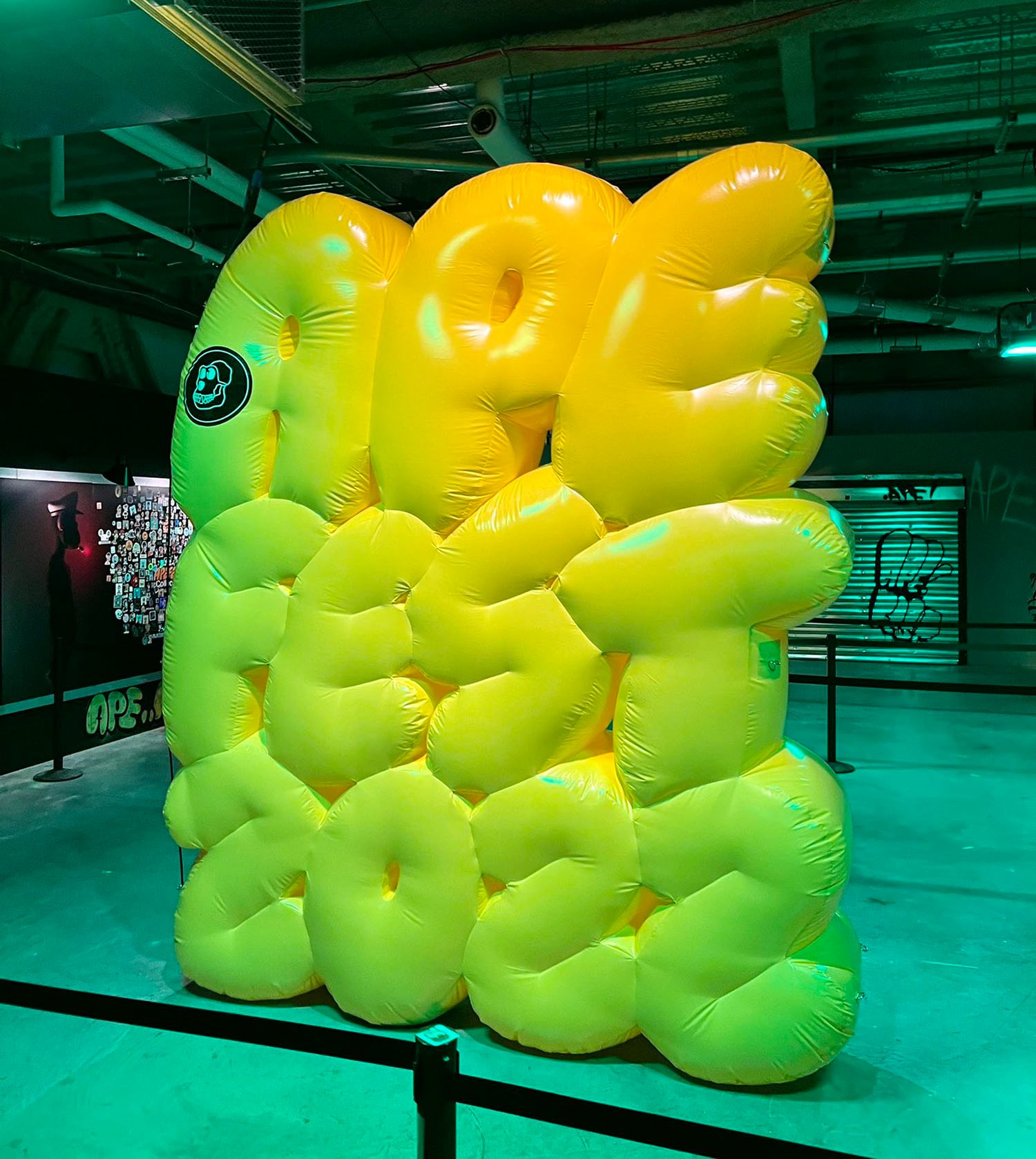 Can you find a more relaxed ape? This giant sixty foot Bored Ape is just one example of the level of quality and complexity that we can achieve in our large commercial grade props. The expertly detailed inflatable prop was fully digitally printed with high resolution graphics throughout. Modeled to be amusing, the pose of the ape says it all. Our designers can make just about any inflatable character in any pose, even with detailed flip-flops and a lit cigar if you want.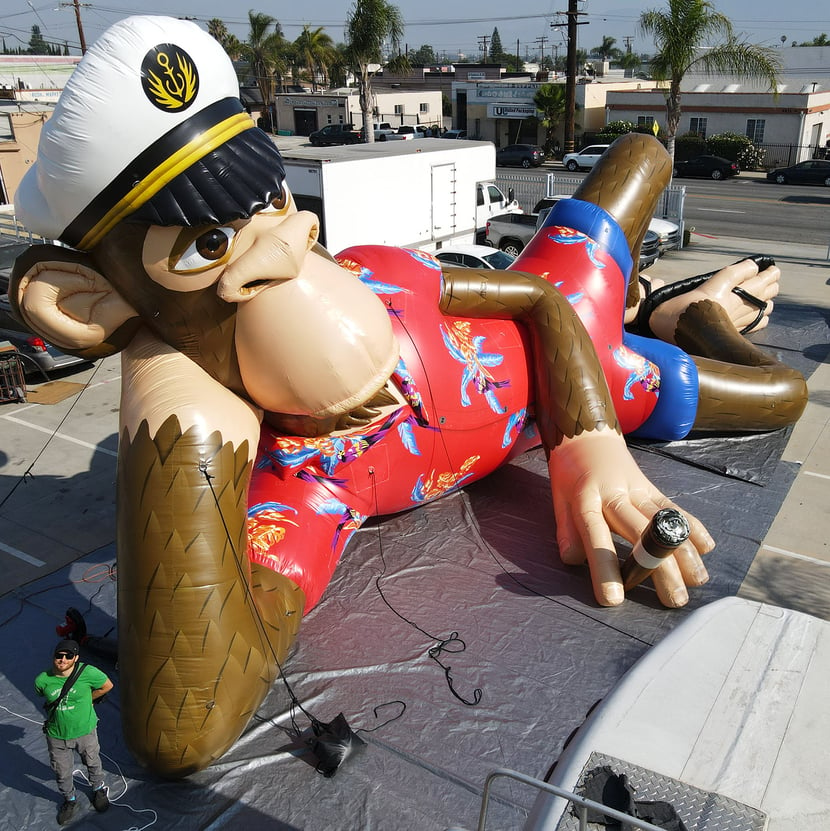 ApeFest 2022 was held in New York City's Pier 17 and featured two of our inflatable products, a 10' tall ApeFest 2022 inflatable sign and a 60' long inflatable laying ape. The detailed inflatables were used as decorative props for the NFT event, which drew in thousands of eager investors and spectators alike over a four day period. The event also featured live performances from Eminem, LCD Soundsytem, and Snoop Dogg. Holy smokes, people must have gone ape$#!%.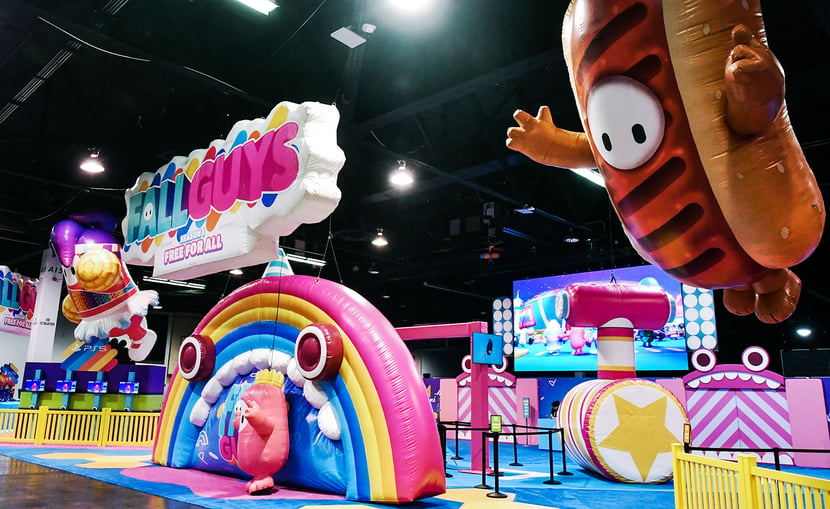 Fall Guys - Assorted Inflatable Props - VidCon 2022
Fall Guys is a massive online multiplayer video game that only recently became free for all to play. This momentous occasion was celebrated in ultimate fashion with giant inflatable props at the VidCon 2022 Fall Guys booth. The entire area boasted two giant inflatable signs, along with wacky creations which are characters and elements from the video game itself. Our custom inflatable props transformed the exhibit space to look like stunning environments taken straight out of the game. Talk about an immersive fan experience.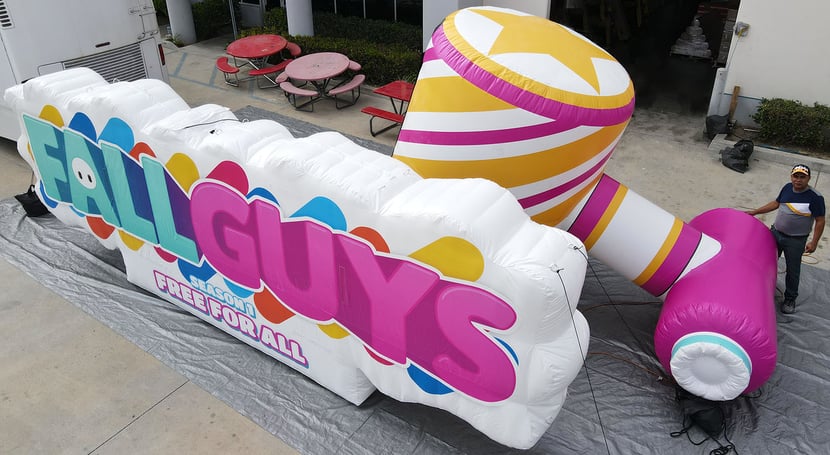 Whatever shapes you're looking to get, we can make them! From 3D, contoured inflatable signs, to comically sized Donkey Kong style hammers, to hot dog people, we can make a variety of shapes and sizes for our custom inflatable props. With such complex characters and elements, it's important to reproduce accurate colors, which is why we specialize in high resolution digital printing. Our in-house printing department utilizes PMS color matching techniques to achieve the best matching possible.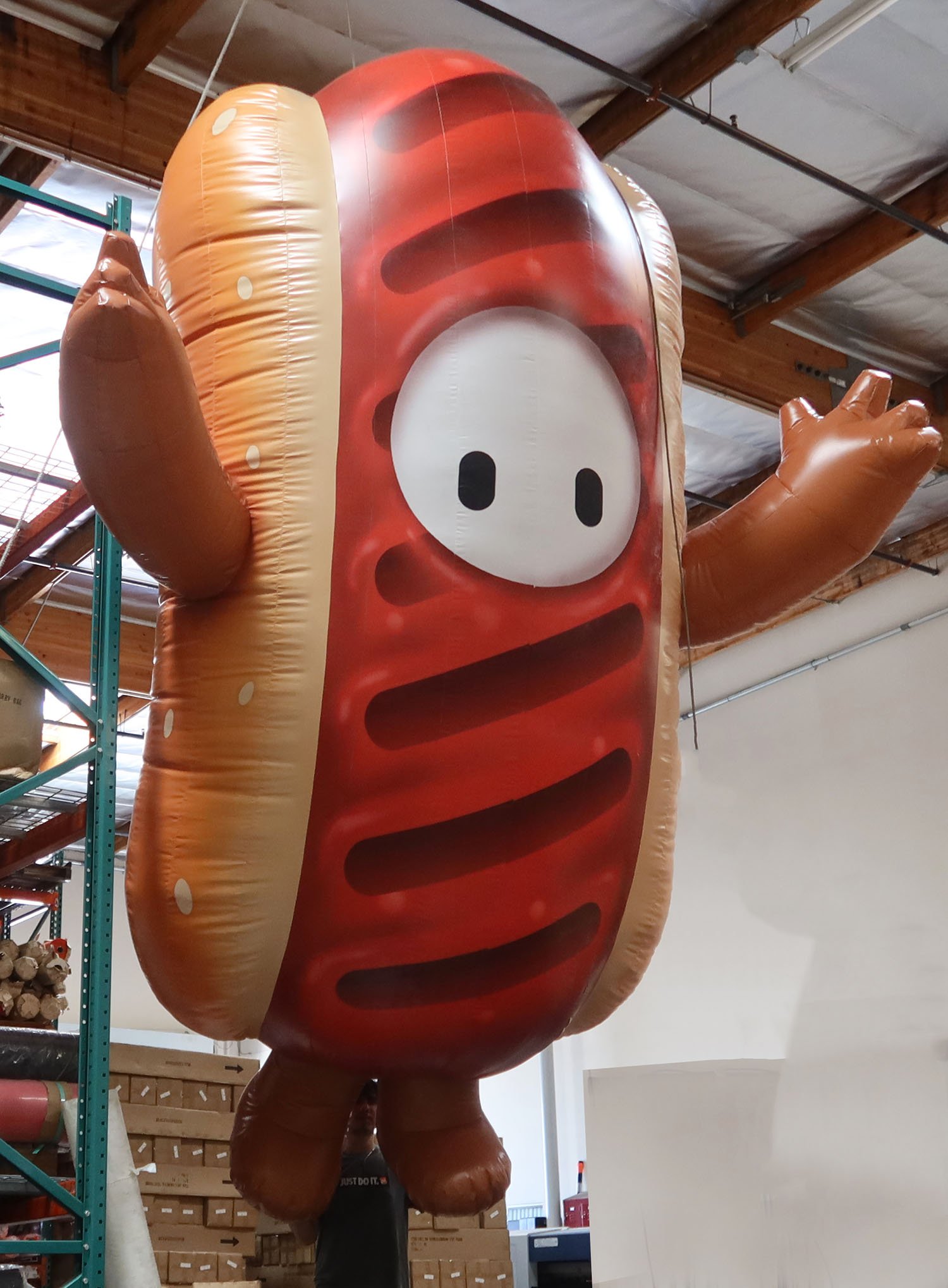 The inflatable hot dog character above dangles from our warehouse as we test it out.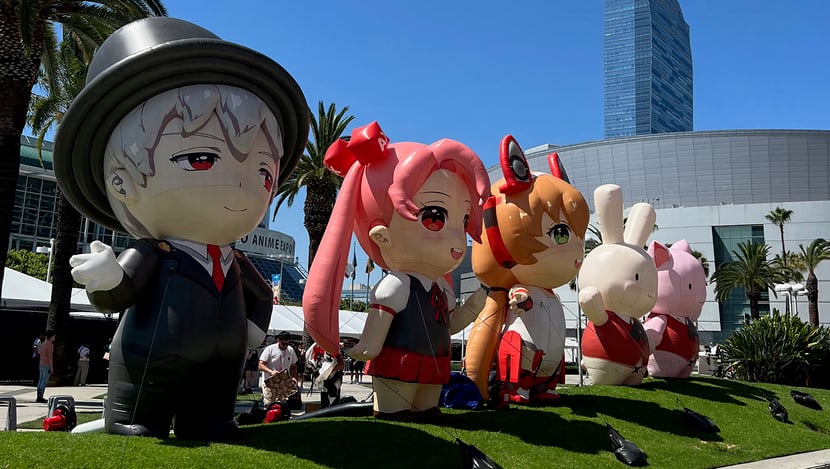 Anime Expo - Various Inflatable Anime Characters
Anime Expo is back after a two year lapse and fans can't seem to get enough. Back on display for a second year, these cute inflatable anime characters were set up in front of the crowded Los Angeles convention center to greet thousands of eager convention attendees. These ten foot tall inflatable props were designed to endure day after day of blaring summer heat, which is why we add a protective U.V. coating on all of our inflatables. The commercial grade construction in our inflatables guarantees many years of maintenance-free operation, which is perfect for recurring annual events.

Our talented team of designers can create custom inflatable props that are not just inflatable characters, but also detailed accessories such as clothing, gear, and top hats that can be fused to the entire inflatable or be separate but attachable accessories. These various anime characters all possess their own personalities and attributes, and can be seen through their printed and shaped details that make them stand out.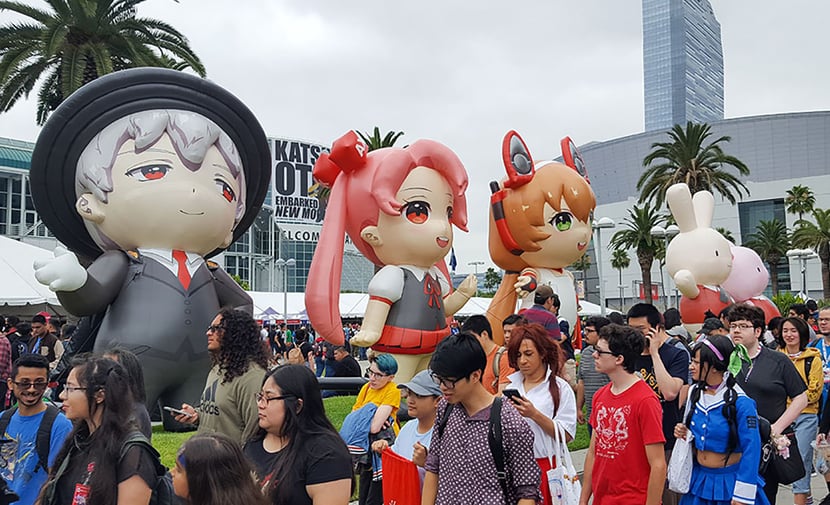 Our detailed inflatables are designed and manufactured in Los Angeles county, California.