THE TITANIUM PACKAGE
What is the Titanium package? The Titanium Package is one of our most versatile packages because of all of the accessories it comes with. It is a flashy pop up tent package that has the most printing we could possibly add to a 10x10 canopy without it looking cluttered or messy. It is one of the most inclusive packages that has some of the most useful accessories you could add on a pop up canopy. This package, as with all of our packages, offers unlimited printing on all of the sections included. The unlimited printing included in the package does not add an extra cost to the entirety of the package because it is included in the final price. The package is composed of an extremely heavy duty canopy frame, a fully printed tent top, a fully printed(single sided) back wall, two side skirts, a fully printed table cover, and a set of four corner flags. This package also includes a Rhino roller hard case that you can use to transport your canopy frame with ease. The whole thing can be stored into a small amount of space in a matter of minutes and assembly is just as easy. At first it might take you 10+ minutes to completely install the whole package but after your first installation it will only get easier and easier. With this package you have many options at your disposal everywhere you go because you can choose to have some items installed or excluded on the canopy according to the event you might be attending with it. Regardless of where you take the Titanium Package it is definitely outstanding and when you customize it with your own personalized printing it takes personalized branding to a whole new level.
WHAT THE PACKAGE INCLUDES
As the most accessorized package we offer the Titanium Package also includes the most printing any package currently has. Every printed section can be taken advantage of to help you add signage or logos and/or verbiage to them. This is definitely one of the harder packages to design because of how much items it includes with printing. We have an entire design team ready to help you arrange the placement of your logos and branding. We also help you out by creating a 3D rendering for you to visualize where you want placement of your branding on your canopy. The 3D renderings are a visual aid we provide absolutely free because we want to be 100% sure you like how the canopy looks before you purchase it. The package also employs our advanced printing techniques that allow us to print virtually anything you want on any given section included on the canopy. We tend to recommend people to keep their canopies uniform so that there is some sort of consistency across the whole canopy design without it looking weird or bad on any particular section. The printing we employ allows us to print your branding precisely without any distortions or modifications made to your logos. We can also color match any color within the Pantone Matching System (solid coated) or you can bring a swatch of your needed color for us to color match as well. The package is most know for the accessories it includes because they are very useful additions to any package. On their own they seem inefficient but when they are used to adorn a canopy they add flair to it and make it stand out.
(1)
FULLY PRINTED TENT TOP-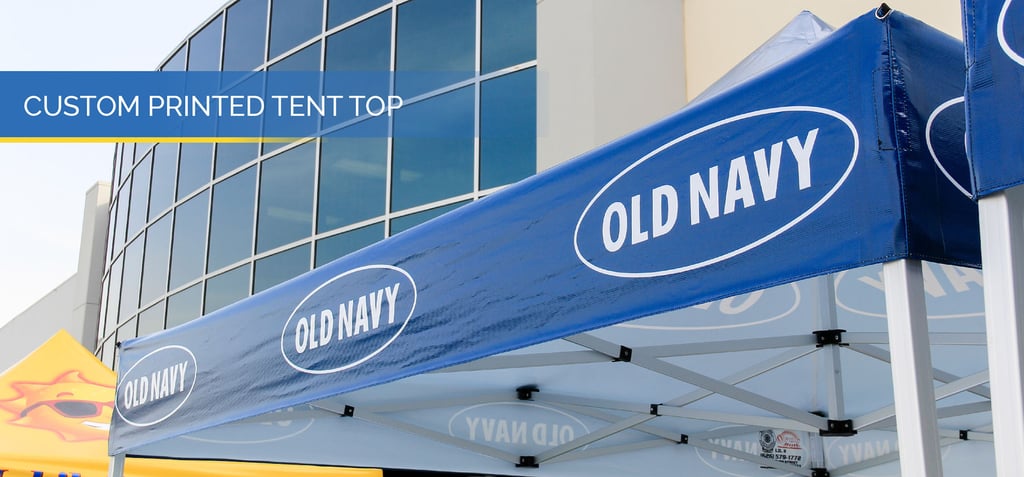 The Titanium tent package includes the core of any canopy the, canopy tent top. The tent top is vital because it is probably the most important part of the canopy along with the frame. The tent top is the very first thing we start designing when coming up with ideas to make the canopy look great. Once the tent top design is done we start designing the other sections of the canopy because they are designed with the base (the tent top) as the inspiration. The tent top is meant to be seen from afar. The top section (the tent peaks) is for a further viewing distance than any other section of the tent and the lower section of the tent top (the valances) is meant to have a closer viewing distance. If you think about how that works then it is very simple. The peaks of the tent are nearly impossible to see from 3-5 feet of proximity to the tent but the valances are very visible, whereas on the other hand, the peaks are visible from afar and the valances are not. All of our tent top designs are strategic instead of just slapping your logo somewhere on the top and calling it quits.
(1)

FULLY PRINTED BACK WALL-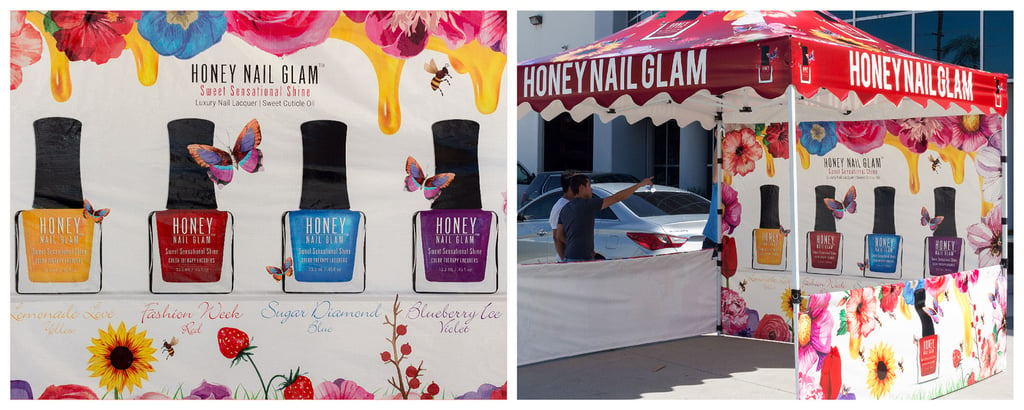 One very important tool included in the Titanium Package is the fully printed back wall. It is printed (single sided) with our state-of-the-art printers that enable us to print with incredible detail and with precise color management. The back wall, just like every other printed section, can be customized with unlimited printing since we do not charge per color or amount of printing per section. This means you can cover it in images, logos, or a combination of both. One of the more popular design approaches taken with the back wall is applying a step and repeat pattern on it. Aside from looking beautiful with custom printing the back wall also serves as a barrier when installed. The canopy back wall does not have to be installed every single time but when added to the tent it gives it an extra bit of flair that other tents can't compete with. Sometimes when installing a tent the background might not seem too nice and that's where the back wall comes in because it can also be used to shield viewers from undesired backgrounds. Not only that but since the option of unlimited printing is available on the back wall you can showcase products, promotions and verbiage on it for people to see. The back wall is a very versatile promotional tool and adding it to the package was a no brainer for us because of how useful it is.
(1)

FULLY PRINTED RAIL SKIRTS-

Canopy rail skirts are short side walls that also come with excellent digital printing. Customize them with your logos and promotions or with a beautiful imagery of your choice since they too come included in the package with unlimited printing. The Titanium package is an all inclusive package and we couldn't leave out one of our most requested tent accessories.The side skirts are easy to install and they add a great look to any tent. That's right we said tent, because rail skirts can be added to even large tents and are not limited to pop up canopies. They create a barrier along with the back wall so that the contents within the canopy can be isolated from the public or from passerby's reach. They also ad real estate to your canopy for people to see whatever it is you choose to print on them. Including them in the package makes this package a whole lot more versatile and beautiful.
(1)

FULLY PRINTED TABLE COVER-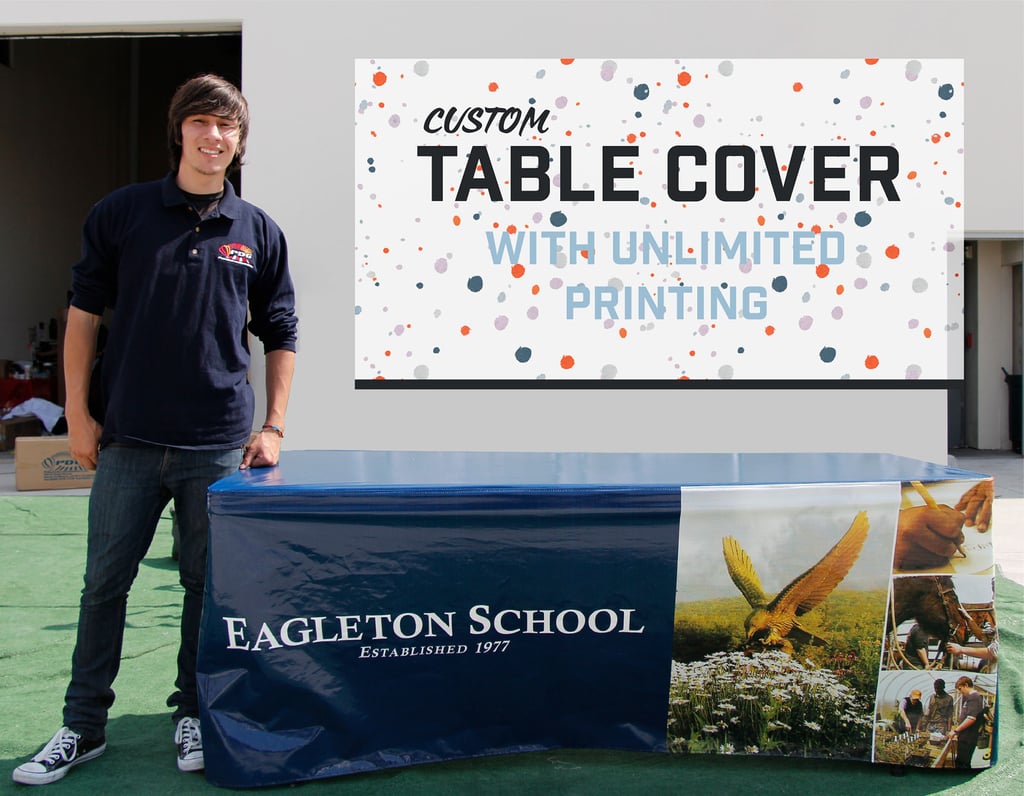 A custom printed table cover adds to the already capable Titanium Package. A table cover is a fantastic marketing tool that you can take with you to almost any location without much effort. It folds into a nice little bundle and it is very easy to install on any table. As a matter of fact, it is so easy that it can be done in just under 30 seconds. Just imagine getting it, unfolding it and fitting it to your 6 foot table. Now, another great feature about the table cover is that is very easy to clean just like the rest of the pop up canopy because the vinyl they are made of is not like polyester. Polyester will try to absorb liquids and since it has little crevices between the weaves that hold it together, dirt and other unwanted particles get smudged onto it while trying to clean it. All of those hassles are gone with our vinyl because you can get just about any wet rag or shop towel and wipe of any unwanted particles with just a wipe or two. Another great thing about the table cover is that it can be be excluded from the package when installing it. There is a misconception that if you buy a package you have to install everything in it every single time but the truth of the matter is that sometimes you can exclude sections of the package to fit your needs depending on the event you attend or host, although we recommend having it installed because of how useful it is. With unlimited printing you can make it look terrific and if you're having a hard time figuring out how to make it look nice we can also help you out. More than anything we know that it is a useful tool and we included it in this package because it is a great addition to an already brilliant package.
(1)

CORNER FLAGS-

Corner flags are tiny advertising flags except they are made of vinyl instead of polyester. With them you can add all sorts of graphics and they add style to the canopy package. The Titanium Package stands out as opposed to most tents because of the corner flags. The flags extrude from the canopy frame and they make the canopy look more prominent as opposed to tents with just a top and a back wall. Each flag measures two feet by two feet and the hardware they come with is super easy to use and install. The frame we include with this package is made to have flags on it because the flags attach to the frame with a mounting system that clips on and off the frame without looking bulgy or ugly when it is added to the canopy. As with all of the panels included in this tent package the flags are completely customizable with unlimited printing. The beauty of corner flags is that they are completely optional when you install them so they can be excluded if you need to or you can add just two or all of them as you need. An accessory that adds elegance to a tent is nice and we decided to include it in the package because it is the distinctive feature in the Titanium Package.
(1) POP UP CANOPY FRAME-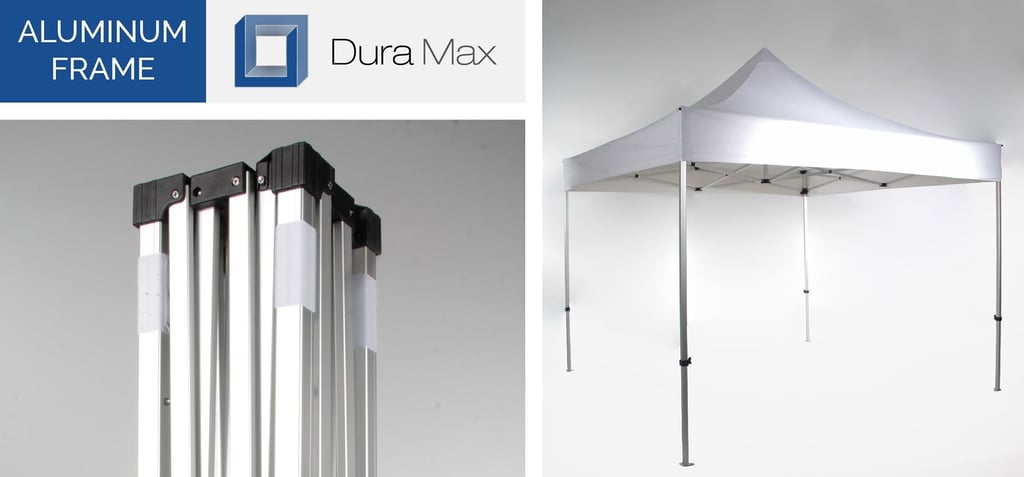 All of our packages come with great frames and they are all heavy duty frames meant to last a long time. We pride ourselves in making fantastic frames because it is basically the foundation to the pop up tent. Our canopy tops are made of heavy duty vinyl and they tend to weigh anywhere from 15-30 pounds (depending on the size of the canopy). The frame in the package can also be upgraded if you're looking for incredibly heavy duty quality, even though the frames we include in them are really great. For example, the tent frame included in the Titanium Package is the Dura Max and it is made of aircraft grade aluminum. This frame comes with an 8 year warranty and we are confident it will live that warranty lifespan wihtout even trying.
(1) RHINO ROLLER HARD CASE-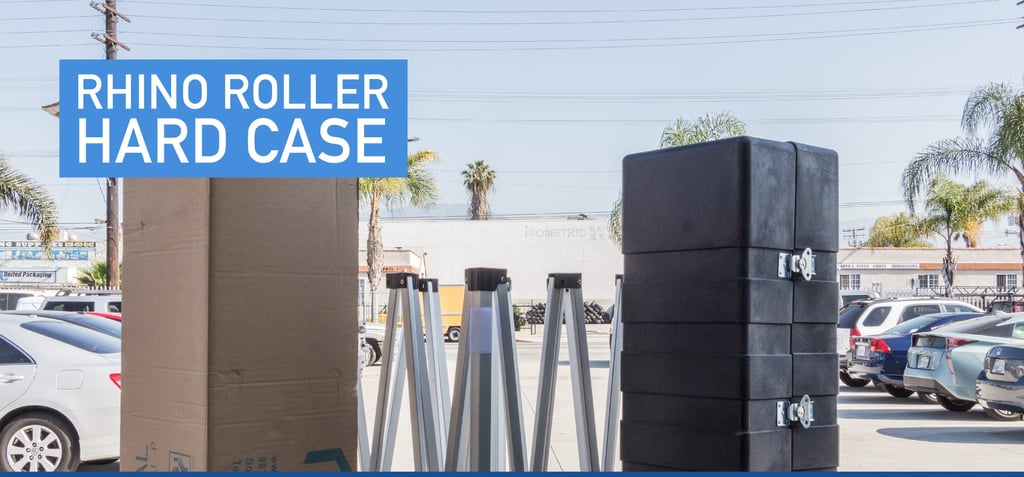 The Rhino Roller Hard Case is an incredible tool because it can fit a canopy frame and a tent top within it, which makes it a whole lot easier to transport the canopy. It comes with padding on the inside of the case to cushion any impact for the tent frame to not take a direct hit. It also comes with locks so it is nice and secure for whenever you store it or transport it. The Rhino Roller hard case is simple to use and it does its job well. We include it in this package because there is so much to the package that we believe it needs some support and the wheeled case provides just that. The rolling hard case includes, as the name implies, wheels that allow it to roll around. Now why is this a big deal? Well because pop up tent frames are heavy and when you add a tent top to them they get heavier but with the wheels there is a better weight distribution and it is easier to transport your canopy and top. Unfortunately this item cannot be customized but you can slap stickers on it and there is even a pocket I.D. for you to add a name and address for you to be able to identify it or for it to be returned to you if found.
OVERVIEW-
The Titanium Package is an overall great marketing tool because it includes so many printed accessories. The accessories make it a very versatile canopy tent that is just gorgeous to look at. The tent and the add-ons are easy to use and install as. When you need to take your brand with you it is easy to transport the canopy because it comes with the Rhino Roller Hard Case and a frame and a top fit in the case. The rest of the accessories come in a vinyl bag that we manufacture out of our recycled vinyl. The two are super easy to transport and they don't take up too much space at all. Once you arrive somewhere with everything in your package you can install it in a matter of minutes and when you're done with it all it packs neatly into the roller case and the included vinyl bag. Overall, the tent is easy to use and as a marketing tool it is fantastic because it includes all of the printing you could need to showcase your products, logos and signage. We couldn't be prouder of a pop up tent package and we are so sure it will outlast almost that we have included a great warranty on it. The frame comes with incredible 8 year warranty and the tent top comes with a 2 year warranty. So, if you're searching for a great looking tent and are unsure as to what to get then try out our packages because they go from basic to extremely prominent designs and you can choose from them to accommodate your budget. With over 25 years of experience we have created many marketing tools and promotional products but we are happy to have created this and the other packages because of how popular they are.