What are canopy packages in general? Well, our canopy packages are customized pop up canopies that we have built with custom printing and accessories to help you have options based on our most popular orders. Since we offer so many canopy printing combinations and accessories it can be overwhelming to decide what would look good, how it would look good and most of all which print and accessory combinations are most effective. So the canopy packages are meant to help out with simplifying your choices with tried and true design combinations while saving you money. Money? Yes, money. We include a 10% discount in every single one of our canopy packages (except the Titanium Package because it includes a roller case) this way you dont have to break the bank while still getting an incredible tent. So who or what is the Silver Canopy Package? The Silver Canopy Package is a custom canopy that includes a fully printed tent top, back wall (1 sided printing), and an incredible canopy frame.
WHAT THE PACKAGE INCLUDES
The Silver Canopy Package is a custom canopy that includes a fully printed tent top, back wall (1 sided printing), and an incredible canopy frame. The Silver Package includes the essentials of a marketing tent. The package is not only one of our cheaper packages, it is also very popular because of how simple it is. It is beautiful and elegant at the same time because when you add your branding and logos to it it looks clean but prominent among other tents. One of the things that make our canopies stand out from nearly everyone else is the fact that we print on our canopies. Printing adds a new layer of depth to your tent because it doesn't look plain and boring like a "normal" tent. We apply a U.V. inhibitor coating to every one of our prints and this protects the printed section from cracking, chipping, or removing the "paint" (technically it is ink) from the tent while also protecting it from rough handling. Not only that, but the tent top material is made of an extremely heavy-duty vinyl that will not rip like the cheap tents that look like they are made out of paper mache or kite material. The back wall is also made out of the same material and it is attached to the frame so that it is fixed onto the tent. This canopy package is also easy to use. Installation only takes about 5-10 minutes but over time we guarantee it will be faster and faster. Taking it down is even easier than installing it and putting it all away is just as easy. The best part is that it doesn't take up too much space when it is all bundled up for storage. Taking your branding and having a mobile station for your team couldn't be easier and couldn't look better than this package (unless you're interested in our other packages).
(1) FULLY PRINTED TENT TOP-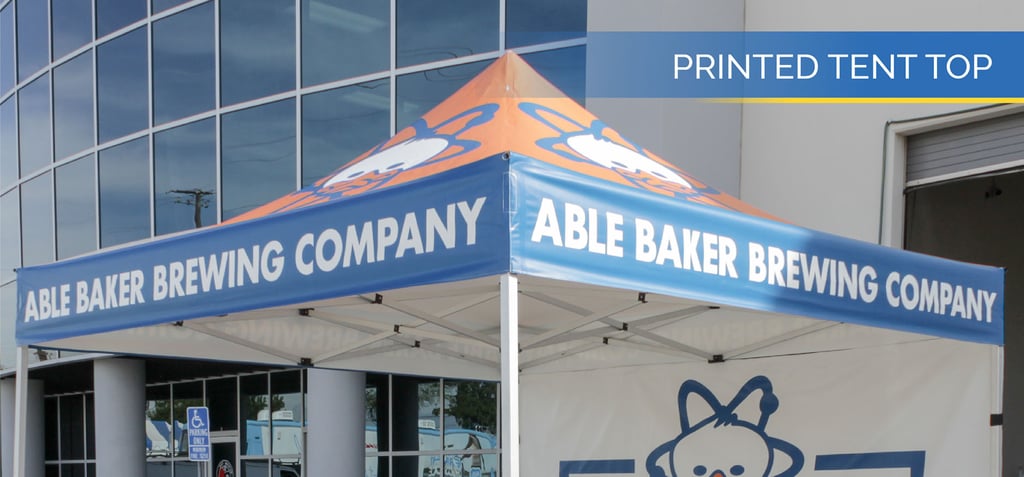 A fully printed tent top is part of every single one of our packages. The Silver Package makes the back wall it comes with look fantastic with its fully printed tent top. The tent top is printed with our high definition state-of-the-art printers with incredible precision. Our printers also have excellent color grading and they allow us to color match any logo or brand guidelines within the Pantone Matching System. We can also match custom colors if we have some sort of swatch to reference. Usually on tent tops we tend to place a logo and on the valances, which are the rectangular sections of the tent top, we place verbiage or slogans or even phone numbers. The tent top is incredible because it folds down into a small pouch and since we provide you with a carry bag you can place it in there. It also doesnt take up too much space in a car or when you're transporting it. Every one of our tent tops are made to be 100% waterproof because our assembly method is unique. We do not sew the tent top together so there are no seams, rather we weld the vinyl together and it bonds the tent top panels together to make the tent waterproof. Now, we stress that it is waterproof and not water resistant because water resistant products tend to only resist a sprinkle of water but our tents can be exposed to serious downpour without flinching. We love the tent top and truly believe it is a greater than any other of its kind because of how well it is built and adding custom printing just makes it a whole lot better.
(1)

FULLY PRINTED BACK WALL-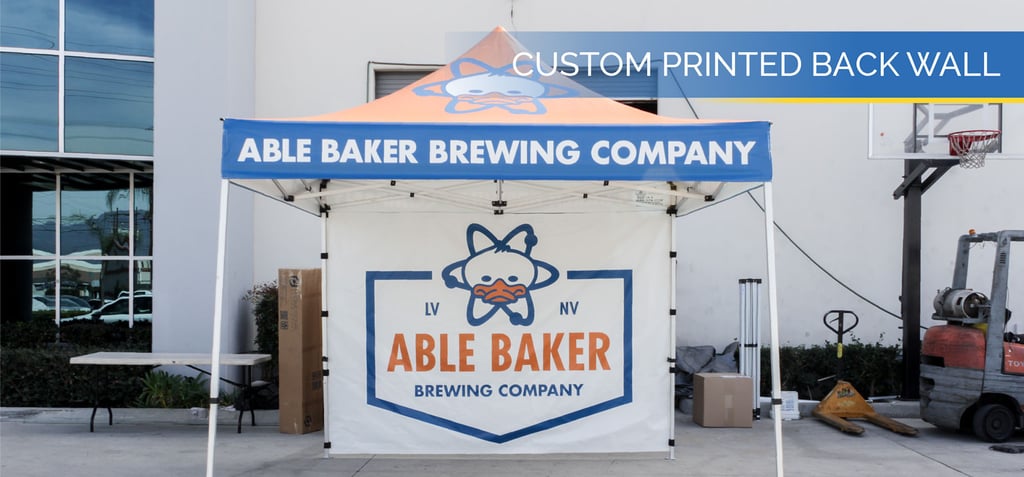 A fully printed back wall (with single-sided printing) is a great addition to any of the canopy packages because they offer a lot of space to display your logo, products, or large images of what you offer. On a 10x10 canopy they are ten feet wide by eight feet tall. This gives you more than enough room to print multiple images or even create a backdrop for your canopy. The tent top is meant to be seen from afar but when someone approaches your canopy the graphics on your tent top are no longer as visible so adding a back wall can help display large imagery or multiple images that would be great for this section. You can also print your logo on it along with your preffered images and since it is a digital print you will not have to worry about how or what you print on it. Our digital printers are great because they enable us to print with unlimited colors and designs onto a tent panel which is a feature we get to pass on to you. You can print anything, absolutely anything and we will not charge you more for any of this per panel. The back wall also helps create a barrier for your tent so you can store items or tools behind it or even separate you from whatever background you may be in. It can also be removed whenever you do not need to have it attached to your canopy and it can just as easily be added whenever you happen to need it. Overall, the back wall can serve you as a giant banner, it can help you create a barrier and it will look great as an addition to your tent, but the best part is that it's included in this package.
(1)

POP UP CANOPY FRAME-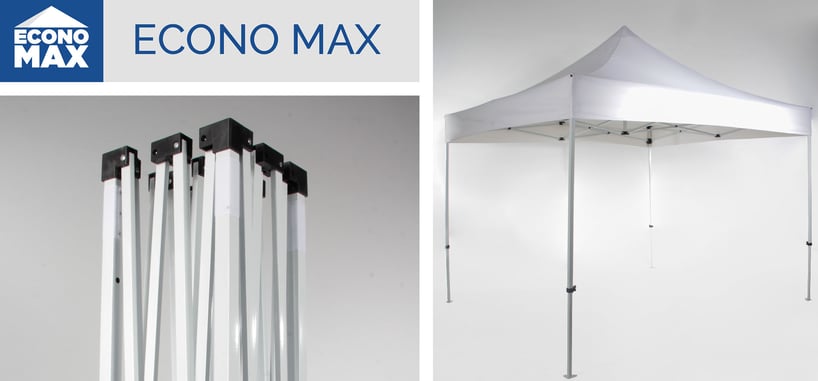 We include the Econo Max in our two more budget friendly packages because it is a great choice and it is cheaper compared to our other canopy frames. The Econo Max is a steel frame with plastic connectors but it is not a low quality frame. If you place this frame next to a frame you purchased at Walmart or some other retail store you will see the Hulk (our frame) standing next to Nightcrawler (no offense to Nightcrawler he's really cool, unlike those cheap frames.) The cheap frames break and can't support too much weight. Not only that, they fly away with a small gust of wind or they snap from sheer exposure to the sun. The Econo Max frame can be upgraded if you wanted though. We have a full lineup of frames to meet different needs. The frame included with the Silver Package (the Econo Max) is great but every single one of our other frames gets even better. Our other frames are made of aircraft grade aluminum and they come with incredible warranties that we are sure they will live up to. Regardless of the frame you get with your package we guarantee you will be happy with it.
OVERVIEW-
The silver package is a great option for those on a budget and those looking for a simple yet effective custom printed tent. This package offers great bang-for-your-buck because it includes a great quality frame, a fully printed tent top and a fully printed back wall (with single sided printing) while at the same time including a 10% discount. It really can't get any better than that, unless you are looking at the other packages we offer because they are just as good. The canopy is extremely easy to use and it has a clean and simple design that only gets better with custom printing. If you are interested in the silver canopy package let us know. You can ring us at 626-579-1772 or shoot us an email on our contact page located above on the right known as our "get a quote" page in big bright yellow.