Early 2014 we started toying with the idea that maybe we could create pop up canopy packages for our tents. Packages enable you, the end user, to customize a tent while saving 10% off your purchase. It also simplifies our vast array of options and provides you with a tried and true design. We noticed that certain amount of orders in our production queue were fairly similar in layout and design and it got to the point where we started taking note of how people ordered our canopies and we basically took the most popular layouts and applied a 10% discount to them. It makes things easier for everyone this way. The package is our simplest but don't let it fool you with how simple it is because it is an extremely heavy duty tent that is meant to last for a long time. The bronze package is now one of our best selling packages and it has been now for three years.
WHAT THE PACKAGE INCLUDES
The Bronze Package includes a fully printed tent top (which is composed of 4 valances and 4 tent peaks) and a heavy duty steel tent frame. Our canopy tops are designed to fit snugly on our tent frames in order to have a great look, design and feel. Each one of our tent tops is made of high quality vinyl that will not rip in a matter of weeks or months. For example the ultra-thin polyester canopy tops tend to rip from simply being exposed to the sun for too long. Our tent top vinyl is made to be able to handle months of exposure to the sun wihtout even flinching. When we print on our tent tops we coat the printed area to ensure the canopy's print can handle U.V. exposure. Not only that but the coating we apply on every print also adds a scratch resistance. As if that wasn't enough though, we use vinyl that has been approved by the CSFM (California Safety Fire Mashal) because it has a fire retardant in it. Now our canopy frames are seriously the best around. We manufacture them out of aircraft grade aluminum and our one frame that is not aluminum is made of steel. Our steel frame is like the runt of the litter, but it's as if Ferrari had a runt (Ferrari Zagato 3000), it is still better than mostly every car out there. Every tent frame manufacture out ther will offer an incredible 90 day warranty which will pass by in a blur while we offer the best warranties in the industry. Our Econo Max frame comes with a 2 year warranty and it that's because we know it can handle two years of heavy duty usage without a single problem. Even though it is made of steel it will not rust because it is powder coated with white paint and it acts as a protective layer that prevents it from being exposed to the elements. So, overall the package includes a tent top and a pop up canopy frame but how do they look? Well, see for yourself.
(1)

FULLY PRINTED TENT TOP-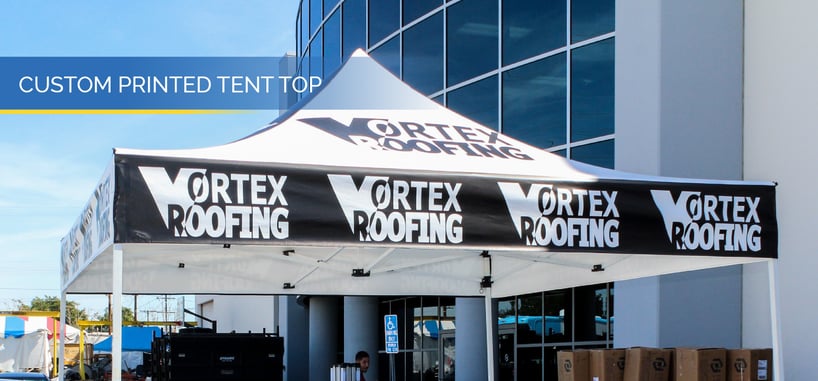 Our pop up tent tops are completely waterproof. They are sealed at the seams instead of sewn and this makes it completely waterproof instead of water resistant like most of the competitions. Waterproof guarantees that there will be no water intrusion through the canopy tent top. Water resistant will resist water as best as it can but it will eventually start leaking water regardless. They can withstand exposure to the sun really well wihtout breaking, cracking or ripping. The tops also come with a 2 year warranty. Designing a tent top is part of our specialty so as soon as we get your logos and branding we immediatley have our designers work on a design or you can request our artwork keylines and we will send them to you so you can design it yourself. Making a printed tent look nice is a must so we help out when a logo is not good for printing and if you're going to print images and they aren't good to print we will let you know beforehand. We will work hand in hand with you to make sure it turns out just how you wanted it and we know it will look nice no matter what!
(1)

POP UP CANOPY FRAME-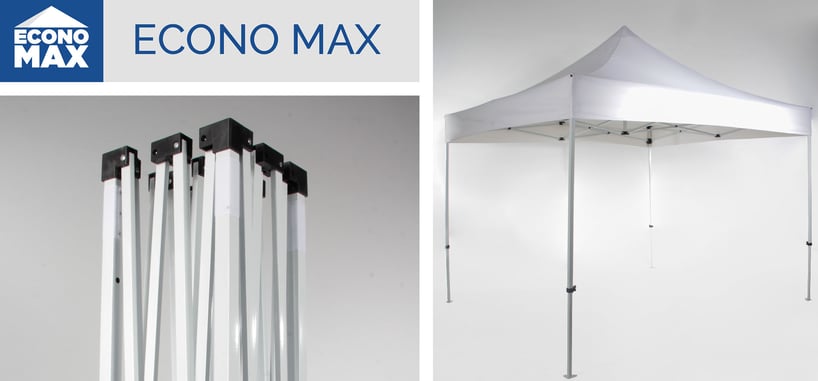 Our Econo Max Frame is included in the Bronze package to accompany the fully custom printed tent top. The frame is made of a white powder coated steel and it is far better than the disposible frames available at Costco or Walmart. Our Steel frame is a heavy duty frame meant to last for a long time, so much so that we have included a two year warranty with it. As a steel frame it is definitely heavy but the quality is impeccable. Now if the frame is not to your liking or if you want and even better frame let us know. We can upgrade the frame on the bronze package to any one of our other frames as long as you tell us beforehand so we can make the tent top fit the frame you choose.
Bronze Package: Acton
Acton makes really cool electric skateboards and skates. They offer these roller skates that attach to your shoe that allow you to roam around on them while keeping your shoes on. They also have an automated skateboard that pushes without you having to ever set foot on the ground. They showcased their products at Dew Tour and their booth was a bronze package. Their tent stood out without a doubt because of the colorful printing and because the tent was nice an snug on the frame instead of droopy and sad looking. They then added some more promotional products they that we do not manufactured and when they put it all together it looked fantastic. They also had a team member skating back and forth with their rocket skates and it looked to fun. We are happy to have put this bronze package together and have seen it do so well at the live event and we would love to help you put a bronze package together because seeing them at events makes us extremely happy.