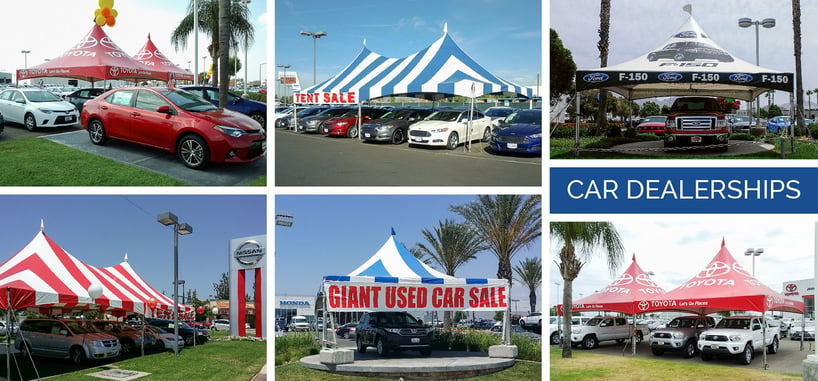 There are 16,708 franchised car dealerships in the country and this doesn't take into account any used car dealerships. With the country having about 50 major cities that's a lot of car dealerships to go around. Yes there are also car dealerships in smaller cities around the country but the ones that sell the most vehicles are the ones in major cities. Many of the larger car dealerships use billboards or t.v. commercials to promote themselves but this is expensive because not everyone watching t.v. needs a car and it's the same with a billboard. Cost wise it's not as effective because not everyone who sees these outdoor promotional products is interested in what you have to sell and the amount of inquiries due to the exposure of these products is small. What we do with our promotional products is optimize them so you can print customized messages on them like deals and specials. 80% of people who are interested in buying a car do their research online before visiting a car dealership which means that when they visit the car dealership they are highly likely to buy. Another statistic we found online was that 72% of customers who purchase cars tell their car sales rep that they are "just looking" or that they are window shopping, but the truth of the matter is that the majority of these people have done their research and they know exactly what they want and are probably ready to buy. People treat going to a car dealership as a special occasion and they usually want to hear about deals and good offers they can "take advantage" of but if none of that is available and easily accessible to them, before they speak to a sales-person the chances of closing a deal are not as high. Our promotional products are a great option for you to promote your current deals and incentives for the public to come by and visit your dealership. Keep in mind that when someone visits a dealership they are most likely interested in purchasing if everything they are looking for sounds right. All of our promotional products can be customized to meet your marketing needs and they can be designed to have interchangeable messages if necessary. In our arsenal we have 3 main marketing tools available. The three main marketing tools are pop up canopies, frame tents and inflatables all of which can be custom printed and designed in an array of different shapes ad sizes. Of course there are many more promotional items we manufacture which make great complements for the main marketing products we offer. We also rent our products for those looking to have different options depending on the season (like holiday themed tents & inflatables) at a cheap price as opposed to buying.

Every single one of our marketing products is manufactured out of heavy duty materials that are guaranteed to last outdoors without breaking, cracking and ripping in a matter of days or months like the Chinese manufactured outdoor products. Our production time is typically 7-10 business days and sometimes longer (depending on the size & quantity of the project.) Every single promotional item we create can be customized with advanced printing technology and with accessories that we offer for the majority of our projects. We can also customize shapes and sizes for every project because we manufacture every single one of them ourselves. Many of our clients also call us about working with them to create items that we have never manufactured. We had a customer who came to us with the Dodge car company badge for us to create and we made an inflatable that made the flat logo come to life and take on a 3-D realistic form. We create all sorts of custom projects and we love a good challenge because they let our creative juices flow while idealizing what the final product will look like and how it will be manufactured. We can take your logos and branding and print it all over the pop up canopy, frame tent or inflatable while having it match your colors, brand style, and we can even print images that aid your marketing campaigns. Everything we manufacture is made here in our Los Angeles facility where we not only manufacture everything but where we actually have our designers and salespeople as well working together to deliver the best possible solutions for your marketing campaigns. Below we have some examples of our marketing products that can aid car dealerships with outdoor marketing efforts.
1. POP UP CANOPIES-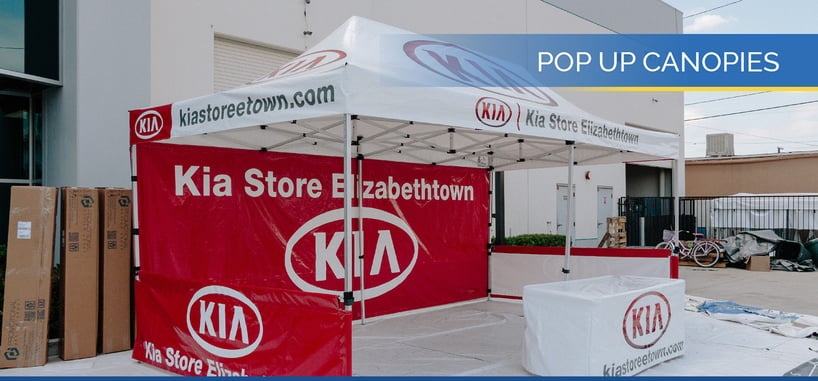 Pop up canopies are the easiest to use among all of our promotional products because they can be completely installed in a matter of minutes. If you unload the canopy from a car and install it then it should take no longer than five minutes to have the whole canopy set up. It's one of the easiest promotional products to take down as well. Putting everything away only takes a matter of minutes and it is super easy because we provide video instructions on how to fold and put everything away. The canopy is also great because it offers the opportunity of having an interchangeable tent top and if at any point you choose to complete the second tent top the frame for the is not too expensive. Also, the frame on the canopies is the best available on the market because we went out of our way to make sure it was the best and as if that was not enough we back it with a 10 year warranty. We also have canopies that are cheaper and even though they are cheaper than our best frame they are way better than anything the competition offers. Our cheapest frame has a 2 year warranty and the one following that is 6 years, followed by an 8 year warranty frame and last but not least our best frame the Gorilla Max with a ten year warranty. Ask us about how you can use a canopy to get your marketing campaign started and we'll help you customize it with our expertise.
2. HEAVY DUTY FRAME TENTS-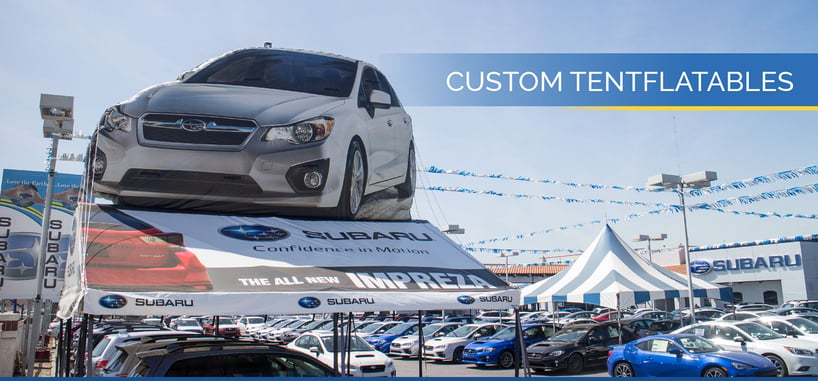 Heavy duty frame tents are the most popular tents in the car dealership industry. For some reason they are the most popular of the three options. Frame tents come in many different styles but the most popular amongst them all is the high peak striped tent. The majority of car dealerships in the U.S. use striped high peak tents. To be even more specific they use the red and white striped high peak 20x20 tents (like the one in the image below.) We rent many more frame tents than we sell to car dealerships because they like having the option to swap out the tents every once in a while for different colors or for different sizes and styles. Our favorite tent is the double tube high peak tent because it just looks elegant for a tent. It has the least amount of legs possible while having a fully customizeable top. Not to mention they look great when they showcase something underneath them, like a car.
3. Custom Designed Inflatables-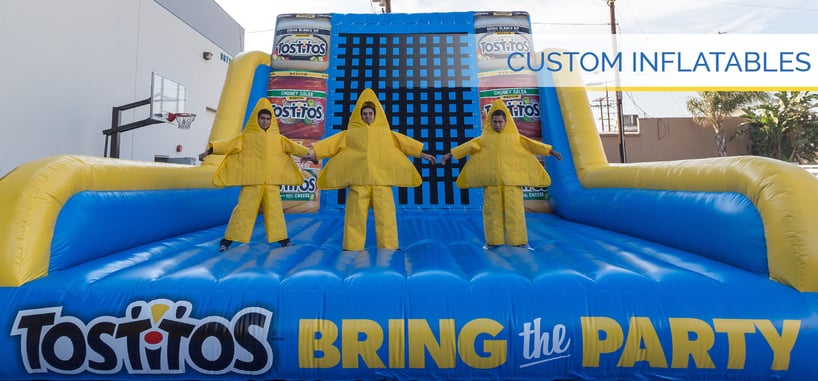 We create many different types of inflatables for many different types of occasions. They can range from birthday cakes to powertool replicas to 3-Dimensional company logos. Each of thoes inflatables were made of the exact same material because we use extremely heavy duty vinyls to guarantee a long lifespan on our inflatables. The inflatables have been used to promote large events such as Kobe's last game or to represent a company like Dorito's whom we created interactive inflatables for. We have even created promotional items that are insanely large like a 60' cranberry we made for Oceanspray's PACT drink when they rolled it out. The held a campaign where they inflated the cranberry at the beach and they had people show up to enjoy the day where they would give out pact, do yoga, and relax. The awesome thing about inflatables is that they can turn into basically any shape we want them too and our designers and production team are so good at what they do that the inflatables always turn out looking great.
Finally, we want you to know that wether youre looking for a canopy, frame tent, or inflatable we are the company to do it because we have been in the business for the last 27 years. In our 27 years of experience we have never had an issue that was out of this planet. Our many years of experience have thought us that quality over quantity is truly something we should strive for because it makes a difference in what we output. Quality products are meant to last a long time whereas mass produced products tend to break fairly quickly and they may cost a fraction of what our cost but you get what you pay for. We also back all of our products with great warranties because we know they are great products that are will last a long time. If you have any questions do not hesistate to call or email us since we are here to serve you and help you out in any way we can.