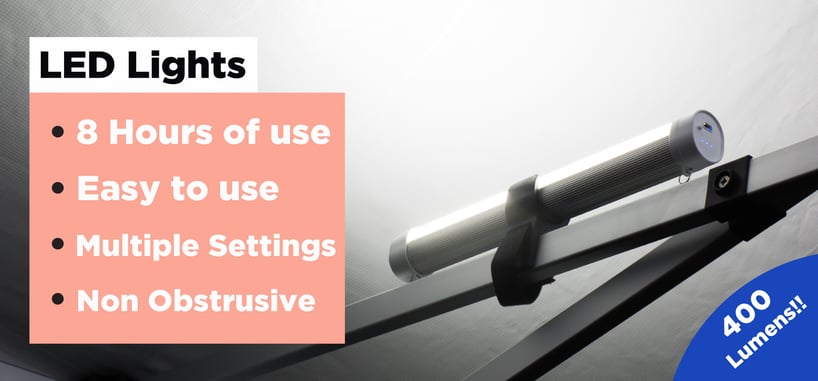 LED Canopy lights are incredibly great little tools to illuminate your pop up canopy. They are heavy duty and provide your canopy with 400 lumens while taking very little effort to set up. Night time canopy set ups are not that common, but what they all have in common is a need for lighting and the canopy lights are an easy way to fix that. They are lightweight and easy to transport and even easier to install. They include a rechargeable battery that allows the light to last a full eight hours on high before it needs recharging again. What you get in the box is a charger for each and every light and the light itself. The best part about them is once they are charged they do not need to be plugged in and that means you will not have wiring and cables running throughout your canopy, which can be a trip hazard, fire hazard, and an extra little nuisance. The brightness emitted from the light is also more than enough to get an entire canopy illuminated in a matter of minutes. In order to install them it takes about 20-30 seconds because they come with a small strap that connects to the truss system on the tent and a velcro attachment to secure them which only takes seconds to install and as for the light, well, its only a matter of pushing a button.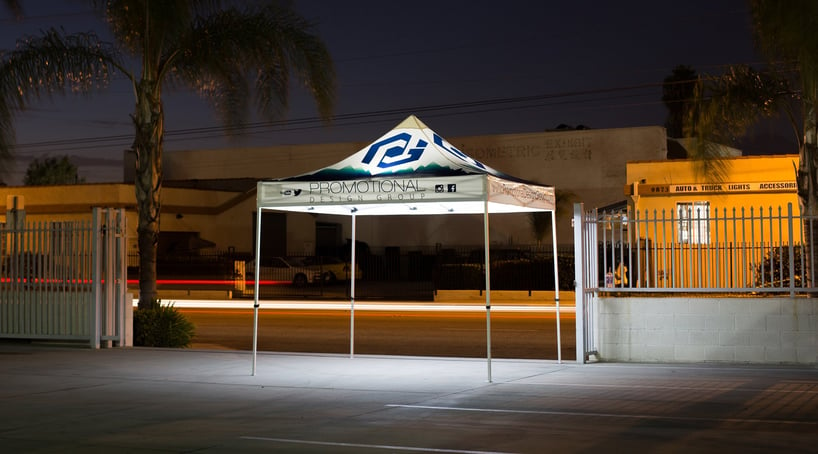 We typically recommend 3-4 canopy lights to get proper illumination underneath a 10x10 pop up canopy. Of course a bigger canopy will need more lighting so a 10x15 and a 10x20 might need 6 to 8 portable lights, but you can get away with 6. The installation process, as mentioned before, is very easy and even if you have to install 6 or 8 you can do it in a matter of minutes. It takes very little effort to install and the final results are gorgeous. We have studied other light options available and believe that the ones we offer are the safest and easiest to use. They also have a decent amount of brilliance that can be altered with the push of a button and best of all, they don't get hot or take up too much space. Some of the lights we studied would overheat and make the canopy unbearable and they seemed very unsafe, while others were too complicated or too cheap. We decided the LED Canopy lights had to be simple and effective and what we ended up with the best of both worlds. Friday night Farmer's are some of the common users of canopy LED lights and they always look great.
If you have any questions regarding just give us a holler and we will gladly answer any questions for you. We can even help you plan how many lights you will need for your tent , or how you can setup your canopy more effectively in any setting. One of the most important things to remember is that with proper lighting you can get more done, but at the same time think of the ambient you're setting and how your customers will feel inside your tent with proper lighting as opposed to dim conditions.