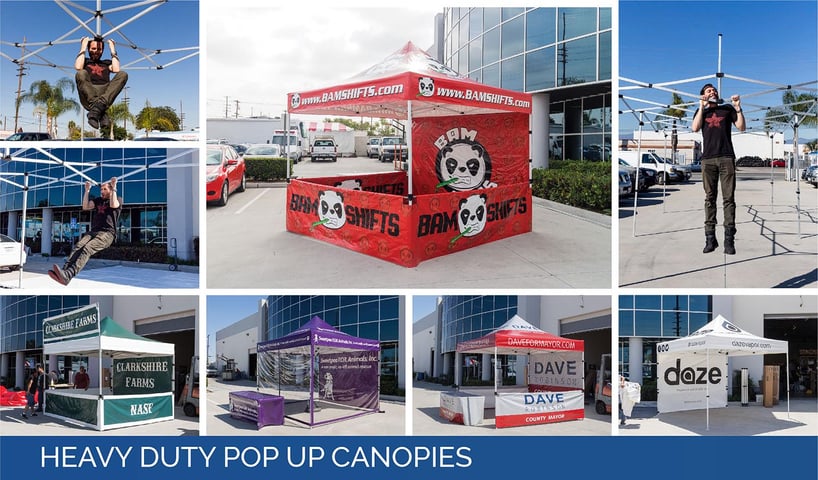 Promotional Design Group is one of the leading pop up canopy manufacturers in the United States and we are proud of being able to create the best canopies in the whole country (probably the world). Our canopies have come to be known as heavy duty pop up canopies because they are heavy duty instant canopies.They're structured around collapsible frames with extremely heavy duty tent tops which is why we call them "pop up tents." The tent frames are made of aircraft grade aluminum because it is the same aircraft that they use to build small aircraft. The impact strength on the frames' metal is definitely strong enough to be placed on a tent, as a matter of fact its kind of overkill, but we wanted to make sure it was good enough for our tents without us having to worry about it being cheap and breaking. As a matter of fact, we offer the best warranty possible on all of our pop up canopy frames because we know how much the frame can withstand. The longest warranty we offer on an aluminum frame is ten years and our lowest warranty on the cheaper aluminum frame is eight years. The frames are definitely not cheap (in quality) and they will not break as easily as a disposable frame. The frame is the first main component to the pop up tent and the second, which is very important, is the tent top. The tent top is the made with the strongest canopy material we could find while at the same time keeping it light enough to handle and carry. It is made of a heavy-duty vinyl that allows us to print on it and we do not sew on it at all so when you set up the canopy the top is completely weather-sealed. Our tent tops come with a 2 year warranty and it is because they are strong enough to be able to last a couple of years at a time. You can expose them to the sun and rain without worrying about them being damaged or ripped within a month like those of a disposable tent that are made with a cheap fabric.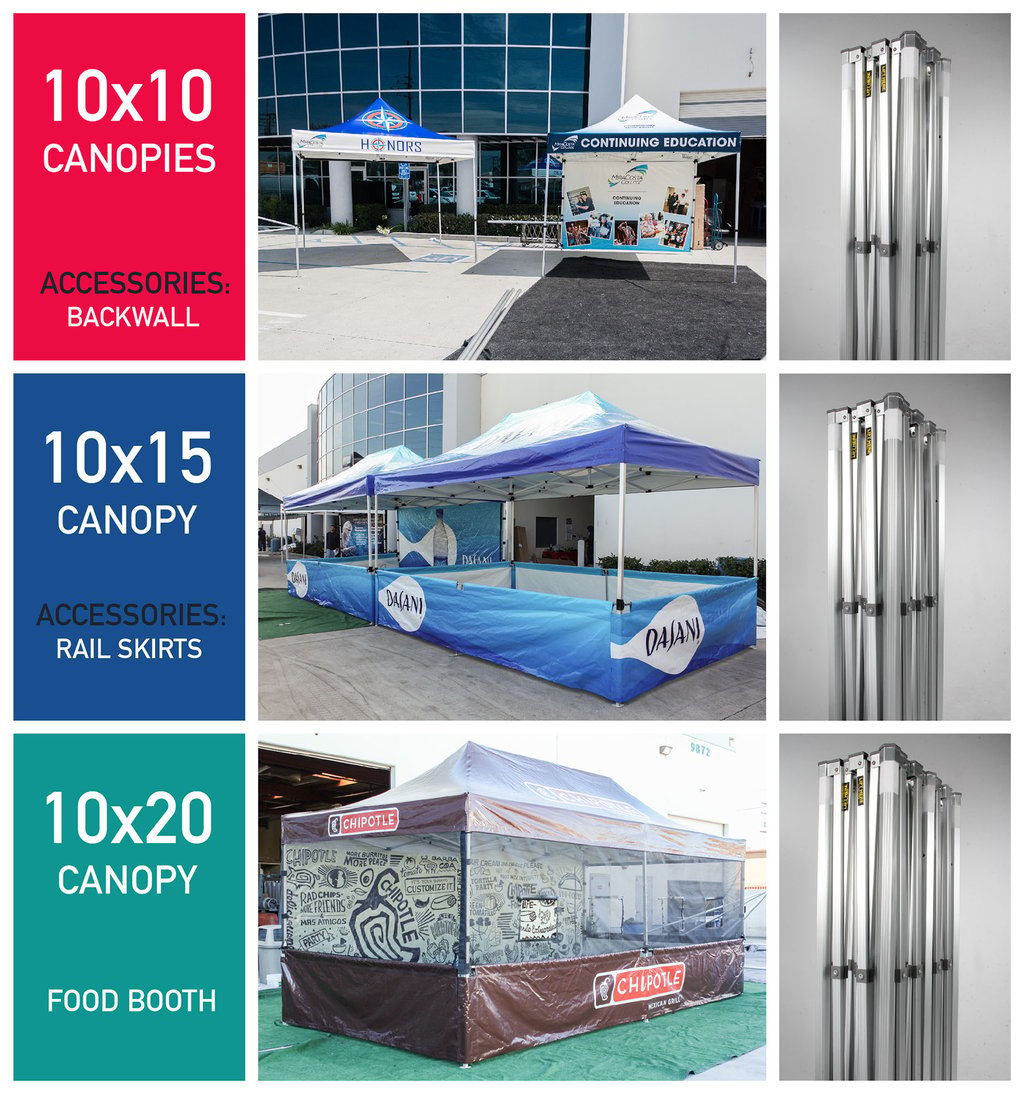 Heavy duty pop up canopies are our bread and butter because they account for 75% of our tent request. We are determined to make the strongest pop up tents if we made a low quality tent we would get a lot of unhappy customers and we definitely do not want that. Our number one priority is being able to deliver the greatest quality instant canopies anywhere in the world because we strive to be the best manufacturer. These canopies have many perks because they are very portable and easy to install. They can also be easily transported because they do not take up too much space in your car and storing them takes no more than the space of a mop and broom in a closet, garage, or attic. Installing them takes only about five minutes with the help of a friend and securing them is super easy as well. In order to secure them you need a sandbag a set of stakes or ballast if you must make sure it will not fly away in higher winds and such. We recommend taking down the tent if winds exceed more than 15 miles per hour even if it is secured with any sort of securing system because there could be a draft of air that gets caught on the underside of the canopy top and although it is unlikely to happen we have seen it happen (when we were testing this).
Heavy duty canopies are truly a great way to take your marketing with you on long trips and or to local events where you can expose your brand. Farmer's markets always have tents everywhere and they are typically plain tents with white, red, yellow or blue, but what if you can print your imagery everywhere on the canopy and at the same time have your logo on every side of the canopy for any passerby to see it from every angle? The many marketing opportunities that you can have with a canopy are great but if the canopy is going to break down in a month or two of your purchase it probably won't be worth it, which is why we have gone ahead and made the best canopy that can last you up to ten years. There are many other benefits to a portable canopy but we will cover that in another post sometime in the future. We love making great canopies and we love a good challenge to design an entirely different one every once in a while. We believe the need for outdoor marketing products will only increase as many start up companies are always in need of getting outdoors and making their presence visible everywhere they go and they do not stop emerging. We also believe that already established companies will continue needing outdoor marketing products to continue growing and being on the field and interacting with their customers and clients and we will always be ready for any order no matter how big or small.