In the summer of 2016, Disneyland approached us to help solve a big issue they had been having for years with their security checkpoints. Prior to December of 2016, only people that were entering either Disneyland or California Adventure were checked by security, but not Downtown Disney patrons. This was seen as a potential risk, due to the high volume of people entering each day, which averages 45,000. So the goal was simple, make Disneyland Resort a safer place to be by adding more security checkpoints, while allowing guests to pass through faster.
The Dilemma
There was a total of only five security checkpoint areas in the entire resort, which created quite a bit of bottlenecking or "choke points" as the Disneyland security experts stated (as seen in the picture below).

Back in 2001 frame tents were Disney's original security checkpoint choice due to their longevity as compared to traditional pop up tents. On the opposite side of where the frame tents stood, temporary pop up tents were purchased so that everyone had to go through security. These pop up tents quickly started to tear, break, and began not having the "Disney look" rapidly. A picture of the first pop up tent we were replacing was taken during our first walk through of the site (please see picture below).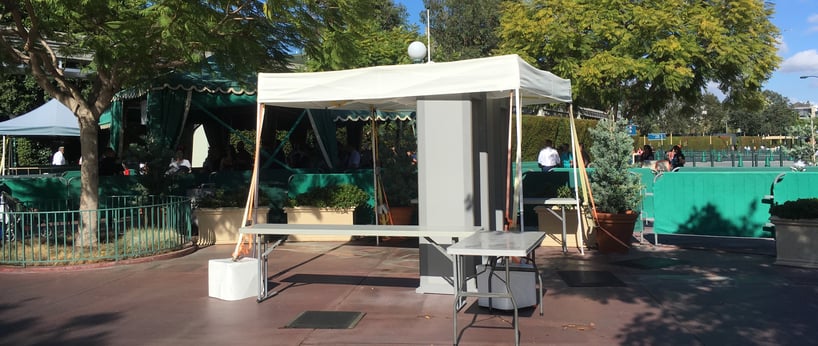 The Proposal
Disneyland had done their research and were now looking for the best quality pop up tents they could get. When they initially contacted us, they had very specific requirements:
The tents had to be sturdy enough to be considered "semi permanent" but if required, could be easily removed, repositioned, and set up safely.

A 15'x20' space was needed for each checkpoint.

3,200 lbs. of weight was needed per 15'x20' tent set-up.

The height of the tents needed enough clearance for the metal detectors.

No sharp corners could be exposed.
As with many big companies, safety was the top concern. Naturally, 3,200 lbs. per section might seem like overkill, but it's actually a very good safety measure since the tents will not be going anywhere, even with high winds.
The Solution
The brightest minds at Promotional Design Group banded together to create a solution for Disneyland. Since heavy duty tents were needed, our top of the line 10-year warranty Gorilla Max pop up canopy was naturally the best fit for the project. The Gorilla Max frame uses only aluminum connectors, which provide superior strength and durability in case of harsh conditions or inclement weather while still retaining the ability to collapse and store easily. The idea of combining two 10'x15' pop up tent set ups to create a larger 15'x20' space solved the coverage challenge. In order to ensure the tents were properly secure, a 400 lb. cement ballast was attached to each leg. Lastly, a custom 2" thick foam cover was produced for every individual ballast to protect people from bumping into them, which happened to be a unique solution to the Disneyland Resort.
Our Gorilla Max offers the best quality in a pop up tent available on the market, however, the clearance of the inner section of the tent reaches 6' 6". This posed a problem since seventeen brand new 7' high metal detectors had just been purchased by Disneyland Park. That's when the idea of placing the pop up tent frame on top of the 400lb ballast came into fruition. A custom plate was created and molded into the ballast during creation. This also gave the tents more supporting strength since two bolts were screwed into every footplate.
Transporting 50 tons worth of product to Disneyland was no easy task. A truck with a 20,000 lb capacity was used for multiple trips.

Installation was the next step in the process. We partnered with a general contractor hired by Disneyland Resort to coordinate the installation process. Complete 14 hour days were spent at the resort making sure everything went smoothly and the tents were set up perfectly. These long and grueling days were spent moving 400 lb. blocks into place, properly securing the tents to the ballast using ratchets, and placing the tents in the perfect alignment that would look the most visually appealing to guests of the park. The images below show PDG's Installation Team taking on this huge task.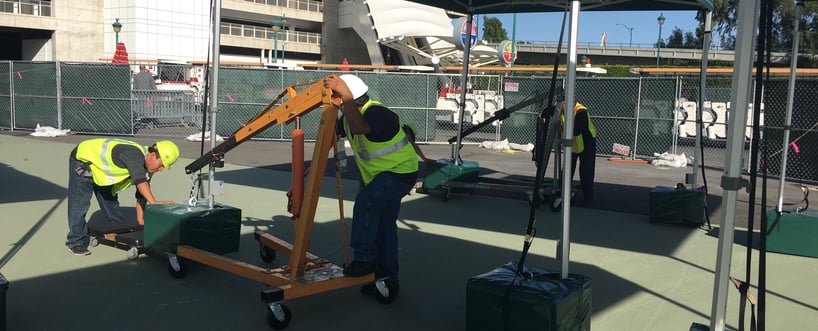 THE END RESULT
Seeing the tents finally set up and being used almost brought tears to our eyes. The tents looked great! The countless hours of hard work and dedication had finally paid off. Thanks to the PDG Installation Team, Disneyland now has 17 security zones that are comprised of 48 tents, coupled with 196 (400 lb.) ballasts. Every person that steps onto Disneyland Resort property is now checked by security and the "choking" no longer occurs, thanks to the replete security checkpoints throughout the entire resort. The pictures below illustrate that lines are rarely seen at the security checkpoints anymore. It's safe to say that Disneyland is now more secure thanks to Promotional Design Group.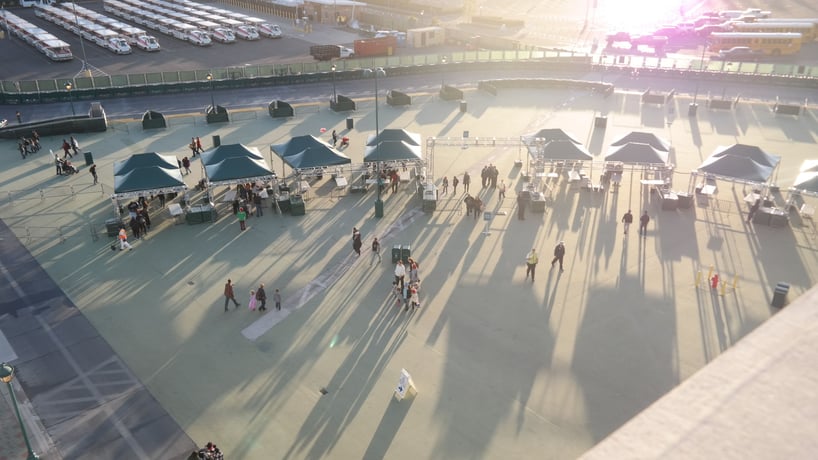 ---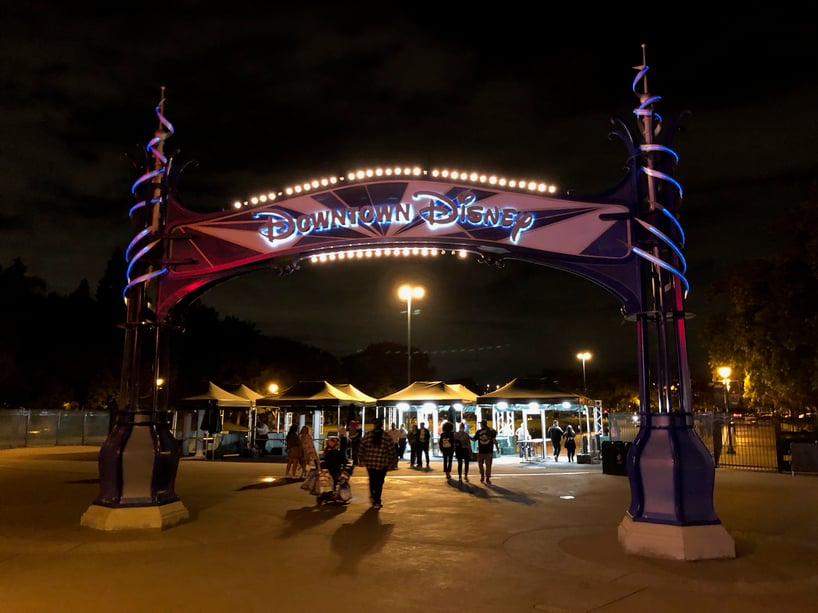 ---