Safety Checkpoints for Anime Expo
Anime Expo is the largest anime convention in the entire U.S. Not only that, but it just so happens to be growing year over year and it is even starting to rival Comic-Con. Last year Comic-Con had 130,000 attendees and this year Anime Expo had 115,000 attendees and the numbers are expected to grow. With so many people attending safety concerns are important to keep in mind because safety is AXs' number one priority. So much so that they installed four custom printed canopies as checkpoints for "weapons check" where all weapons were it was mandatory to have your weapons and props inspected and peace bonded. There were a total of four different stations where all props and weapons were to be checked. There was an incident at JDF Comic-Con where an armed man had intentions of harming people and because of that weapons check is now mandatory. The custom printed "weapons check" canopies were among the most transited sections of the entire convention and they were definitely eye catching with a bright print. They were 10x10 pop up tents with full print on the top, back wall and side walls. The canopies were made of a thick heavy duty vinyl and the frames were our Econo Max frames. AXs' choice of marketing tools was pop up tents because they are easy to install while protecting you from exposure to the sun. The other great thing about pop up canopies is that they can be completely enclosed so you can house supplies necessary for your booth, like the ribbons used to peace bond the weapons and props or water and snack, while still leaving one side open for you to attend to matters outside the canopy.
The expo is full of all sorts of activities, attractions and internal events within the main event. The attractions include screenings, competitions and giveaways. There are also many artist of many kinds ranging from musical artist, sketch artist, costume artist, prop creators and many more. The entire event revolves around anime and the host help creators showcase their sneak peaks, long awaited sequels to previously paused shows and to overall share an appreciation for anime. Attendees get to meet the creators of some of their favorite shows as well as voice actors, fellow attendees who share a passion for anime, cosplayers and the hard working people who put everything together for their favorite shows.

The weapons check team was split into four groups placed by entrances to help out those who were carrying props and toy weapons. Of course not all traffic went through them but there were a large amount of attendees who had toys and props and weapons to be checked since it was mandatory. The hosts for the expo needed to be able to have multiple weapons check units and they needed them to also be able to store some of the accesories they were going to be using to mark weapons. They also needed something that didn't take up too much space but that at the same time it would easily be identifiable from a distance. The beauty of the pop up tent is that it is a semi-perminent and it can also serve as storage while attracting attention with eye catching printing and logo placement. Our canopies are also extremely heavy duty so they can take some rough handling here and there. Of course, we do not recommend rough handling because it will reduce the canopys' life expectancy, but we are confident enough to know they will outlast any of the competitor's canopies for sure. Making a canopy fills us with hapiness because we love each and every step of the process. Usually people contact us through our website or give us a phone call. After that we start working together on a design, with which we provide free 3D renderings. Once we agree upon a design we send everything into our production cycle and we manufacture everything needed to put it all together. Our production team then creates and assembles everything to perfection. Then these claims are verified by our quality control manager who inspects every single inch of the final product to make sure everything is as promised and in working condition. Following our quality control managers inspection it is then prepped and shipped to you. When you receive it we give you a call to check up on everything and if all everything meets your expectations we high five all around for accomplishing another project.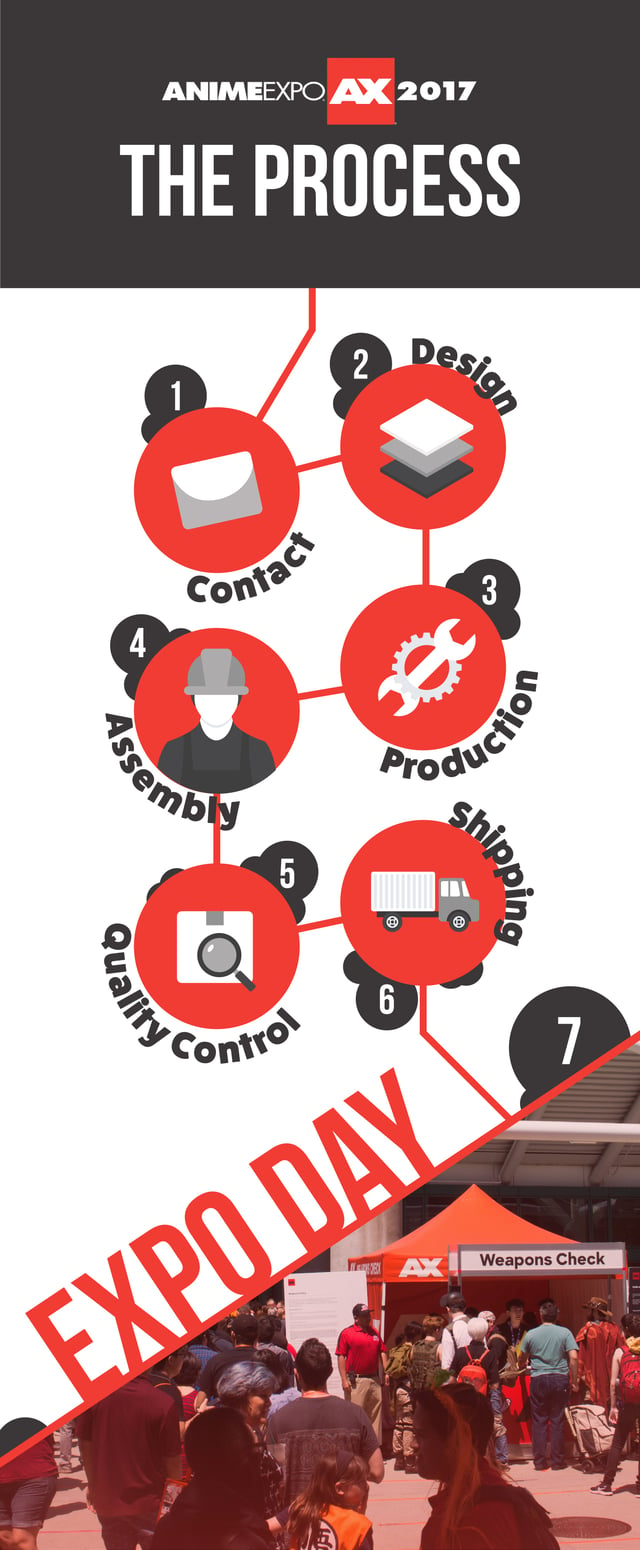 The best thing about creating custom tents is seeing them being used at events. We tend to go places and recognize projects here and there. Sometimes we work on projects for big companies and for mom and pop shops but when we received an email from Anime Expo because they needed a couple of tents we couldnt believe it because we love AX and we were extremely happy to be working with them. We are honored to have worked with them and look forward to working with them again. See you next year AX!