THE GOLD PACKAGE
Ah, the Gold Package. It is literally our best selling package as it accounts for more than 50% of our package sales. The Gold canopy package includes the most popular frame we offer with some of our best selling accessories included in the package as well. We, more than anything, wanted to make a custom tent that would have as much printing as possible without looking cluttered or sloppy and this canopy is just that. You can print on all the panels included, which were strategically chosen to be as effective as possible, with unlimited printing. With eye-catching color and beautiful design this custom canopy looks great and we'd love to help you design one, so much so that we will create free rendering mock ups for you to be satisfied with the design before we actually manufacture it. The canopy also includes a 10% discount for you to take advantage of and if that wasn't enough we'll even throw in a free roller bag for your pop up tent frame. If this frame is not right for you based on your budget we also have cheaper options that are just as good. The canopy packages are definitely a great mobile marketing tool and this one is no exception.
WHAT THE PACKAGE INCLUDES
Custom printing is one of our specialties and the Gold Package includes a lot of printing. All of the printing included is printed on the base of the tent and all of the accessories. Not only that, but the printed sections are digitally printed so you can print unlimited amounts of colors and images on the entirety of the printed sections without us limiting you to small sections or certain colors. Our state-of-the-art printers are incredibly precise with their image printing and with their color grading. As a matter of fact we have a large color gamut that allows us to color match nearly every color in the Pantone Matching System (Solid Coated) Swatchbook. We can also match swatch samples provided by you to make sure that our final color rendition of your brand guidelines is spot on. The package includes our most commonly sold frame, a fully printed tent top, back wall, side skirts, and a table cover. This is a very versatile canopy package because all of the accessories can be installed or they can be separated from the canopy if needed. You can place a couple of them on the canopy or you can exclude some others if the situation or setup arises. The tent accessories are incredibly easy to install and when stored they don't take up too much space. Finally, this pop up tent looks incredible when it is finalized and installed and the only way to make it better is to print your logos and signage on it. So what's included in the canopy package?
(1)
FULLY PRINTED TENT TOP-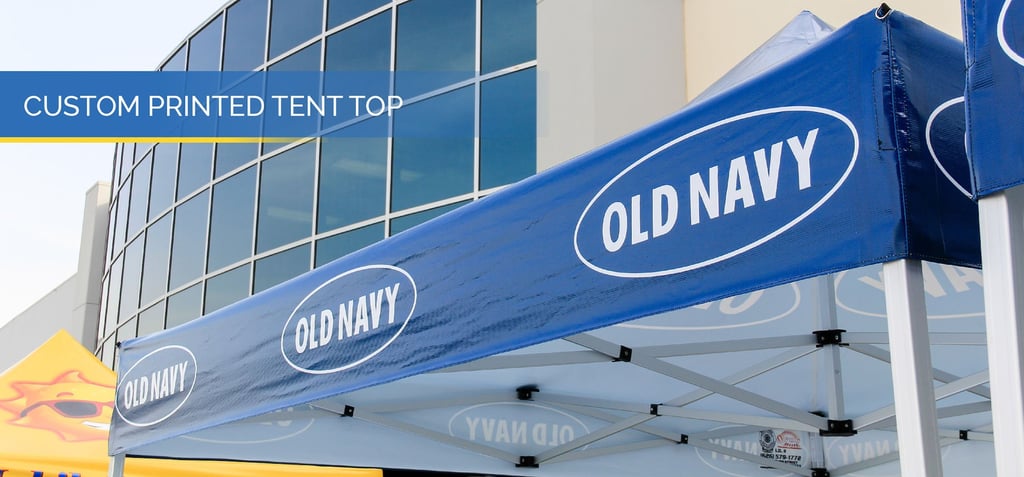 The tent top included in this package is unique because it is meant to fit the specific frame it comes with. It is fully printed and it is also digitally printed to make sure you can print anything you want on it without being uncharged when you print a certain pattern or color. As a matter of fact, you can print images, logos, your website, and verbiage anywhere on the tent top without an extra charge because the charge to digitally print on the whole tent top is included in the final package price. Once the tent top is printed we add a layer of a U.V. inhibitor coating that protects the print from exposure to the sun so it doesn't fade, darken, or scratch off. The tent top itself is made of a thick layer of vinyl coated polyester that is meant to be able to withstand rough handling and it includes a 3 year warranty, so if the tent starts falling apart or ripping due to manufacturing defects we will definitely take care of it for you. The tent top is so good that it can be installed with just the frame and it will be fine on its own because it looks so good when it is fully printed, but keep in mind that the package comes with accessories that further enhance the way it looks. As if that wasn't enough, the canopy top is 100% waterproof and it is because we do not sew the canopy tops but rather we weld the layers of the canopy together which form a tight bond on the material instead of leaving an open seam. It is important to differentiate between waterproof and water resistant. Waterproof means that it will not leak and that it is impervious to any liquid so you can put the tent out in the rain and nothing serious will happen to it because the water will slip right off. Now, water resistant means that it can only withstand so much water before it starts to leak or that it can take a light drizzle but not heavy downpour because it can only resist so much water pressure. The tent top included in the Gold Package is so good that it is just as good as the tent tops on our largest tents which need the best tensile strength and printing techniques we can and have used to make sure they last just as long.
(1)

FULLY PRINTED BACK WALL-

The Gold Package also includes a fully printed back wall on which you can print large images, logos, other forms of branding or literally whatever you want. Having a back wall is a huge advantage because it is eye level as opposed to being on the tent top. The top is meant to be seen from afar but once you are underneath it the signage and branding printed on it are not easy to observe. So that's where the back wall comes in because you can see branding printed on the back wall at eye level once the passerby has approached the tent. The back wall also acts as a barrier because anything/anyone behind your tent won't intrude because you block off the inside of the tent with the wall. The wall can be printed just the same as the tent top with unlimited colors and images all over the designated section. The back wall is a great addition to the tent top because it complements it nicely. So, it doesn't only make the canopy look nice but it is a useful tool that is also very easy to use.
(2)

FULLY PRINTED RAIL SKIRTS-

Rail skirts, also known as side walls, or short walls are a very useful tool. They are meant to complement the entire canopy but they also serve a purpose. They create boundaries right on the edges of the canopy so people aren't invading the canopy and it creates a sense of direction for visitors because they usually leave an opening that creates a the "front" of the canopy so people don't approach you from weird angles. The Gold Package doesn't necessarily have to be installed with all of the accessories it comes with, although it most certainly looks good with them. Imagine just installing a top with the frame, left and right side skirts, this would allow you to attend people from the front and back of the canopy while still keeping the canopy fairly open for people to see. Not only that, but the side skirts have eye catching printing that will also attract passerby or at least let them know what you're offering or do. The side skirt design is simple but also very clean to see and it looks elegant. It is also very easy to install and when it is packaged and stored it packs tightly into an small little bundle that doesn't take up too much space. Rail skirts are a great addition to any pop up canopy and because they look great an add just enough flair to the canopy to make it look different than those typically seen at events.
(1)

FULLY PRINTED TABLE COVER-
As with all the accessories a table cover only makes the whole package look even better. This package comes with a fully printed table cover and it is printed in the same way as every single other part of the canopy. There is unlimited printing, color matching and it is made of the same vinyl we manufacture the majority of our tents from. We also coat the table cover because it too can be exposed to the outdoors and it will be able to handle almost anything thrown at it. The soft polyester table covers look nice and so does this one but those get really dirty, really easily. One of the benefits of printing on vinyl is that it can be cleaned in a matter of minutes. All you have to do is get a towelette and wet it with water and then you just wipe the vinyl and almost anything that is not supposed to be there will wipe right off. So if you spill coffee on it then you can easily wipe it right off with water. This doesn't cause damage to the table cover or the print or even your table. The image won't fade or scratch or come off the surface of the printed section because we apply a U.V. inhibitor coating to all of our prints and it helps protect the printed section. The custom printed table cover is a great addition to any pop up tent because of how useful it is and because it can be used as a standalone item that doesn't have to be attached to your tent. When packaging and storing it you will also be surprised at how small it can be folded and how little space it takes.
(1)

POP UP CANOPY FRAME-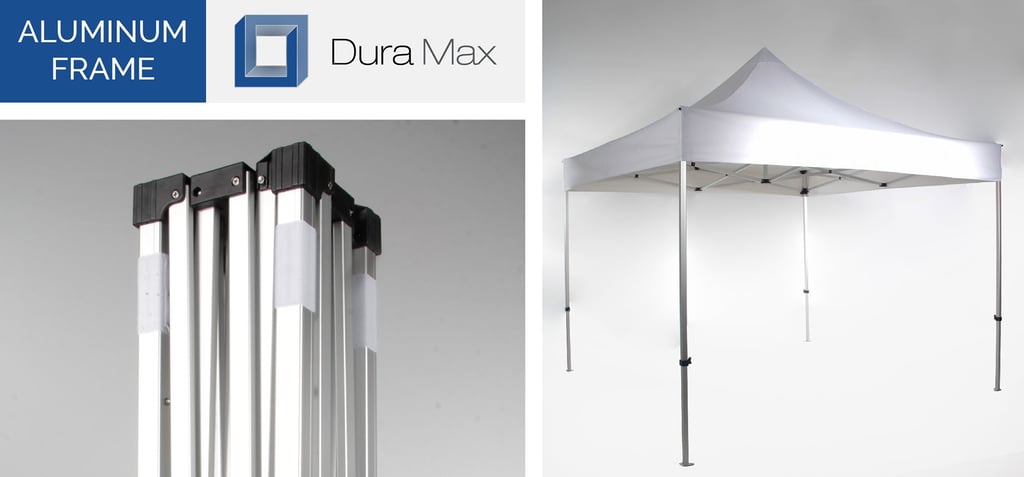 The Dura Max frame is hands down our most popular frame. It is a lightweight heavy duty frame that comes with an incredible warranty. Incredible warranty? Yes, we believe this frame to be so well built and tough enough to be able to handle almost any situation so we have equipped it with an eight year warranty. If the frame has manufacturing issues or if it malfunctions upon arrival* we will do everything to make sure it works for you. This frame accounts for at least 70% of our pop up canopy sales and it is because it includes a dramatically huge upgrade from the Econo Max steel frame. The frame is made of extremely durable aircraft grade aluminum that will not rust on you like the steel frame. Don't get us wrong, we love our steel frame, but this is a huge improvement because it is lighter, stronger, and the warranty last 6 more years than that of the Econo. Not only that, it is only $100 more than the Econo so this makes the Dura Max that much more popular. Of course, this is not our best frame and the package can be upgraded to a bigger and stronger frame but if you're on a budget and getting the absolute best is not your end goal then this frame will do just fine. We do not mean to downplay our Dura Max frame though because it is better than the disposable frames other companies offer. The Dura Max is a high caliber frame that is not meant to be taken lightly. If you compare it to the cheap retail store frames it will outgun the other frame every time. We are proud of this frame if you haven't noticed and it is because of the hard work we put into making it the new standard for a "good" frame. The best part about it is that it is a very poised frame instead of the droopy and goofy looking frames that make the entire tent look bad regardless of how beautiful the print is. The Gold Package is a combination of the most popular accessories we have ever created and it only gets better when you add the Dura Max frame to it.
*If the frame was damaged during shipping due to mishandling please notify the carrier upon delivery.
OVERVIEW-
Image is everything so if the whole canopy looked bad then that would reflect on you, which would be horrible! Luckily we help you design every part of the tent to make sure the final canopy design looks great. We also want to make sure you are 100% satisfied with the canopy once you receive it. Every single article included in this package is a perfect complement of every other item included in the canopy package. Not only does the package also look great once it is all assembled but it also very versatile because not everything has to be assembled together. It gives you setup options that look just as great as the fully assembled package and everything is so easy to use and install because we have made sure that it is not a complicated product. If you go to Target, Walmart, Costco or any other retail store they will offer you those cheap $70 to $150 dollar tents but they are absolute garbage. They break down fairly easily, they don't look great, and they for sure do not come with a warranty. Simple exposure to the sun will tear the top and if you leave it out for a couple of days it starts weathering and deteriorating and two weeks to a month later it is horrible looking or completely unusable. We can guarantee our canopies will not do any of that and we do so with great confidence because we manufacture everything ourselves. We have great pride in our American made products because we have been manufacturing these promotional products for over 25 years. These 25+ years have served as a great experience to not only see the industry change, but to change the industry. We were the first company in the U.S. to have a digital printer in the West Coast and that would start us down a path of becoming one of the pioneers of digital printing. This package embodies the best of everything we do in one bundle. Creating the best pop up tent possible has always been a goal of ours and we truly believe we have achieved that goal. We also strive to offer the best design techniques possible using functionality to handle artwork and place it strategically on our promotional products. We have also worked hard to improve our print quality to one day be able to deliver the quality a fine art print shop and we believe we are headed there for sure. Great printing, design, and manufacturing are all qualities we do not wish to lose and every time we manufacture any one of our promotional marketing products we have a checklist of things