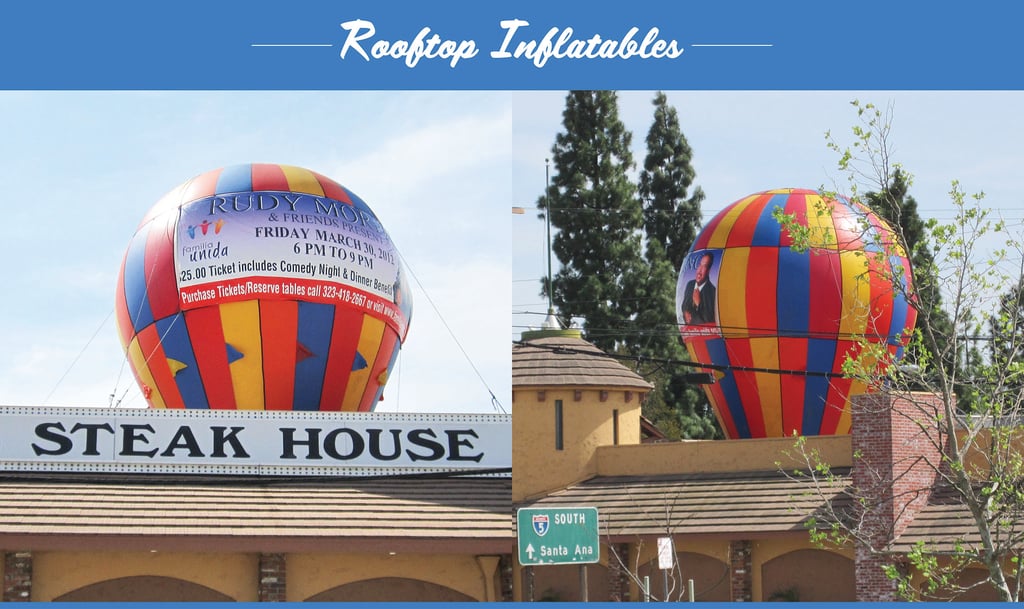 Rooftop Inflatables have been a classic promotional tool to attract attention to shops, car dealerships, and events. The are easy to spot from a couple of blocks away (depending on size) and they can be customized. Any promotional product that can be customized and printed is our specialty since we have been customizing marketing and promotional products for over 25 years. With every advertising balloon you can add a specialized banner to promote your sale or special event. These promotional themed inflatables operate with a blower attached to them which keeps them constantly inflated with cold air. They can be secured with ropes or they can be secured with sandbags to keep them from flying off your roof or any area you have them set up. All of the custom printed banners attached to the rooftop inflatables can be customized with as much printing or with any design you desire.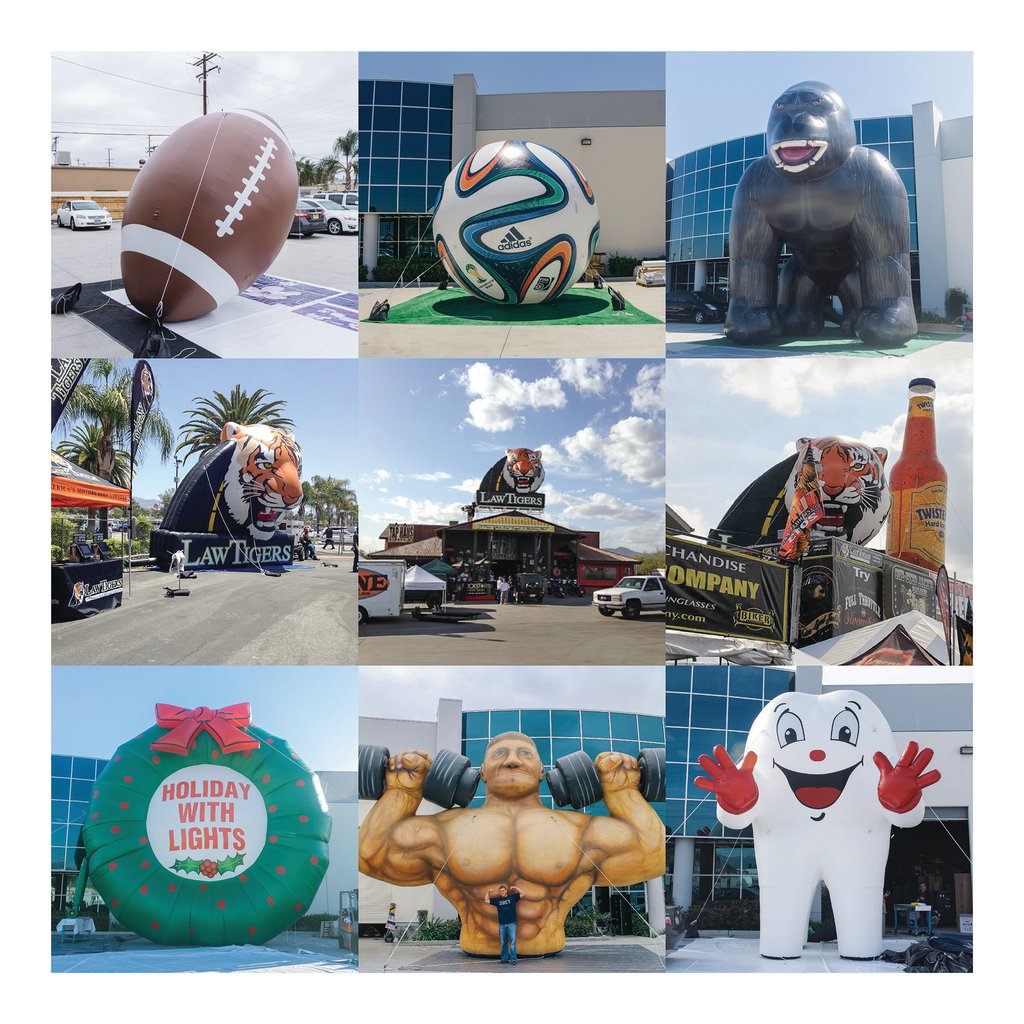 Our normal turnaround time on any inflatable balloon is two weeks. They can be customized with our stock colors or they can be custom printed to match any color you want. We also have many different types of rooftop inflatables. These range from giant gorillas, monsters (Halloween themed), and Christmas inflatables. Installation is an easy process, but if you do not want to do it you can hire our certified installers. Getting it setup is only a matter of minutes because it is not very difficult to install due to the fact that you only have to plug it in and let the blower do its job. Once it is inflated all you need to do is tie it down and secure it. They are made with extremely heavy duty materials which include a fire retardant coating as well as a U.V. coating that will allow you to place it in the sun without worrying about the print or colors fading from it in a day or two. As a matter of fact we offer great warranties on all of our inflatables, just ask your sales representative and they will further elaborate on any specific questions you might have. One of the biggest industries interested in our rooftop inflatables is always the automotive industry because they usually rent an advertising balloon with a couple of tents to attract passersby to their facility. They also rent these marketing products for three months at a time and when we get them back they are in perfect condition, except for a little dust which happens to come right off with a wet rag. We provide all the necessary tools to make sure the inflatables are properly installed and taken care of. We also include a patch kit for those small punctures that might cause the inflatable to leak air. In the following video you will see how we install and how the inflatable looks after it is installed.
Many of our clients have come to us with different ideas as to what they want to have on their roof because although we have an extensive catalog of inflatables what you might have in mind might be different. We then see what they have in mind and we make initial sketches with our structural engineers making calculated designs to then simulate in state-of-the-art software. Once we develop the structure we are able to see how big the inflatable can be and what it will require of us to manufacture. Some of our clients have requested realistic cows, cats, or large inflatable banners they designed themselves. We love challenges and our custom designed inflatables are truly fun to develop because sometimes they can be wacky or very serious designs and we love being able to create them all. All of these products can be rooftop inflatables or they can be standalone inflatables next to your building because of their sheer size, but regardless, we will be happy to help your vision come to life. The inflatable rooftop banner below was designed by a customer and we made it possible to have interchanging banners on this piece in order to maximize its use.