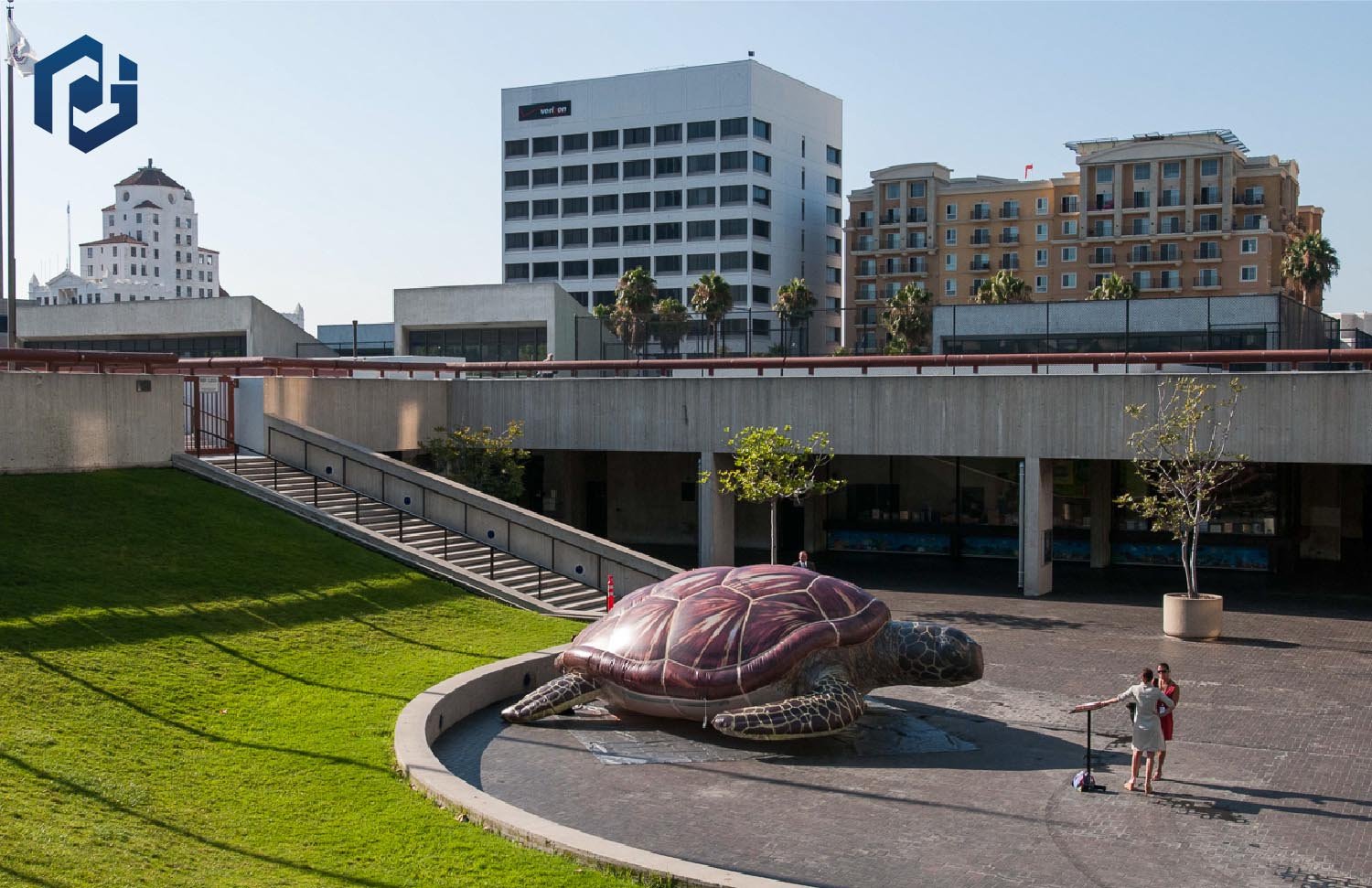 What are Oceanic inflatables?
Oceanic inflatables are inflatables that fall into our marine/ocean theme. These inflatables are perfect for all sorts of festivities. The best thing about them is that they work just fine for both indoor and outdoor use since they are made of extremely durable materials. Our oceanic inflatables consist of mostly inflatable sea creatures that range in a plentitude of sizes. If you need a small inflatable we can definitely create it in our smallest size which is five feet. If you need a huge inflatable then we can manufacture it in our thirty foot size. By far, the most popular inflatable in our oceanic section is the inflatable sea turtle which features a hyper realistic print. They can be used for advertising, decoration or even as a mascot for your cause.

What can they be used for?
The 25 foot inflatable crab you see above was used to advertise marine exhibition. The extremely large balloons are truly great for decorating just about anything. Their colorful/ real designs are captivating and their sheer size makes them hard to go unnoticed. They can also be used for aquariums on a specific season or to showcase a certain animal. We've seen them in museums for exhibitions, marketing for businesses and even for decorations at parties.

Poseidon is one of the most popular marine inflatables we offer. His patterns and details were all drawn by one of our talented airbrush artists. The octopus on the right was also airbrushed and it too is one of our most popular designs since it is colorful and outside the box, while still staying true to the original octopus design. The large poseidon inflatable was used at a gala as a decoration and people took pictures with it throughout the event. The octopus on the right has been used for all sorts of events but one of the most memorable uses was at a fashion runway in Las Vegas. They hung it from the roof as a standstill decoration and it looked incredible.
How wide does your variety extend?
Well, we've been manufacturing inflatables since the 80's and we have built a catalog filled with a plethora of different options. We have over 1,600 different inflatable units our inventory of inflatables available for rental alone. Slowly, as the years have gone by, we have developed more and more inflatables to the point where if we do not have something in our inventory or under our belt, we can create it without a hassle. So, if you need a marine friend and it's either not available or if we don't have the color you need, just let us know and we'll get to work. In the pictures below you can see an example of what we offer. The angel fish comes in multiple colors and sizes and it is only one example of how many options you can have with just one inflatable style. In total, there are roughly 12 different inflatable angel fish ranging in color and size.

Can an inflatable be customized?
Of course we can customize an inflatable! It's is one of our specialties. Inflatables come in many different shapes, sizes and styles. The oceanic inflatables already have regular patterns that we have created so that manufacturing them can be easy for us but if you need a different color, shape, size or feature added or implemented to an inflatable, we can do that. As a matter of fact, if we do not have what you are looking for we can dedicate a designer to work with you in creating your own custom inflatable. As a matter of fact you can add branding or a removable banner to the inflatable as well.
I am far away, can you ship it to me?
We can ship anywhere in the world! For example, this shark in the image above, it was shipped to Italy for a birthday party. Lucky shark right? Of course, the one on the image to the left is not the same one in the party. They wanted it to be smaller so that is could fit on a yacht. Also, they purchased and kept it instead of renting it. So, if you need or want an inflatable for yourself, your next event, business or exhibition just give us a call and we'll get it to you, regardless of where you're at.

The inflatables in the collage above are but a few examples of what we have available. We probably have about 50 different oceanic inflatables that come in different colors, shapes sizes and styles.