What is Dia De Los Muertos?
Dia De Los Muertos, commonly known as Day of the Dead, is a Mexican Holiday in which they celebrate their ancestors with music, dancing, treats, food and shrines. Instead of fearing death it is celebrated and made the center of the festivities. Its origins are rooted in Aztec rituals and date back centuries before conquistadors set foot upon the Americas. For each relative who has passed away, a shrine is set up in which you place a picture to commemorate them. Shrines can be set up on their gravesite or in their home. The shrine/altar will also have their favorite food, drink and other goodies they were very fond of. The reason for placing such things on a shrine is due to the belief that their spirit will return to the overworld and they will enjoy the treats that their family members have placed for them on such day. Gravesites, homes and streets are covered in decorations featuring skulls, skeletons, flowers and very vivid art with cultural patterns. In some towns the entire village will celebrate Dia de los Muertos in the local cemetery while in larger ones they now hold festive carnivals that the entire town will contribute to. The streets are covered in paper pennant banners with incredibly detailed designs along with flags, props statues and other decorative pieces. People's outfits also feature rich colors and patterns along with creative costumes. Face painting is also a very popular tradition with skulls being the grand majority of the designs but its not for an arbitrary reason. It is believed that if you resemble a skeleton those who have passed will feel welcomed and at ease when returning from the dead.
Why is Day of the Dead So Popular?
The holiday is now celebrated in the entire world with the United States having the largest adoption. The lively and culture rich festivities have been shared and popularized by appearances in movies like Spectre (yes 007 Spectre), The Book of Life and last but not least, Disney's Coco. In Spectre you can see a big parade taking place right at the beginning of the film before a thrilling helicopter scene. The city is having a massive parade in town square and our favorite agent is off doing his usual spy stuff in the crowded parade. In both The Book Of Life and Coco the worlds are animated and bring the viewer into colorful worlds while showcasing their own takes of what Dia De Los Muertos is. All three movies were wildly popular and in the years since the Holiday has received much, much more attention. Today, there are also many events that celebrate the occasion in a similar fashion to the parade in Spectre. There are now over 60 major events in California alone!
Do you build Holiday Inflatables?
Of course we do! We specialize in creating custom inflatables in general and holiday inflatables are definitely part of what we are capable of manufacturing. As a matter of fact we are currently designing and testing a completely new lineup to go with the Day of the Dead theme. Our team of talented designers has been brainstorming ideas to create items that will perfectly line up with Dia De Los Muertos decorations. Our teams are designing skulls, archways, statues and inflatable tents that will add to the environment's ambiance at any event!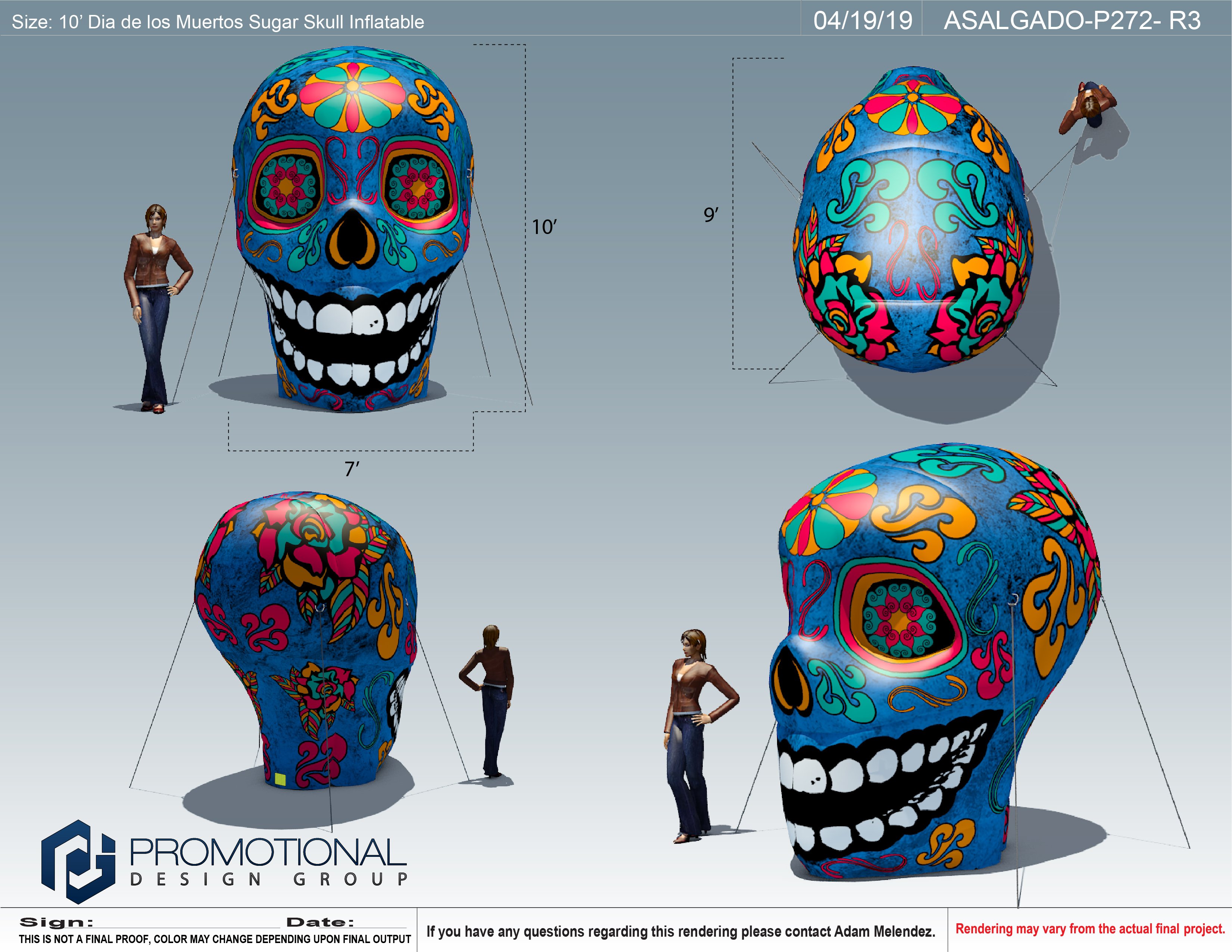 How Complex Can Shapes Be?
Since Day of the Dead decorations are lively and colorful we are committed to developing both incredibly detailed patterns with high quality prints and colors as well as intricate and complex shapes! With incredibly nice designs we believe that inflatable decorations and props will make your events more lively and beautiful. For example, the inflatable below, an inflatable ring toss game, was designed to customer specifications! It looks exactly how they wanted it to and the dimensions were defined by our client.
What about inflatables for rent?
We aim to have an array of over 20 Dia De Los Muertos inflatables when we are done with our stock creations and they will all be available for rental. We can also customize inflatables to specifications, whether its size or shape. All in all we aim to have the biggest inventory of day of the dead props and we can't wait to show you our many designs.
Can I Design My Own Custom Inflatable?
Most Certainly! We often collaborate with our many clients to create inflatables to their liking. Sometimes we have clients who have all of the specifications/designs ready for us, it's just a matter of creating them. If you do not have all of the patterns and design ready then we can help you and walk you through the process of creating an inflatable. Along the way we will always create free mockups to ensure you know what the inflatable will look like before it it produced. If there are any necessary changes, just let us know we will work tirelessly until we find what you're looking for.