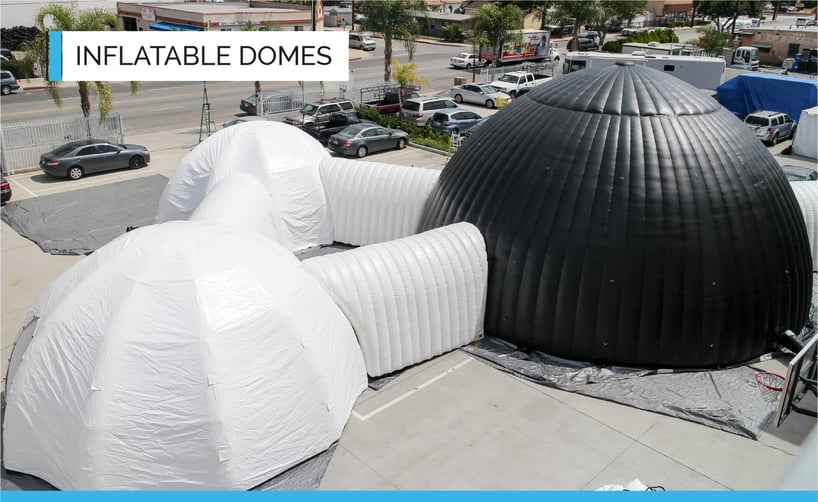 One of our many unique creations of the inflatable dome. Its construction consist of many layers with many different types of materials that serve specific purposes. These large domes are great for hosting events and demonstrations while at the same time impressing anyone who gets to see them firsthand. This is because they can get to be really large and their designs are breathtaking because they can be printed in extremely clever ways to simulate real world objects. These large structures can be printed and designed to your liking because we manufacture everything in-house. There are two different dome styles that we have developed and use throughout every inflatable dome project. These styles are both baffled and spider-legged domes which differ in looks. The spider-legged dome is a very interesting design that allows you to have multiple doors if necessary with 6-8 dome legs on an inflatable. The amount of legs depends on how tall the dome is going to be and how much material is going to be required to cover the dome. The large legs on the spider-legged design allow for multiple doors to be installed on the structure and you can go ahead and keep them all open or close them off with a secure zipper and velcro system. The dome cover is made of extremely durable material that no other dome inflatable manufacturer uses because it cost more money, but it is far more reliable than the thin material we've seen used on cheaper inflatables. Aside from using high quality materials we coat the material in a U.V. coating that protects the material from continuous exposure to the sun. The other version of an inflatable dome that we have is the baffled unit. This unit comes with a ribbed surface all along the walls that helps form the giant dome structure while routing air throughout the inflatable in a manner that lets it keep its shape instead of bloat and pop. We can print directly onto the baffled unit or we can place an interchangeable cover on it so you have the flexibility to change the looks on the dome whenever you decide to change the cover. The cover system is always implemented on the spider-legged tent design because if not there would be large air gaps in between the legs.


We take pride in all of our American made products because there is this unmatched quality and care that goes into producing these advertising products. American companies always pride themselves in being able to produce the best product they can offer. Our competitors drop ship their products from China and it is unfair to the customer because Over the last 27 years we have done extensive research and development while at the same time building relationships with our material providers to be able to determine what materials are adequate for all of our products. We have an extensive library of materials to work with and we know what is perfect for each and every project because we have developed enough prototypes and produced so many projects. This promotional product (inflatable domes) is one of the many promotional pieces that we are capable of manufacturing on a constant basis just like all of our other promotional items. We also have an inventory of inflatable domes in our rentals department for those seeking to just use it once instead of purchasing the entire inflatable.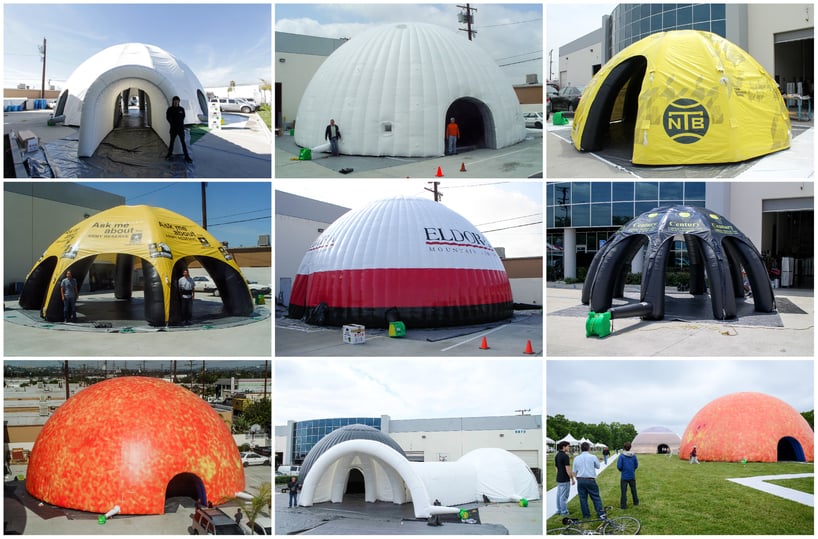 Designing a dome is more than just drawing on a napkin and saying what goes where. It is truly a work of art because the design team has to be able to create something that not only looks great but also something that works. These inflatable structures have to pass all the the test we conduct to make sure they are safe, reliable and good looking. Once they are thoroughly inspected for safety, quality assurance and pleasing looks we create instructions for the majority of our products since many of them are unique. We then box it all up and get it ready for shipping where we make sure all of the parts necessary to get the entire dome system to working are accounted for. If you have any questions about pricing, turnaround times and any other inquiries please contact us and we will guarantee a response within *24 hours. Below we have a video showing you how easy it is to set up a 30' dome.
*during business days