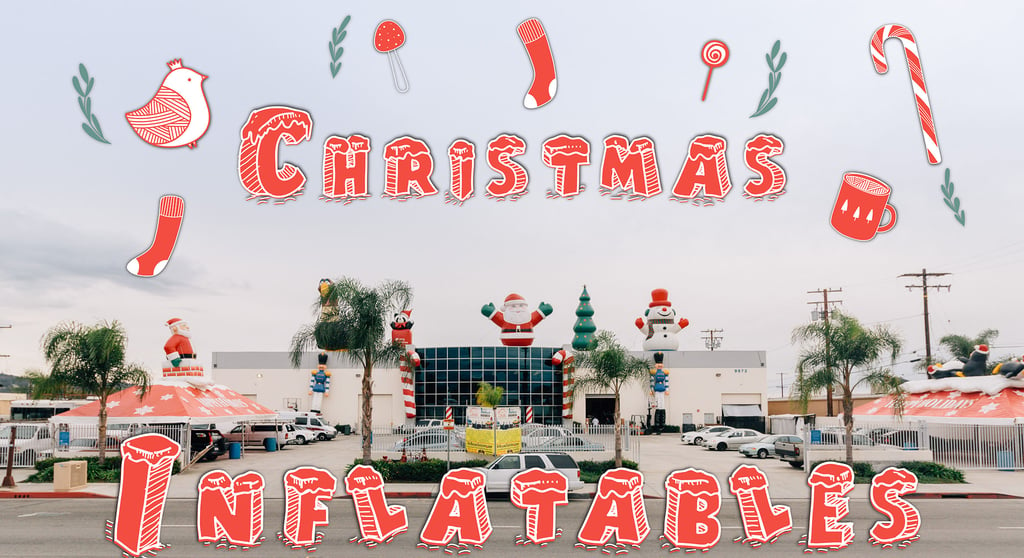 Holiday season is nearly here and we love it because we make incredibly large christmas inflatables and then we decorate our building with them. We manufacture all sorts of inflatables and we actually have many in stock but we can always make new ones and customize them to your liking. All of our holiday inflatables come with a great warranty and they are extremely heavy duty. They can withstand a nice couple of weeks in the sun and since they are inflated with a continuous air flow they will not deflate.
All of our inflatables range in size, from a small 8 foot inflatable to large 50 foot inflatables that will tower next to buildings and definitely attract attention. Most of the inflatables we produce are usually accompanied by a large vinyl banner that can have signage, images, or custom text on them and they can be attached to the inflatables. Of course safety is a concern when it comes to having a large inflatable because of how massive they can look, but we are dedicated to making sure safety is a priority at all times. We can also create something from scratch if we do not have it in stock or if we have never made it because we have in-house designers who develop the patterns and simulate airflow in state-of-the-art software to know exactly how it will look once manufactured. One of our most popular items is definitely the pop up tent but we originally started with custom inflatables and now we are probably one of the best companies to make them.
Some of our many Christmas inflatables are giant snowmen, Santas or even Christmas trees. We also developed awesome tent inflatables since tents are a huge part of what we do. We have come to know them as tentflatables, and they are quickly growing in popularity among those who get to see them first hand because of the amount of detail in every one of our designs. We have two Christmas themed tentflatables and they look really great regardless of where we install them. One of them have little penguins on it and the other has a lazy santa on top of one. Not only that but the tent tops are customizable and the inflatables are interchangeable. These customizable tents definitely add some life to buildings, businesses, parking lots and a lot of other spaces that need to liven up, be decorated, or attract attention. We have also gone ahead and made sure that each and every one of our products is made with great quality because we not only envision and design our products, but we go ahead and manufacture them. American made is rare these days and we truly pride ourselves in being an American manufacturer. Making concepts, designs, and manufacturing all of our products requires a lot of work, but we have been in the business for over 25 years that we have perfected this process.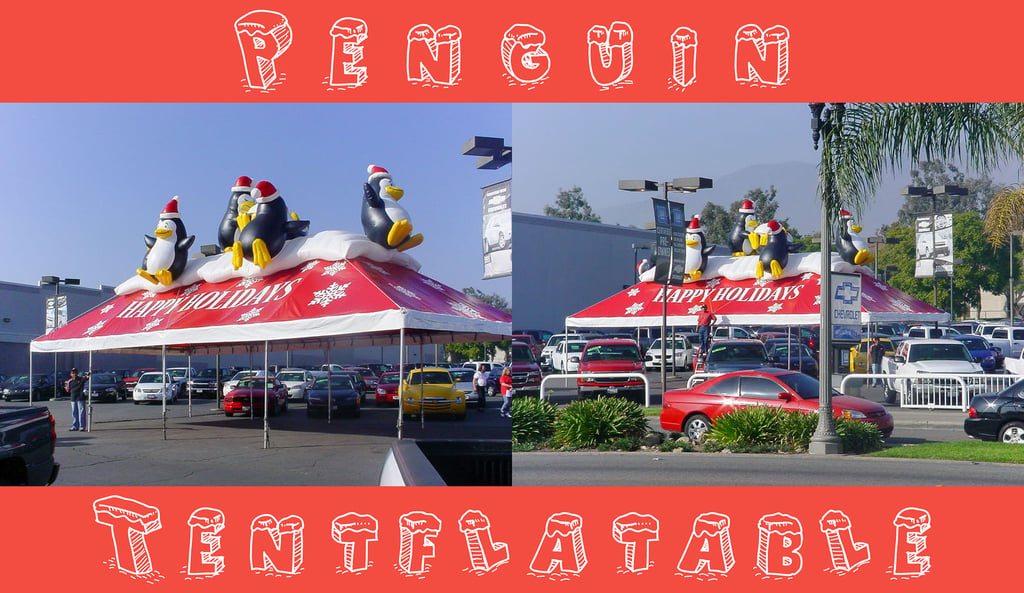 Christmas decorations take a whole new meaning when you use these inflatables on top, next to, and in front of your buildings. We have decorated so many places such as dentistry offices, boats, and even city halls with them. We are excited to always have a new place to place these decorations because they are giant and will not go unseen. All of these inflatables come with with great warranties (call us or fill out our contact form for more information).
Turnaround times on these inflatables is two to three weeks and you can definitely ask us to have it sooner, but rush fees will apply to the final invoice which will depend on the urgency of the date you need it. We have designed, manufactured, tested, and perfected many inflatables in a short time frame and we have done so with multiple different projects at a time because of our ability to focus on the essentials of an inflatable. Not every design has to be a conventional design because we are able to implement many different ideas while maintaining the essentials of an inflatable. Christmas is not the only holiday in the entirety of the year and that's why we also make holiday inflatables ranging from Valentines day to Halloween to Christmas. Our holiday inflatables are among our most popular inflatables because they serve as decor and they show holiday spirit. We also make sure that our holiday themed inflatables look fantastic because we've seen some Santas and Jack-O'-Lanterns that look kinda gimmicky and nothing like the characters we all know and love. Holiday inflatables are not the only "themed" inflatables in our arsenal though, we also manufacture custom inflatables and inflatable structures and if you want we can take a standard inflatable and customize it however you like.