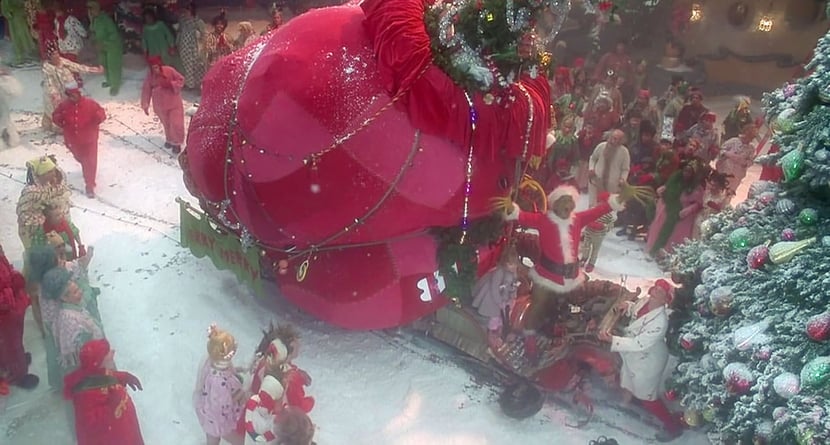 Looking Back, Moving Forward Jan. Edition
Worthy of the Silver Screen.
Props of all types have been used in cinema for over a hundred years. However, in the past few decades, inflatable props have been used more and more as innovation in inflatable design improves. Come take a look at some of the giant inflatable props we've created for Hollywood.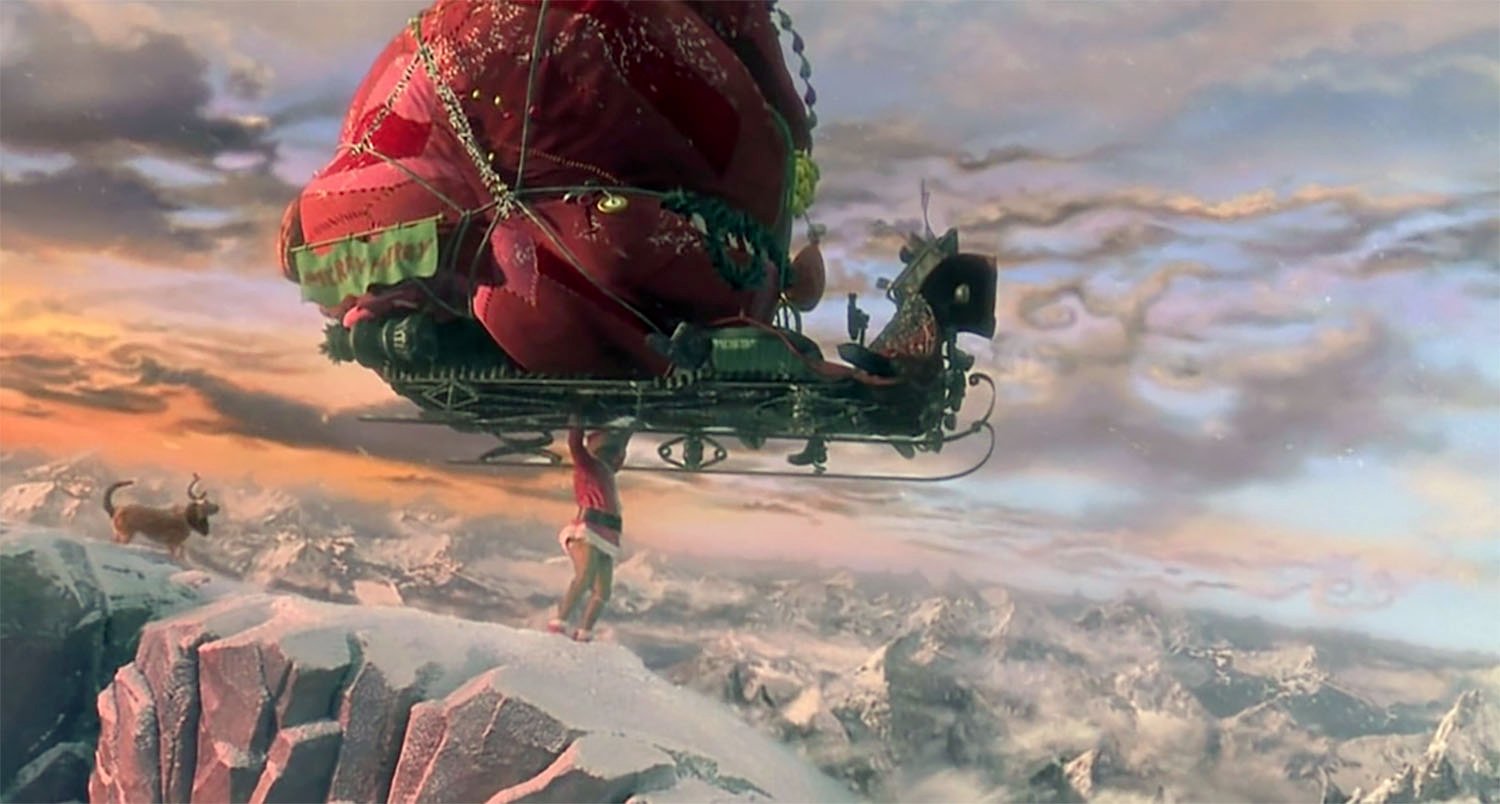 How the Grinch Stole Christmas - 25' Inflatable Grinch Bag

This comically sized gift bag was used in Jim Carrey's How the Grinch Stole Christmas. The massively sized bag was constructed using traditional inflatable materials that are commercial grade and significantly thicker than what is normally found on most inflatable props out on the market. On screen, the inflatable bag is wrapped with cloth, but we know what's underneath. hehe This huge inflatable bag utilized a powerful industrial grade blower system that can run 24/7 for weeks! With so many shoots in different locations, you want to make sure your inflatable prop is going to last, which is why we use tough materials that are guaranteed to last.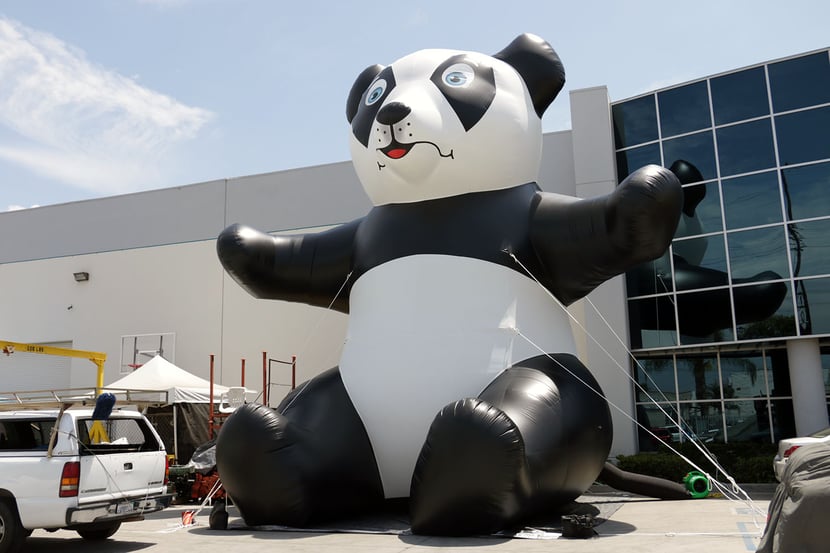 Deadpool 2 - 25' Giant Inflatable Panda
Well isn't this panda just adorable? Hollywood never ceases to surprise. Using one of our giant inflatable props as a life saving inflatable cushion is simply genius. Would it actually work in real life? Let's not find out. Although, our inflatables are pretty sturdy, so who knows? All of our inflatable props are constructed with commercial grade materials that are 100% waterproof as well as certified fire resistant. This giant panda is actually used at dealerships and to promote storefronts, so you might actually be able to see it out in the wild.
In the film, our giant inflatable panda is just chillin' on a used car parking lot. Meanwhile, Deadpool along with Domino, Cable, and others are causing mayhem on the freeway overpass above. After a devastating collapse, Domino flies out of a military caravan, falling to her potential doom.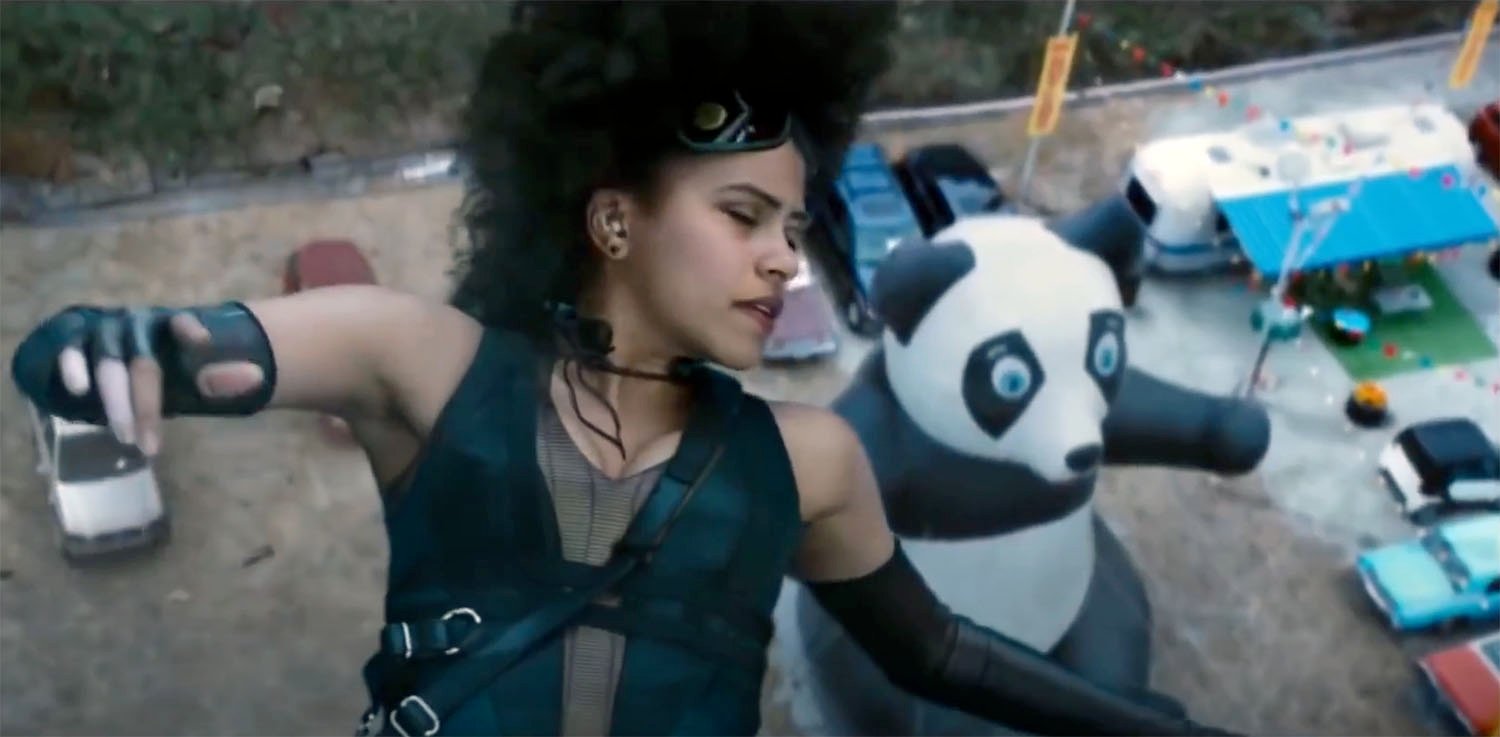 But wait, there's a Panda below!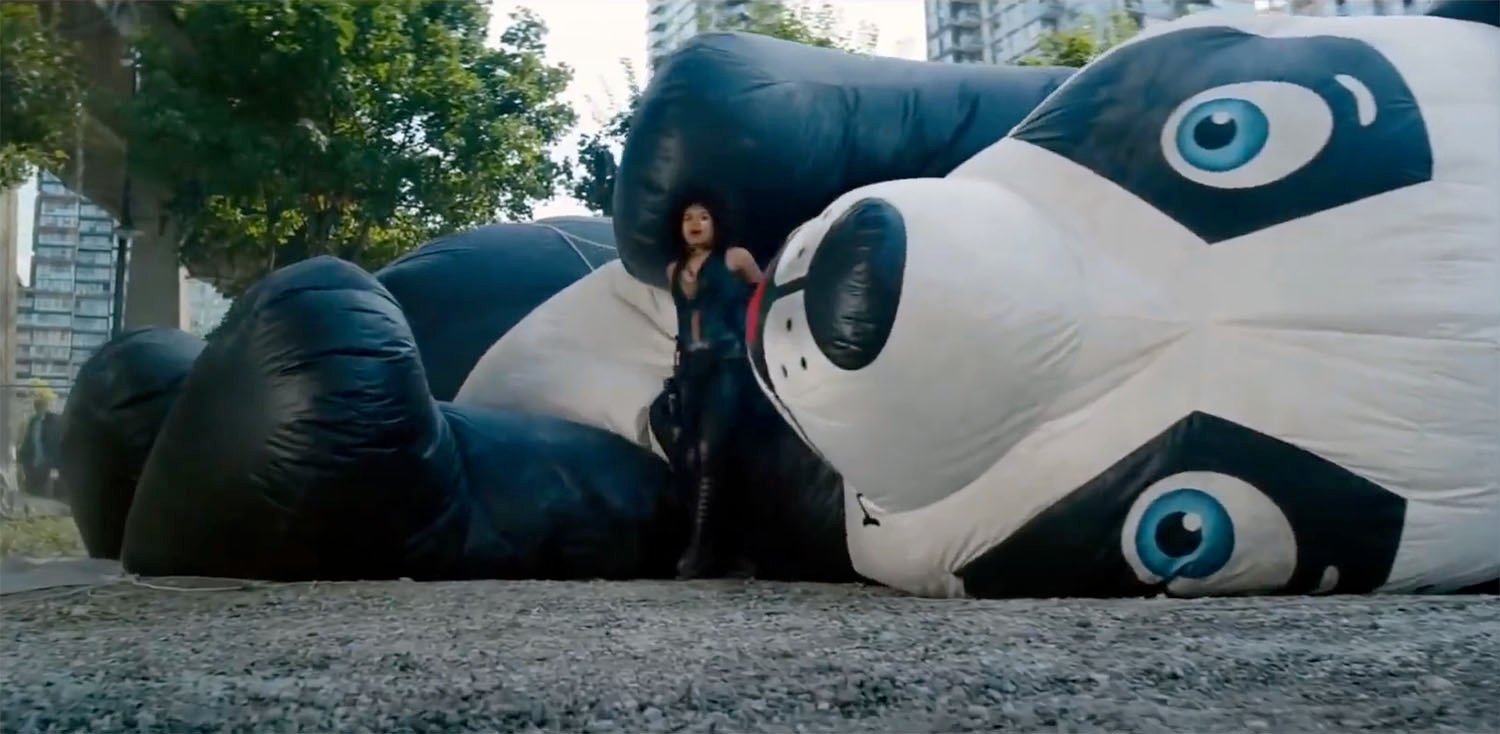 And Domino nails the landing! Phew.
Now on to another free fall, this time from Free Guy.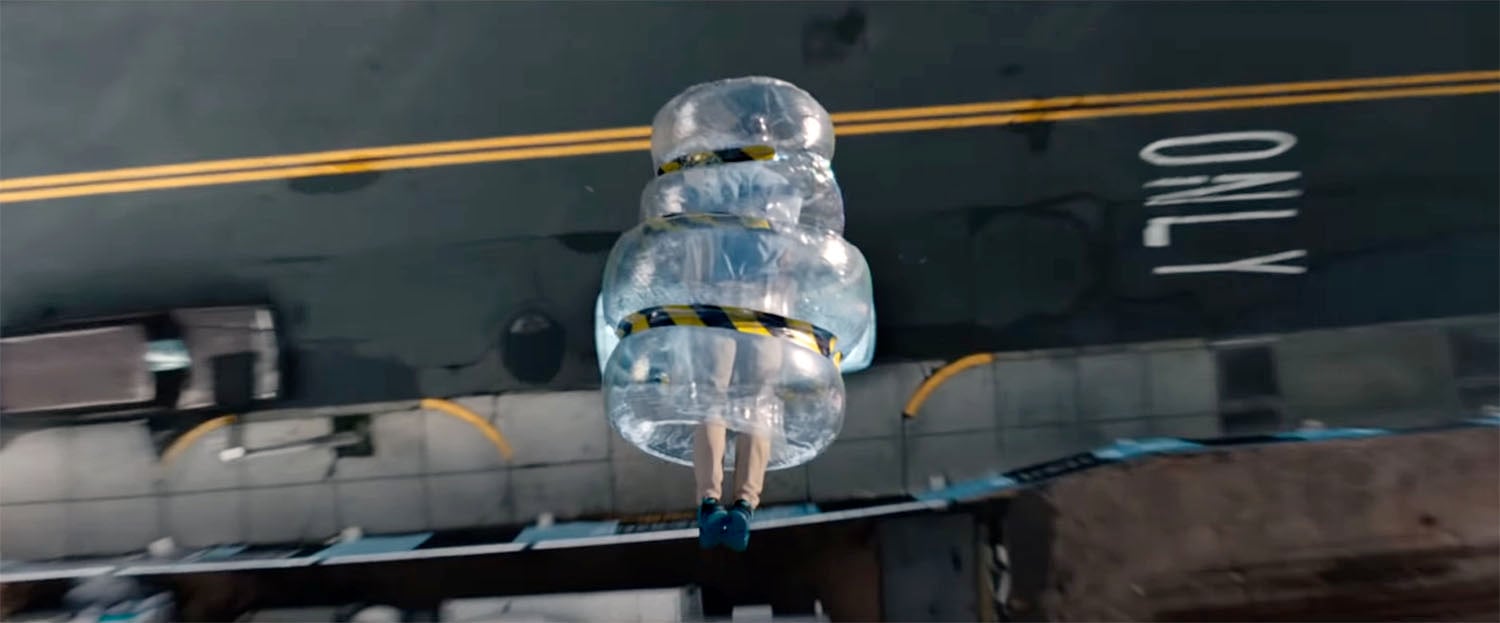 Free Guy - 6' Inflatable Safety Suit

Free Guy is an action packed comedy featuring Ryan Reynolds. The film is filled with augmented reality cg goodness. In one particular scene, (which can be seen in the trailer below) Reynolds' character is forced to jump off a sky scraper. While falling to his untimely demise, an emergency inflatable safety suit pops out of him, instantly saving his life. The inflatable safety suit itself looks a bit silly, reminiscent to the Stay Puft Marshmallow Man from Ghostbusters. Clearly, Reynolds' films contain over-the-top elements that are often comic relief.
The strangely designed 6' inflatable safety suit below looks like it could actually save someone from getting hurt, but again, we don't really want to find out. Don't try it at home, folks!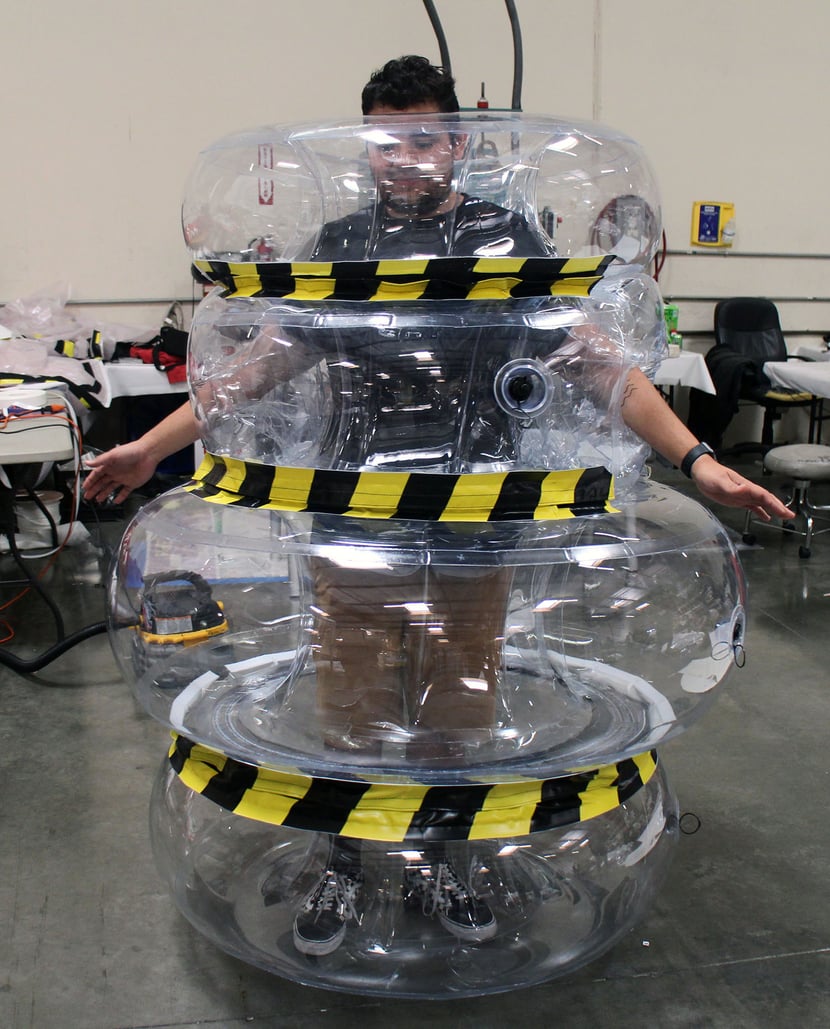 Our inflatable props come in all types of shapes and sizes. We've been doing this for a good while now, so we've developed the skills to create virtually any inflatable shape you could need. All of our inflatable props are constructed with top grade materials at our South El Monte facility in Los Angeles county, California. Please contact us with any questions or to get a quick quote.