Why Use Medical Tents?
With the current outbreak of the coronavirus we have noticed a surge in demand for tents from hospitals, medical centers and pharmacies. These facilities have many uses for tents such as mobile hospitals, facility expansions, screening centers, mobile clinics and in some cases as quarantine zones. Below you can see a video of tents we have available for these emergency situations.
Here you can see some headlines showcasing how these tents can be used.
Inflatable Tent in Munster, Indiana
This tent from hazmat medical is an inflatable deployment tent that is used specifically for hospitals. In this case it's being used at a hospital in Munster, Indiana for the current Coronavirus outbreak. The image is clickable and takes you to the article it is being used in so you can learn more about it.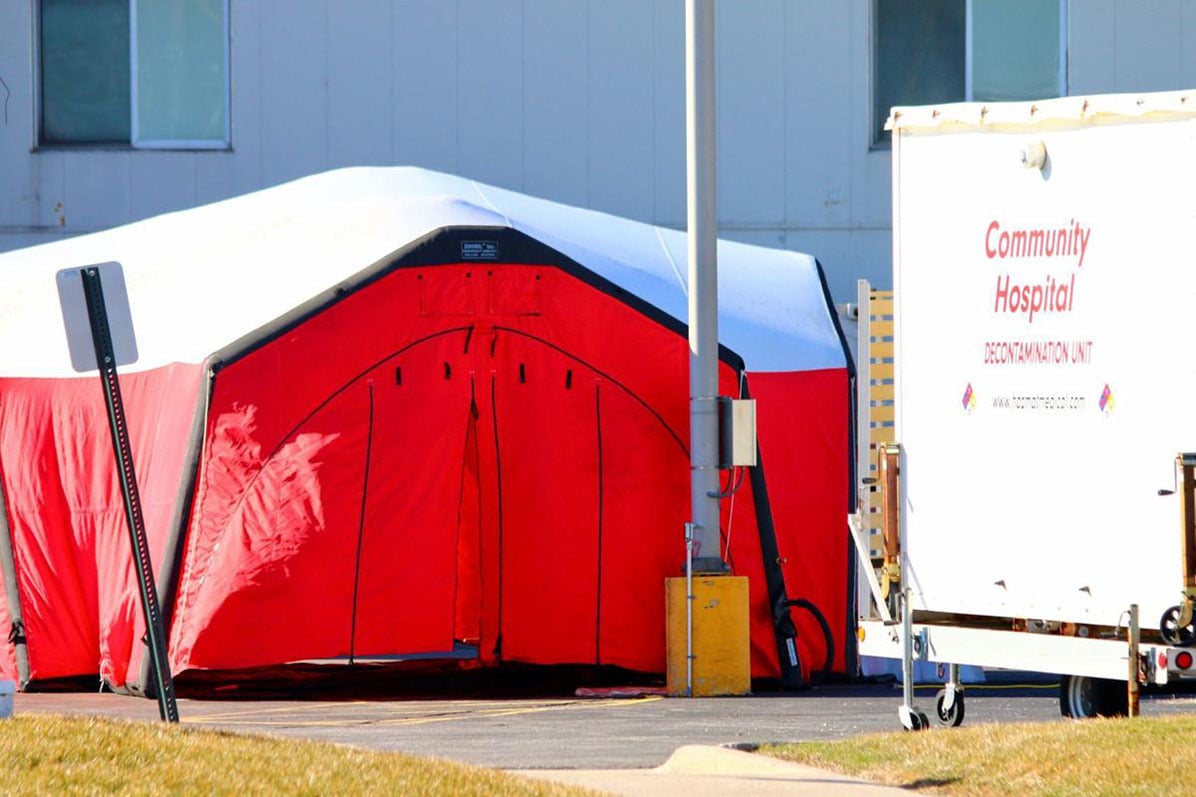 Tent at the University of Seattle
This other tent is being used at the University of Seattle near a military facility. This small tent was used as a makeshift mobile hospital where they screen active duty members.

There were also tents used at the UMass Memorial Medical Center where they screened patients and staff for the Coronavirus with mobile tents installed in a specially designated section of the hospital. Anybody exhibiting symptoms and of any sort were prohibited from visiting/entering the building.
Inflatable Tent At The Cleveland Clinic
In Cleveland they had a very specific type of tent. This tent style is an inflatable tent, commonly called a decontamination tent. Tents like this inflate with a blower system in about 3-5 mins and are ready to work in within minutes. This tent features a bright yellow and black design that makes it easy to see from afar.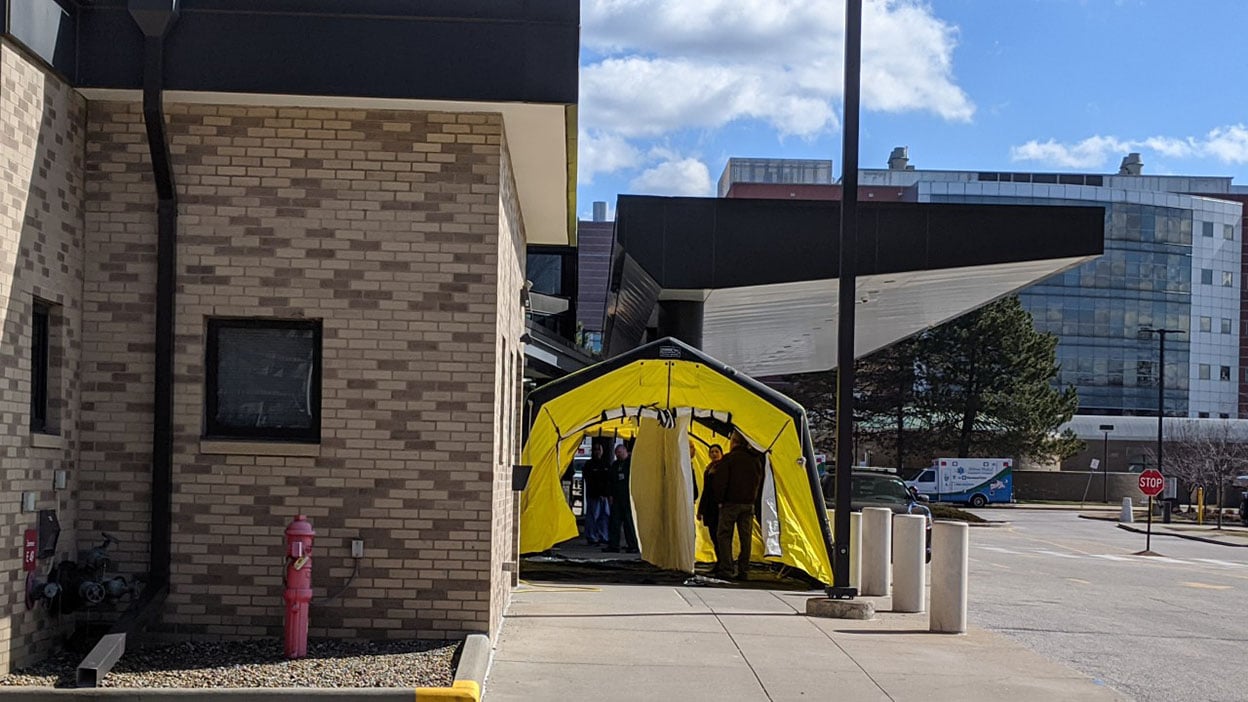 Cedars-Sinai is one of the most popular and well known hospitals in Southern California. This facility installed tents for Coronavirus screenings right outside of their ER to check up on everyone before they brought them into their facility. The tents were outfitted with medical gear inside and they had a fully functional portable clinic operating out of them.
Holy Name Medical Center in Teaneck, NJ
Covid-19 screening is going on throughout the country and one of the first places in the nation to respond to screenings was Holy Name Medical Center in Teaneck, New Jersey. They installed an inflatable triage tent in a hall where they prescreened their patients before admitting them into their facility. You can see the blue and white tent below.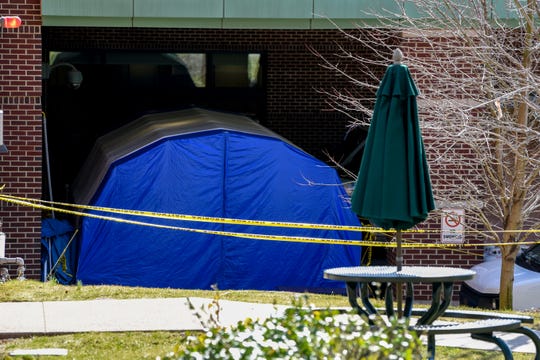 University of Cincinnati Medical Center
In Cincinnati they installed a tent right outside their emergency room where they quarantined new patients who had flu like symptoms. This is one of the first uses as a quarantine section because most of the tents installed at hospitals are used as screening centers. The fact that a tent appeared in their city hospital had the people in Cincinnati alarmed and it came out on the news!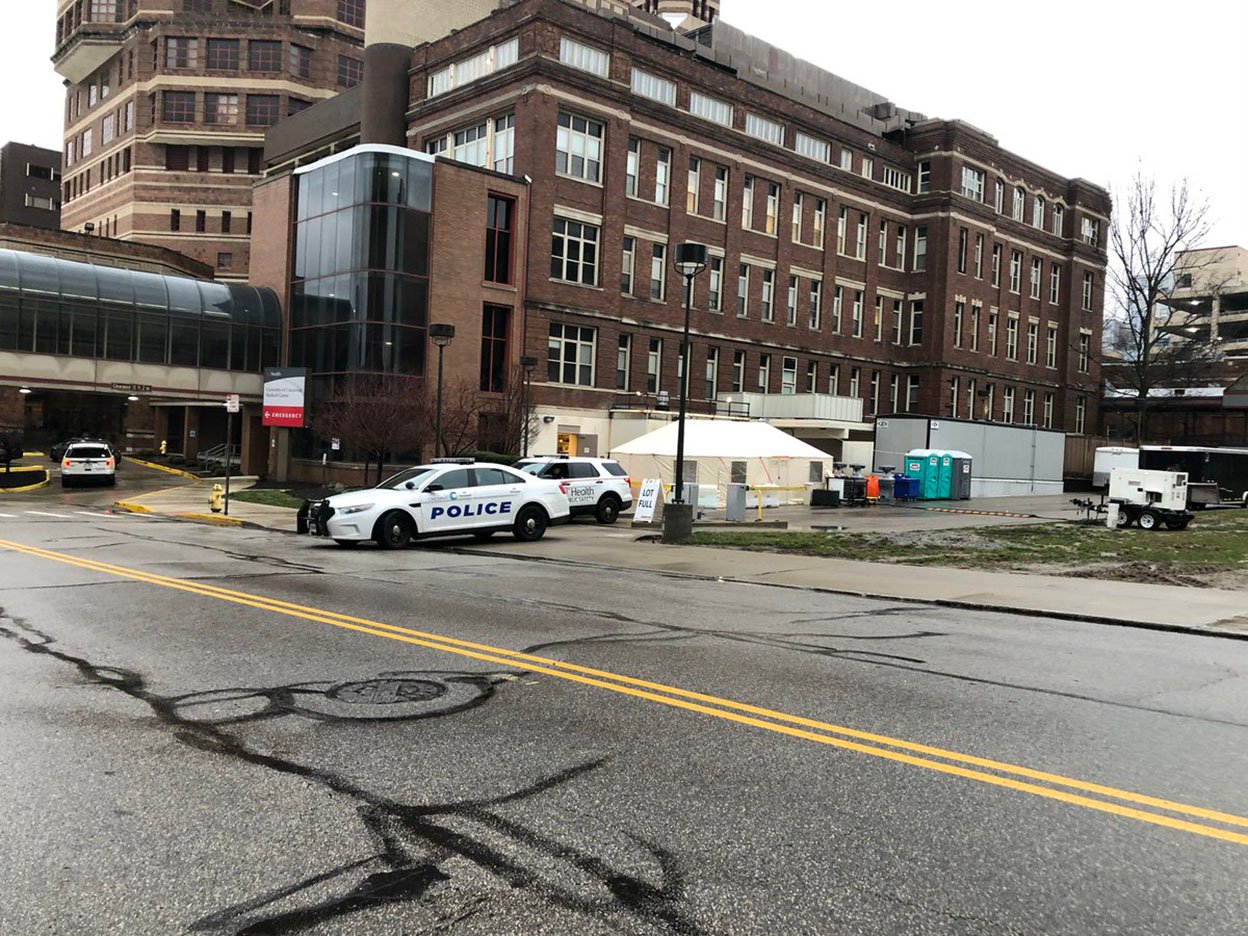 San Francisco is currently on lockdown and with Santa Clara County seeing a surge in numbers they went ahead and closed down schools, study halls and other local resources that were available to the public. Now they are in talks to set up tents for screening and quarantining patients before they enter medical facilities.
Advent Health in Tampa, Florida
Advent Health, a medical facility in Tampa, Florida installed tents on March 15th right outside their facility in order to be able to service a large patient influx in the future. They did this in an effort to not overwhelm their facility and will be installing more tents as needed.